Cassini Image Team Leader to Speak
---
Cassini Mission to Saturn Subject of Next UCR Science Pioneers Lecture

Presentations Part of Freshman Seminar Course Taught by Chancellor France A. Córdova
(February 14, 2005)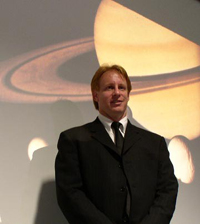 Kevin Grazier
Editor's note: Kevin Grazier will speak in place of Carolyn Porco, who could not attend because of illness.
RIVERSIDE, Calif. —
www.ucr.edu
— Investigation scientist and science planning engineer for the Cassini/Huygens Mission to Saturn and Titan Kevin Grazier will give a free public lecture at the University of California, Riverside on Friday, Feb. 18, as part of the freshman seminar course "Life Beyond Earth?" taught by Chancellor France A. Córdova.
The presentations began Feb. 4 with Leslie Orgel, senior fellow and research professor at the Salk Institute for Biological Studies and continue with Kevin Grazier. The series concludes March 4 with
Frank Drake
, senior scientist at the SETI (Search for Extraterrestrial Intelligence) Institute and professor emeritus at UC Santa Cruz.
All the lectures are scheduled for 4 p.m. at the International Lounge of the
University Commons
. Parking for the lectures will be available on campus in Lot 19 for $2 per vehicle, payable to the parking attendant on duty. For further details, call Kathy Barton at (951) 827-5304.
The lecture series, titled "The Search for Life in the Universe: Science Pioneers," is part of the freshman seminar course taught this quarter by Córdova, a nationally recognized astrophysicist who served as a professor and vice chancellor for research at UC Santa Barbara and as chief scientist at NASA before arriving at UCR in 2002. Her course "Life Beyond Earth?" explores the multidisciplinary approaches that scientists are taking to address one of humankind's most fundamental questions.
The course, one of 16 "freshman discovery seminars" offered this quarter, is designed to involve freshmen in a highly interactive classroom experience led by senior faculty and to expose them to new fields of study. The courses let students get to know professors who may become future research mentors.
Grazier's lecture is titled "In Orbit! The Voyage of Cassini to Saturn and its Moons." Grazier, of the Jet Propulsion Laboratory in Pasadena, holds the dual titles of investigation scientist and science planning engineer for the Cassini/Huygens Mission to Saturn and Titan. The Cassini spacecraft carried the Huygens probe that landed on Jan. 14 on Titan, the largest of Saturn's 31 known moons. The icy body is the only moon in the solar system with planet-like clouds and a thick atmosphere, composed mainly of nitrogen. Scientists associated with the European Space Agency, which is leading the mission, and NASA are currently analyzing data, including images, transmitted back to Earth from Huygens.
On Friday, March 4, Frank Drake will speak on "The Search for Extraterrestrial Intelligent Life." Drake serves on the Board of Trustees of the SETI Institute, which employs more than 100 scientists, educators and support staff to explore, understand and explain the origin, nature and prevalence of life in the universe. In 1960, he conducted the first radio search for extraterrestrial intelligence as part of the National Radio Astronomy Observatory. Later, he was elected a member of the National Academy of Sciences and served as dean of natural sciences at UC Santa Cruz.
Students enrolled in Córdova's course will introduce the speakers and moderate a question-and-answer session to follow each presentation.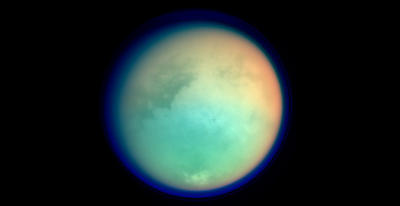 Ultraviolet image of Titan from Cassini. Credit: NASA/JPL
RELATED LINKS
ADDITIONAL CONTACTS
The University of California, Riverside (www.ucr.edu) is a doctoral research university, a living laboratory for groundbreaking exploration of issues critical to Inland Southern California, the state and communities around the world. Reflecting California's diverse culture, UCR's enrollment has exceeded 21,000 students. The campus opened a medical school in 2013 and has reached the heart of the Coachella Valley by way of the UCR Palm Desert Center. The campus has an annual statewide economic impact of more than $1 billion.
A broadcast studio with fiber cable to the AT&T Hollywood hub is available for live or taped interviews. UCR also has ISDN for radio interviews. To learn more, call (951) UCR-NEWS.