West Nile Virus Experts
---
West Nile Virus Experts at UC Riverside
Valuable media resources at UC Riverside
(June 6, 2005)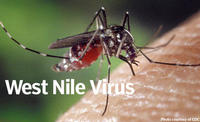 RIVERSIDE, Calif. (
www.ucr.edu
) -- UC Riverside scientists are a good source of information about West Nile virus (WNV), which emerged in the New York City area in 1999. Although health officials hoped the virus would not survive the first winter, in early spring 2000 it re-emerged in birds and mosquitoes and spread steadily westward.
UCR faculty members can answer media questions about the disease and its spread and effects on both human and wildlife populations.

IMPACT ON BIRDS
Birds as an Indicator of the Virus's Spread

Tom Scott, adjunct assistant professor of conservation biology, Department of Earth Sciences
Office: (951) 827-5115
E-mail thomas.scott@ucr.edu
Tom Scott is tracking the movements of the virus throughout California. He has developed a Web site for reporting both dead birds and the movements of crows, which are an excellent host for the virus.

"It's important to know where the birds are dying -- it tells us something about where the virus is," Scott said. Knowing where crows are living, roosting, and what routes they regularly use may give an early warning about where the virus will move to next. Scott is currently attempting to describe the spread of West Nile virus across California using the dead bird records gathered in 2004. His initial work indicates that WNV is the largest single cause of death ever to hit California's wildlife, killing millions of individuals from hundreds of different species.

His academic specialties include wildlife response and compensation to human-induced environmental change, California biogeography, and bird distribution and demography. His work includes offering research-based information to local and state agencies, on topics such as the spread of West Nile virus. Last year, Scott and UC volunteers helped to log more than 12,000 dead bird locations from Riverside County and 98,000 locations from throughout the state. The public can log dead bird finds and report crow sightings at www.westnilevirus.ucr.edu.


VECTORS OF HUMAN DISEASE

Peter W. Atkinson, professor, Department of Entomology
Office: 951-827-4782
Lab: 951-827-3629
E-mail: peter.Atkinson@ucr.edu
Peter Atkinson can speak to the efforts being made to genetically alter mosquitoes such as Culex pipiens quinquefasciatus, so that they can no longer transmit the virus. The overall goal of his research is to develop molecular-based strategies to genetically control pest insects. His laboratory focuses on those bits of genetic material that move from place to place in the genome, known as transposable elements of DNA, since they are the only means by which new DNA can be introduced into insects and be inherited over successive generations. Atkinson's lab is also using this approach to disable the means by which mosquitoes spread malaria and yellow fever.

Funding for research projects in Atkinson's laboratory comes from the National Institutes of Health, AID, GM and the University of California Mosquito Research Program.



Mir S. Mulla, Distinguished Professor, Department of Entomology
Office: 951-827-5818, 3640
Lab: 951-827-2357
E-mail: mulla@mail.ucr.edu
Mir S. Mulla does research on insects affecting human health. He finds practical control strategies for mosquitoes, eye quats, nuisance aquatic midges and other insects of public health concern. Mulla's research activity addresses pest and vector insect problems in California and internationally.

He researches the development of new insect enemies, known as biological control, including but not limited to microbial control agents. Small- and large-scale field trials are underway in collaboration with the World Health Organization and institutions in developing countries. Also underway is research on management of resistance in mosquitoes to microbial larvicides, which emphasizes the prevention of resistance.



William Walton, associate professor, Department of Entomology
Office: 951-827-3919
E-mail: william.walton@ucr.edu
William Walton's expertise is in mosquito ecology and mosquito production from man-made wetlands used to improve water quality from such sources as storm water, municipal wastewater and agricultural wastewater.

Natural and constructed wetlands can become important places for mosquitoes to grow. Multipurpose wetlands are being constructed to recycle water resources in Southern California, to create habitat for wildlife and to provide recreational activities for the ever-increasing human population in the region.

The development of effective mosquito abatement programs that protect the encroaching human population from mosquito-borne disease and nuisance biting is necessary. Walton's laboratory focuses on designing and implementing novel and practical management strategies for wetland mosquitoes.


IMPACT ON ANIMAL AGRICULTURE

Alec Gerry, assistant veterinary entomologist and cooperative extension specialist
Office: 951-827-7054
E-mail: alec.gerry@ucr.edu
Alec Gerry's work focuses on the ecology of nuisance pests and disease vectors associated with animal agriculture. Insect pests and disease vectors pose very serious problems to livestock, often resulting in animal deaths or substantial economic losses for producers. Arthropod pests associated with confined animal operations are also problematic when they exist in numbers great enough to pose a nuisance to agricultural workers or to nearby residential neighborhood.

Looking at both long-and short-term problems, Gerry's research on the biology, ecology and integrated management of insect pests and disease vectors associated with livestock, is aimed at improving integrated pest management (IMP) strategies for the control of these pests and disease vectors associated with animal husbandry.

His laboratory also has an interest in developing a better understanding of the role insects play in the persistence and transmission of animal pathogens, so that the appropriate disease control recommendations can be made. Current research in Gerry's laboratory will determine which mosquito may be involved in WNV transmission to horses during the current WNV season.


According to the National Institutes of Health, West Nile virus belongs to a group of disease-causing viruses known as flaviviruses, which are spread by insects, usually mosquitoes. Other flaviviruses include yellow fever, Japanese encephalitis, dengue, and Saint Louis encephalitis. West Nile virus has become the most well-known flavivirus and represents an emerging infectious disease in the United States.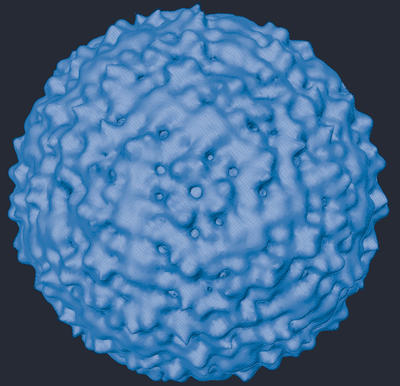 This figure shows a surface-shaded image of the West Nile virus particle produced by Purdue University biologists using cryoelectron microscopy. The surface is composed of proteins that enable the virus to bind with and invade a host cell. The particle is approximately 50 nanometers in diameter, or about 1/1000th of the width of a human hair. (Purdue Department of Biological Sciences image)
The University of California, Riverside (www.ucr.edu) is a doctoral research university, a living laboratory for groundbreaking exploration of issues critical to Inland Southern California, the state and communities around the world. Reflecting California's diverse culture, UCR's enrollment has exceeded 21,000 students. The campus opened a medical school in 2013 and has reached the heart of the Coachella Valley by way of the UCR Palm Desert Center. The campus has an annual statewide economic impact of more than $1 billion.
A broadcast studio with fiber cable to the AT&T Hollywood hub is available for live or taped interviews. UCR also has ISDN for radio interviews. To learn more, call (951) UCR-NEWS.