Graduate Research Rewarded
---
Five Ph.D. Candidates Receive Graduate Research Awards
Disciplines range from economics, to engineering, chemistry, and philosophy
(May 4, 2005)
RIVERSIDE, Calif. —
www.ucr.edu
— Five University of California, Riverside Ph.D. candidates were honored at the third annual Graduate Research Awards and Colloquium, campus officials announced today. Recipients came from the departments of electrical engineering, economics, chemistry, chemical & environmental engineering, and philosophy.
The Graduate Research Awards Committee, which oversees the awards, consists of senior faculty members from all of the five disciplinary areas of research at UC Riverside. The committee selected the award recipients from a pool of about 50 candidates. The Office of Research Affairs, the Office of Alumni and Constituent Relations, and the Graduate Student Association at UC Riverside and the Office of the Chancellor support the Graduate Research Awards Program.
UCR Chancellor France A. Córdova pointed to the graduate student experience as the pivotal time in young scholars' lives, calling those years "one of the most important, freest times of thinking and creativity about your disciplines. It's a time of focus, a time to let your minds evolve."
The awards program recognizes excellence in graduate student research at UC Riverside and exhibits the excellent quality of research carried out by graduate students. The program provides an atmosphere of incentive for all graduate students to excel in their field and in their professional development.
"The range of excellence here is very broad," she said. "To evolve new knowledge is all about asking the right questions, but not only that, it's about taking a new approach to answering those questions."
The award recipients received a certificate of recognition for their work, each received a cash award of $1,000.00 and gave a 10-minute introduction to his or her research.
The recipients are:



Department of Electrical Engineering:
Sumit Chaudhary was recognized for his project titled
Design Methodologies, Fabrication and Characterization of Nanoscale Optical-Electronic Devices
. His advisor is Mihri Ozkan. Chaudhary's project looks at creating a hybrid of organic and inorganic systems with nanoscale technology to develop advanced optical displays that use less energy, offer better side view quality and less color distortion than today's flat screens. The new displays could also be placed on flexible materials.
Department of Economics: Shatakshee Dhongde received recognition for her project An Analysis of the Effects of Growth and Income Distribution on Poverty Levels. Her advisor is, Prasanta Pattanaik. Dhongde's project examines the impact of two decades of globalization on the rapidly growing economy of India and whether overall growth or income distribution play a greater role in poverty reduction. She found that overall economic growth had a greater effect on poverty reduction than income distribution.
Department of Chemistry: Kenneth Scott Phillips received an award for his project, A Biosensor for the Masses. His advisor is Quan "Jason" Cheng. Phillips' projet looked at ways to develop a sensor to detect biotoxins that could be used in the war against terror, the food industry, water quality and in clinical settings. Using a process called microfluidities and a phospholipids membrane, Phillips was able to decrease the size of the sensor, essentially creating a lab on a chip.
Department of Chemical and Environmental Engineering: Sathyajith Ravindran was recognized for his project titled Fabrication and Self-Assembly of Nano-Heterostructures for Device Application. His advisor is Cengiz Ozkan. Sathyajith's project looked at the process of finding an alternative to using acids and bases in the manufacture of nanotubes. His technique is known as "nano-patterned liquid metal cathode." Using mercury in the process eliminates two steps in the production process and also eliminates the need to use harsh chemical acids and bases.
Department of Philosophy: Neal A. Tognazzini was recognized for his research project titled Simples and the Possibility of Discrete Space. His advisor is Erich Reck. Tognazzini looked at the likelihood of reaching a point where technology could define simples, or an object so small as to not have parts, and discrete space, or a division of space so small as to not be divisible.
All currently enrolled graduate students engaged in research or creative activities at any level of their program are eligible for this awards program. Graduate students may apply directly to the Graduate Research Awards Program or be nominated for consideration by a faculty member. College deans and department chairs may also solicit nominations as a means of demonstrating their unit's excellence in graduate education.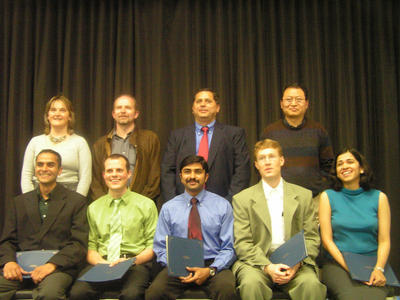 Graduate Research Award winners (front row) and their advisors (back row): Front row from left, Sumit Chaudhary, Neal A. Tognazzini, Sathyajith Ravindran, Kenneth Scott Phillips and Shatakshee Dhongde. Back row from left: Mihri Ozkan, Erich Reck, Cengiz Ozkan and Quan "Jason" Cheng. Not pictured: Prasanta Pattanaik.
RELATED LINKS
The University of California, Riverside (www.ucr.edu) is a doctoral research university, a living laboratory for groundbreaking exploration of issues critical to Inland Southern California, the state and communities around the world. Reflecting California's diverse culture, UCR's enrollment has exceeded 21,000 students. The campus opened a medical school in 2013 and has reached the heart of the Coachella Valley by way of the UCR Palm Desert Center. The campus has an annual statewide economic impact of more than $1 billion.
A broadcast studio with fiber cable to the AT&T Hollywood hub is available for live or taped interviews. UCR also has ISDN for radio interviews. To learn more, call (951) UCR-NEWS.