New Cover Crop Developed for Desert Farming
---
UCR Researchers Develop Cover Crops Designed to Improve Desert Farming
The use of the new varieties of cowpeas as a cover crop will help farmers reduce the use of chemicals and pesticides.
(June 8, 2005)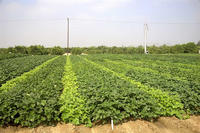 UCR researchers are encouraging desert farmers to use cowpeas as a cover crops during the hot summer months.
UC Riverside researchers have developed new varieties of one of the world's most ancient African crops, not for food, but with the hope of enriching desert soil, improving air quality by reducing losses of topsoil to strong desert winds, reducing the use of chemicals and farming in a more environmentally friendly way.
The new varieties were specifically bred to have strong resistance to root-knot nematodes as part of a collaborative project between UCR Nematologist Phil Roberts and Botany and Plant Sciences plant breeder Jeff Ehlers. Root-knot nematodes are common root parasites that decrease plant health. The genetic resistance bred into the new varieties confer near immunity to the cowpea crop and helps reduce soil infestations for the crops that follow. The varieties also have resistance to aphids and were selected to be able to out-compete weeds.
These traits decrease the need for pesticides and chemicals, thereby increasing profitability for farmers, said Milt McGiffen, UC Riverside Plant Physiologist and Cooperative Extension Specialist.
Cover crops — crops that are planted between main crops to enrich the soil — are an important component of sustainable agriculture, a farming technique that produces abundant food without depleting the earth's resources or polluting its environment.
The new varieties are being tested for release to farmers, said McGiffen, who for nearly a decade has been encouraging farmers in the California's desert communities to use cowpeas as a cover crop.
Desert farmers plant lettuce, broccoli, cauliflower or carrots in the fall to grow during the cool winter months, and then plant cantaloupe and other melons in the spring.
"Many farmers have left their fields fallow during the summer months when it is too hot to grow traditional crops," said McGiffen. "We provide them with the information and tools to take advantage of the many benefits growing cowpeas cover crops."
Cowpeas enrich the soil by producing abundant amounts of organic matter and nitrogen and change it into useable fertilizer, said McGiffen. Cowpeas are also resistant to common forms of root-know nematode, grow well in poor soil and tolerate hot desert summers with moderate irrigation.
Cowpea cover crops can increase a farmer's net returns because improved soil conditions increase yields of the fall/spring crops and reduce the need for chemicals and fertilizer.
Cowpeas come in many varieties including the commonly known black-eyed peas, which are grown in California. In Africa, cowpeas are an important food crop because of their strong resistance to the droughts and pests that have caused widespread failures of other crops and hunger. Other cowpea varieties are cultivated in the United States and around the world for their high quality hay, and for their green pods (Yardlong or Asparagus beans) popular in Asian cuisine.
The University of California, Riverside (www.ucr.edu) is a doctoral research university, a living laboratory for groundbreaking exploration of issues critical to Inland Southern California, the state and communities around the world. Reflecting California's diverse culture, UCR's enrollment has exceeded 21,000 students. The campus opened a medical school in 2013 and has reached the heart of the Coachella Valley by way of the UCR Palm Desert Center. The campus has an annual statewide economic impact of more than $1 billion.
A broadcast studio with fiber cable to the AT&T Hollywood hub is available for live or taped interviews. UCR also has ISDN for radio interviews. To learn more, call (951) UCR-NEWS.