UCR's Police Chief to Retire
---
UCR's Police Chief Hank Rosenfeld Retires
Henry "Hank" Rosenfeld is retiring after 16 years at the helm of the campus police force

(June 24, 2005)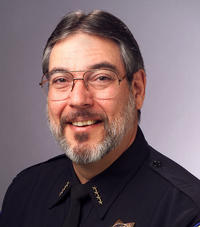 Enlarge
Henry "Hank" Rosenfeld
RIVERSIDE, Calif. (www.ucr.edu) — During his three decades in law enforcement, University of California, Riverside's Police Chief, Henry "Hank" Rosenfeld has conducted his career with a golden rule in mind.
"We all have one," said Rosenfeld, who will retire June 30 after 24 years at UCR. "This is mine. I ask myself, would my mother be proud of what I've done or would she be ashamed?"
Rosenfeld, 51, will retire in his mother's plus column.
Not that his parents, Nathan and Rita Rosenfeld, were initially happy with his decision to forego a pre-medicine degree from UC Irvine, where he graduated in 1976. And even less so when Rosenfeld decided to go into law enforcement. His parents were World War II-era holocaust survivors: Nathan survived an Austrian death camp and Rita, like Anne Frank, was one of the hidden children of WWII.
"The authority of a law enforcement officer, with the ability to deprive someone of their liberty, property and ultimately, under certain circumstances, their life, was pretty much what the Nazi Gestapo had, so you can imagine how they felt about my choice," said Rosenfeld. "Needless to say, I take that authority — and all that comes with it — very seriously."
That sensibility — and his parents' eventual acceptance of his career choice — has guided his performance as a peace officer.
"The demands are the same as for any other general law enforcement agency but in a very different community. It's a community that sees law enforcement as a necessary evil … public safety isn't first on people's minds," Rosenfeld said.
Like in a small town, police officers are not anonymous.
"If someone inside the department were treating people poorly, no one would by shy about picking up the phone or sending me an e-mail," he said.
Rosenfeld takes pride in the knowledge that his 29 sworn officers and 11 civilian employees get their difficult jobs done with respect and dignity to those they serve.
This has been a time of tremendous campus growth. Rosenfeld supervised 13 sworn officers when he became chief in 1989, serving a campus with 8,500 students. Today, the department has 29 sworn positions and serves a campus with a student population of 17,200.
One of Rosenfeld's career milestones was getting the 9,300-square-foot police headquarters on Linden Street and Canyon Crest Drive built in 1999. The $1.6 million project moved forward after several previously stalled attempts to move the force out of a decaying 1930s-era cottage of about 1,800 square feet.
Within the UC system, Rosenfeld progressed between 1974 and 1978 from a dispatcher to peace officer to the rank of sergeant at UC Irvine. He then served at UCLA as a sergeant. His promotion to Lieutenant came with his appointment to UCR in 1981. Eight years later, he succeeded William L. Howe as police chief. At 35, he was the second youngest police chief in the University of California system.
In a career of many intense moments, there were two at UCR that made national news. In April of 1985, while Rosenfeld was a lietenant, the Animal Liberation Front raided the Life Sciences building, taking 467 animals, vandalizing equipment and spray-painting walls. The loss was estimated at $683,500.
In May 1994 a visit to campus by the number-two man in the Nation of Islam, Khallid Muhammad, turned into an attempted assassination. James Bess was tried and convicted. Eleven UCR officers received medals and commendations for apprehending, disarming and rescuing the triggerman and getting aid to Muhammad in the midst of an angry and chaotic mob scene.
"The skill and professionalism of the officers in this department, I think, is unparalleled," Rosenfeld said. "They bring that, and a caring for people, to everything they do."
A year later he launched UCR police's involvement in the University Neighborhood Enhancement Team (UNET). Four officers and a patrol sergeant from UCR along with an equal number from the Riverside Police Department were assigned to deliver community policing services in the 17-square-miles of neighborhoods surrounding the campus.
"He's really encouraged us to work closely with the community," said Assistant Chief Mike Lane, who will replace Rosenfeld on July 1. "Many in the community know him merely as Hank."
Rosenfeld is involved with the El Protector free soccer clinic for youths in the city's Eastside neighborhood next to UCR, since its inception a decade ago.
He sits on the board of the UCR Athletic Association, which provides support to the campus' athletic programs; is past president of the Riverside County Law Enforcement Administrators' Association and the Association of the Riverside County Chiefs of Police; a member of the California Peace Officers' Association; and the Shomrim Society, a Jewish law enforcement fraternal organization. He is a former member of the Moreno Valley Youth Federation, the Inland AIDS Project; the Greater Riverside Community of Diversity. He is an associate member of the California Women's Peace Officers Association, and an ethics instructor at the Ben Clark Training Center.
He earned his master's degree at California State University, Pomona Graduate School of Management in leadership and strategic planning.
"My overarching goal is to live a long, happy, healthy retirement that lasts longer than I worked to earn it," he said. He may indulge his creative side, learning woodworking, jewelry design or music. He has been writing a novel and has ideas for two more. He'd like to volunteer and maybe learn to fly a helicopter. He said he will stay active with UCR Athletics, and he will look forward to having more time for community issues.
"The only reason I've been successful is because of the good work of individuals in this department," he said. "We handle 25,000 to 30,000 incidents every year, and we treat people very, very well. And that's the thing that makes me most proud."
The University of California, Riverside (www.ucr.edu) is a doctoral research university, a living laboratory for groundbreaking exploration of issues critical to Inland Southern California, the state and communities around the world. Reflecting California's diverse culture, UCR's enrollment has exceeded 21,000 students. The campus opened a medical school in 2013 and has reached the heart of the Coachella Valley by way of the UCR Palm Desert Center. The campus has an annual statewide economic impact of more than $1 billion.
A broadcast studio with fiber cable to the AT&T Hollywood hub is available for live or taped interviews. UCR also has ISDN for radio interviews. To learn more, call (951) UCR-NEWS.