Center for Plant Cell Biology Earns Grant
---
Graduate Training at UCR Earns $2.9 Million Boost from NSF
The Center for Plant Cell Biology earns highly competitive award
(June 30, 2005)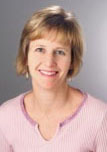 Julia Bailey-Serres, principal investigator
RIVERSIDE, Calif. (www.ucr.edu) -- The National Science Foundation has approved funding of $2.9 million for an Integrative Graduate Education and Research Trainee (IGERT) program to be conducted by researchers at UC Riverside's Center for Plant Cell Biology. This prestigious and highly competitive award marks the first time UC Riverside has had an IGERT program funded.
Under principal investigator Julia Bailey-Serres, professor of Genetics in the Botany and Plant Sciences Department, this five-year project proposes to train 23 Ph.D. students in cell biology, chemistry, computational sciences and engineering. The ultimate goal of the program is to develop responsible citizens and leaders dedicated to solving complex problems in biology through innovative and collaborative research.
"From the original 550 pre-proposal applications, there were just over 20 training programs chosen," Bailey-Serres said. "It's certainly an honor."
The project, titled "IGERT in Chemical Genomics: Forging Complementation at the Interface of Chemistry, Engineering, Computational Sciences and Cell Biology," brings faculty from different departments into collaboration.
"A few of the faculty participants in this program have worked together before, but most have not," Bailey-Serres said. "Once the interaction between these research groups is established, the collaborations will be sustained, through this program and probably in other projects as well."
UC Riverside students in the IGERT program will be trained in advanced chemical genomics, using small molecules to probe protein function in complex cellular systems. Researchers at Harvard University are using the chemical genomics approach on mammalian systems, but the Center for Plant Cell Biology is the only research group actively adapting the approach for plants.
The method allows researchers to overcome obstacles through the use of multiple sciences, including chemistry, computational science and engineering. According to project participants, multidisciplinary research is the future of biological science due to the complexity of cells and multicellular organisms.
The project's educational mission is designed to instill in graduate students an acute awareness of the potential for their discoveries to address global food, health and environmental problems.
"Much of the work done in plant research relates to medicine, in addition to agriculture, so this is research that will have real-world effects in that regard, along with other tangible benefits in these different disciplines," said Bailey-Serres.
An outreach effort of the IGERT program will seek to stimulate interest in genomic science, especially among underrepresented students. As mentioned in the project summary, the project aspires to produce a "new generation of diverse leaders who can form the complementary research teams required for 21st-century research careers in industry and academia."
The "ChemGen" program is expected to begin in September. In addition to Bailey-Serres, Co-principal investigators include Plant Cell Biology professor Natasha Raikhel, Chemistry professor Michael Pirrung, Computer Science professor Tao Jiang and Biochemical Engineering professor Jerome Schultz.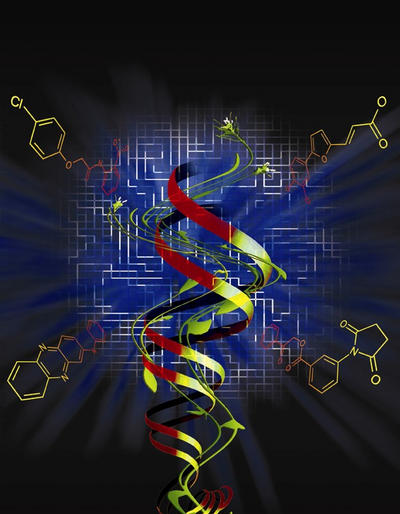 Enlarge
A DNA strand wrapped around Arabidopsis, a plant species used for its potential ability to provide information regarding other plants. The four chemical structures represent the approach of using chemical compounds to study the fundamental biology of cells through their effects on Arabidopsis genes and gene products.
RELATED LINKS
The University of California, Riverside (www.ucr.edu) is a doctoral research university, a living laboratory for groundbreaking exploration of issues critical to Inland Southern California, the state and communities around the world. Reflecting California's diverse culture, UCR's enrollment has exceeded 21,000 students. The campus opened a medical school in 2013 and has reached the heart of the Coachella Valley by way of the UCR Palm Desert Center. The campus has an annual statewide economic impact of more than $1 billion.
A broadcast studio with fiber cable to the AT&T Hollywood hub is available for live or taped interviews. UCR also has ISDN for radio interviews. To learn more, call (951) UCR-NEWS.