Undergraduate Research Program Funding Extended
---
Federal Grant Supports Minority Undergraduate Student Research at UCR
NIH funds MARC U * STAR program in science research for five more years
(July 12, 2005)
RIVERSIDE, Calif. —
www.ucr.edu
— A program with a four-year track record at the University of California, Riverside that helps undergraduate students achieve careers in biomedical research, has received funding for five more years, campus officials announced today.
The Minority Access to Research Careers Students Training in Academic Research (MARC U* STAR) program at UCR, funded through the National Institutes of Health, has received nearly $2 million in funding for a five-year extension.
"Eighteen students from UC Riverside have participated in this program over the past four years," said Biochemistry Professor Jolinda Traugh, the program director. "Five of them graduated this year."
"Dr. Traugh and her colleagues are to be congratulated for the renewal of the MARC grant. It was a national distinction for UCR to receive the grant four years ago," said Yolanda Moses, the Chancellor's special assistant for excellence and diversity. "The fact that they have received funding for the next five years is indeed a reaffirmation of the excellence and success of this program."
MARC U* STAR provides participants stipends to defray living and school expenses and to travel to scientific meetings. It provides special courses to prepare participants for oral presentations, to analyze journal and scientific articles, and also provides research opportunities with faculty mentors and graduate students.
The MARC U* STAR program builds on UCR's Honors Program and the California Alliance for Minority Participation (CAMP) program at UCR to provide a four-year program for traditionally underrepresented students in the biological sciences and related fields. Those include biochemistry, biology, cell biology and neuroscience, chemistry and statistics, and biomedical sciences.
The program offers two levels of help: A summer pretrainee program for students entering their second undergraduate year, and the two-year MARC U* Training Program for third- and fourth-year students. Ten trainees going in to their third and fourth years at UCR and eight pre-trainees are participating over the summer, according to program officials. UCR is one of three UC campuses offering the program and one of only 14 such programs in California, according to the MARC U* STAR Web site.
Program participants conduct research, network with other trainees, develop relationships with faculty mentors and participate in enrichment activities. The goal is to broaden opportunities for underrepresented students in the sciences and to provide mentoring and guidance, both academically and personally, to participating students.
"The program gets its participants into faculty laboratories quickly where they learn the basic and specific skills needed to do laboratory research," said program coordinator Jo-Ann Heick.
"I've been very impressed with the quality of the students in our program, both academically and in the creativity of their research," Traugh said. "Their abilities to carry out ambitious research projects have been outstanding."
Student Vignettes

Amy Avelar
, 25, is entering a Ph.D. program in chemistry at UCR with the help of a nationally competitive National Science Foundation Graduate Research Fellowship worth about $90,000 over three years. She credits the MARC U* STAR training program with putting her on the right track shortly after transferring to UCR from San Bernardino Valley College. She graduated from UCR in June with a bachelor's degree in chemistry with high honors.
"It was my experience in the program that encouraged me to go to graduate school," she said. "MARC U exposes you to the research environment right off the bat. It gets you connected to a mentor, to the lab environment and to a research project."
Avelar works in the laboratory of Distinguished Professor of Chemistry, Christopher Reed, studying ways to get carborane-based superacids into liquid form under manageable temperatures in order to make them more useful and easier to study. Carborane superacids hold the potential to be useful in the oil refining process, the creation of polymers and in synthesizing new drugs.
Anthony Farina,
22, is pursuing a Ph.D. in biochemistry at UC San Diego this fall after graduating from UCR in June with a bachelor's degree in biochemistry. Anthony joined Assistant Professor of Biochemistry Ernest Martinez under the MARC U* STAR program, studying transcription and messenger RNA, and purifying and analyzing proteins.
He came to UCR after graduating from Claremont High School and joined the program as a pre-trainee. He is the lead author of a published in the journal "Protein Expression and Purification" in January 2004.
He hopes to someday work in industry research or as a professor of biophysics to more completely understand biological processes at the molecular level. Understanding how proteins trigger the gene expression of molecules is the next step in understanding genetics building on the decoding of the human genome, he added.
Maximiliano Vallejos,
22, is pursuing a masters' degree in biochemistry at Cal Poly Pomona in the fall. He came to the U.S. in 1999 from Chile and graduated from Etiwanda High School before enrolling at UCR. The MARC U* STAR program helped Vallejos financially because his parents could pay for only two years at UC Riverside, he said. He has also received a $25,000 fellowship from the Society to Advance Chicanos and Native Americans in Science, where he previously presented and won first place in the poster presentation at the national conferences in 2002 and 2003.
"I dreamed of being an ophthalmologist before I got involved in Dr. Michael Dunn's laboratory," Vallejos said. "There, I made a chemical reaction with amino acids in a 5-gram vial, and Dr. Dunn said it was probably the only 5 grams of that compound in the world. That idea really grabbed me."
Vallejos realized a love of teaching while giving community talks on his research into the structure and function of the enzyme tryptophan synthase. He said understanding proteins is key first step in understanding how genes work and that, in turn, leads to effective gene therapy.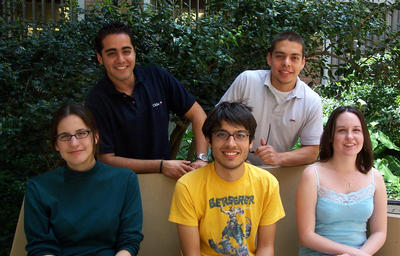 MARC U* STAR graduates are from left: Amy Avelar, Maximiliano Vallejos, Anthony Farina, Karlos Oregel and Rochelle Pederson
RELATED LINKS
ADDITIONAL CONTACTS
The University of California, Riverside (www.ucr.edu) is a doctoral research university, a living laboratory for groundbreaking exploration of issues critical to Inland Southern California, the state and communities around the world. Reflecting California's diverse culture, UCR's enrollment has exceeded 21,000 students. The campus opened a medical school in 2013 and has reached the heart of the Coachella Valley by way of the UCR Palm Desert Center. The campus has an annual statewide economic impact of more than $1 billion.
A broadcast studio with fiber cable to the AT&T Hollywood hub is available for live or taped interviews. UCR also has ISDN for radio interviews. To learn more, call (951) UCR-NEWS.