Game Reveals More than Expected
---
Ratings Board, Like Parents, In the Dark on Grand Theft Auto: San Andreas
UCR dance professor Derek Burrill studies motion and performance in video games
(July 21, 2005)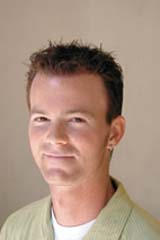 Derek Burrill
RIVERSIDE, Calif. (www.ucr.edu) -- Derek Burrill is an assistant professor of dance at UC Riverside. But the kind of motion and performance he studies is the kind inside computer games, like the performance of CJ, the character at the center of Grand Theft Auto: San Andreas.
CJ is also at the center of a new controversey over sex scenes embedded in disabled code, which were not reported to the Electronic Software Ratings Board (ESRB), and were subsequently unlocked by savvy hackers who spread the key via the Web.
"This bit of 'disabled code' in GTA:SA, which includes a scene where CJ makes out with his male friend, a cop and a priest, is the authorship of the company, the programers, but also, in a sense, the player, as long as they can find out how to activate it," Burrill said. "Parents will probably not ever know exactly what is going on in the games, particularly since they are not going to sit for countless hours and watch over-the-shoulder while their kids play."
He said computer gaming brings unprecedented levels of interaction as well as alterability, what can be called 'authorship.' Both programers and more recently, players, can edit their software, and therefore the experience itself.
He said there is no complete answer to the larger question of whether media violence is damaging to young people. "Sure, it does physically affect them, with faster breathing and heart rates, but are they going to go out and kill someone? Does it give them an outlet for feelings and behaviors that were always-already there? Sociologists have been working on this for the better part of the last century," he said.
"The best thing that parents can do is closely monitor what their child has access to and this usually means at their friend's houses. Since the ESRB was created by the gaming industry as a self-policing measure because of complaints about content in the 90's., it is a little toothless, Burrill said. He said it is likely that the ESRB gave Rockstar Games (the producer of GTA:SA) a great deal of input on how the game should be rated.
"So, until an industry-independent entity is created, this will undoubtedly continue to happen. Good luck parents!"
Burrill studies performance and movement in digital games, as well as the cultural and artistic impact of video and computer gaming. His interests include Media Theory, Film and Television and gender studies. Current publications include a chapter entitled "'Oh Grow Up, 007': The Performance of Bond and Boyhood in Video Games," in the anthology ScreenPlay and the articles "Out of the Box: Performance, Drama and Interactive Software" (Modern Drama) and "Watch Your Ass!: The Structure of Masculinity in Video Games," (Text Technology).
Email: derek.burrill@ucr.edu (preferred)
Phone: 951.369.7185
Media contact: Kris Lovekin, 951 827-2495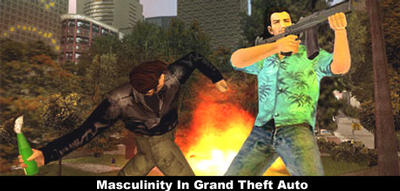 Enlarge
Professor Burrill put on a campus seminar on masculinity in GTA:San Andreas shortly after the game's release last Fall.
RELATED LINKS
ADDITIONAL CONTACTS
The University of California, Riverside (www.ucr.edu) is a doctoral research university, a living laboratory for groundbreaking exploration of issues critical to Inland Southern California, the state and communities around the world. Reflecting California's diverse culture, UCR's enrollment has exceeded 21,000 students. The campus opened a medical school in 2013 and has reached the heart of the Coachella Valley by way of the UCR Palm Desert Center. The campus has an annual statewide economic impact of more than $1 billion.
A broadcast studio with fiber cable to the AT&T Hollywood hub is available for live or taped interviews. UCR also has ISDN for radio interviews. To learn more, call (951) UCR-NEWS.