Josh Kun Critiques Tijuana Dress Code
---
NPR Airs UC Riverside Professor's Critique of Tijuana Dress Code
Josh Kun says vendors' new traditional garb misses mark
(July 25, 2005)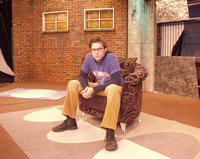 Enlarge
Josh Kun
RIVERSIDE, Calif. (www.ucr.edu) -- National Public Radio's "All Things Considered" news program recently aired commentary by Josh D. Kun, an associate professor of English at UC Riverside who contends that Tijuana's new mayor is wrong to require street vendors in the border city to wear "traditional" Mexican costumes on weekends.
"Dressing Tijuana vendors in folk garb misrepresents what Tijuana is all about," Kun said in his three-minute piece, which aired July 18. "(The vendors) aren't selling ancient Mayan handicrafts or Day of the Dead dioramas -- they're selling Bart Simpson statuettes, Osama bin Laden piñatas and knockoff Gucci sunglasses."
Tijuana Mayor Jorge Hank Rhon, a flamboyant millionaire with a personal zoo, has said he came up with his "very nice, very clean, very colorful and very happy-looking" fashion policy to improve the city's international reputation and to help tourists "feel Mexico."
The trouble with that idea, Kun said, is that Tijuana has never been "traditional" Mexico. It is a manufacturing city of 2,000,000 butted right up against the United States, and its border crossing is the busiest in the world.
"Tijuana is more economically and socially connected to the U.S. than to the rest of Mexico, and it has long been a bastion of progressive and modern thought in Mexican society," Kun said.
The colorful, "happy-looking" costumes sound a sour economic note, Kun said, especially as their impoverished wearers "go home to houses made of recycled U.S. garage doors."
The dress code took effect June 25 in a busy pedestrian mall in time for the Fourth of July weekend, but many vendors ignored it, according to The Associated Press. The city plans to expand the policy to other streets, including bustling Avenida Revolucion, the news service said, and to ban vendors cited three times for disobeying the directive.
At UC Riverside, Kun teaches about pop music, the Mexican border and the cultures of Los Angeles. As a critic, he has been writing about music and pop culture since 1993 for the New York Times, the Los Angeles Times, LA Weekly, Los Angeles Magazine, the Boston Phoenix and the San Francisco Bay Guardian.
Kun's latest book is "Audiotopia: Music, Race, and America," will be released in November by the University of California Press. He is writing a book titled "The World Begins Here: The View from Tijuana." His NPR commentary is available at
http://www.npr.org/templates/story/story.php?storyId=4759667
The University of California, Riverside (www.ucr.edu) is a doctoral research university, a living laboratory for groundbreaking exploration of issues critical to Inland Southern California, the state and communities around the world. Reflecting California's diverse culture, UCR's enrollment has exceeded 21,000 students. The campus opened a medical school in 2013 and has reached the heart of the Coachella Valley by way of the UCR Palm Desert Center. The campus has an annual statewide economic impact of more than $1 billion.
A broadcast studio with fiber cable to the AT&T Hollywood hub is available for live or taped interviews. UCR also has ISDN for radio interviews. To learn more, call (951) UCR-NEWS.