Young Physicist Receives National Prize
---
Physicist Receives National Award from the U.S. Department of Energy
Owen Long receives Outstanding Junior Investigator award recognizing research at the cutting edge of high-energy physics.

(August 9, 2005)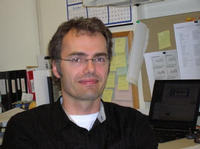 Owen R. Long
RIVERSIDE, Calif. —
www.ucr.edu
— Owen Long, an assistant professor of physics at the University of California, Riverside, has received the 2005
U.S. Department of Energy's
Outstanding Junior Investigator award. The award is one of only seven issued nationally this year.
Long, who joined the UCR faculty in 2004 from UC Santa Barbara, is an authority in the experimental study of particle-antiparticle symmetry, which is related to the dominance of matter over antimatter in our universe. His award-winning proposal is titled
A Program to Study CP Asymmetries in Penguin-dominated B Decays at BaBar.
"This is an especially competitive award that underscores Dr. Long's outstanding research in the study of particle-antiparticle symmetry and his promise for a long, distinguished career in the area of high-energy physics," said Steven R. Angle, dean of the College of Natural and Agricultural Sciences at UCR. "We have been fortunate to attract to UCR several early-career faculty members in the sciences like Dr. Long who have been recognized as highly promising by federal funding agencies such as the National Science Foundation and the Department of Energy."
Long is spending the summer at the
Stanford Linear Accelerator Center (SLAC)
where he is one of about 600 physicists from 10 countries taking part in the BaBar experiment. The experiment collides electrons with their anti-particle counterparts to produce pairs of subatomic particles called b quarks.
With his BaBar colleagues, Long is studying a line of physics called CP violation, which concerns itself with the subtle ways in which matter and antimatter behave differently. The current theory of CP Violations says that shortly after the big bang — thought to be the seminal event at the beginning of the universe — there were equal amounts of matter and antimatter, but somehow matter now populates the universe.
"How we got from equal amounts of matter and antimatter to the current universe is still a mystery, but we know some form of CP violation was involved," Long said.
Long goes beyond the early work of the BaBar experiment, which confirmed the predictions of the current theory of CP violation.
"We were hoping to find hints of physics that go beyond the current theory, which is believed to be incomplete," he said. "That's where my proposal comes in."
The Outstanding Junior Investigator Award will support Long's research with about $80,000 annually for three years. His is one of only two accelerator-based research proposals awarded from a field of seven submissions in this area.
"This speaks volumes about how impressive Owen is," said UCR Distinguished Professor of Physics Benjamin Shen.
Long's fellow award recipients include colleagues from the University of Connecticut, the University of Wisconsin, Kansas State University, the Massachusetts Institute of Technology, Harvard University, and the University of Pennsylvania. He joins fellow UCR recipients John Ellison in 1993 and John William Gary in 1992.
According to the U.S. Department of Energy's Web site, the Outstanding Junior Investigator program in high-energy physics began in 1978 to identify exceptionally talented new high-energy physicists early in their careers and to support the development of their research programs.
In recent years, about one in six proposals have been successful. The Department of Energy received 65 proposals for its OJI Award this year. Since its inception, 185 scientists have received OJI Awards.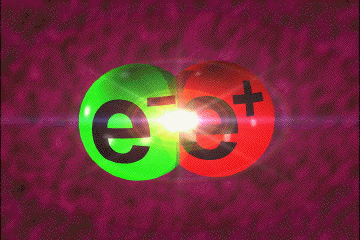 A burst of light is emitted as the electron and its antiparticle, the positron, collide. (Image credit) NASA - Goddard Space Flight Center Scientific Visualization Studio

RELATED LINKS
ADDITIONAL CONTACTS
The University of California, Riverside (www.ucr.edu) is a doctoral research university, a living laboratory for groundbreaking exploration of issues critical to Inland Southern California, the state and communities around the world. Reflecting California's diverse culture, UCR's enrollment has exceeded 21,000 students. The campus opened a medical school in 2013 and has reached the heart of the Coachella Valley by way of the UCR Palm Desert Center. The campus has an annual statewide economic impact of more than $1 billion.
A broadcast studio with fiber cable to the AT&T Hollywood hub is available for live or taped interviews. UCR also has ISDN for radio interviews. To learn more, call (951) UCR-NEWS.