Nanofabrication Cleanroom Facility Opens at UC Riverside
---
Nanofabrication Cleanroom Facility Opens at UC Riverside
The new facility will boost the campus' research in the area of nanotechnology and will attract high-tech industry to the Inland area.
(August 12, 2005)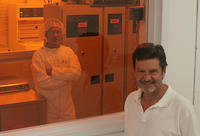 Enlarge
CNSE Directory Robert Haddon, foreground, and Lab Manager Mark E. Heiden, inside the cleanroom. The room's yellow illumination allows researchers to work with light sensitive materials.
The ceremony to mark the opening of UC Riverside's 2,000-square-foot Nanofabrication Cleanroom will be held at 10 a.m., Aug. 18 at Bourns B118. Congressmen Ken Calvert and Jerry Lewis will speak during the ceremony.
The $3 million nanofabrication facility will give a big boost to UCR's nanotechnology research by providing the tools and dust-free workspace in which to build a myriad of small-scale circuits and machines.
"It is nearly impossible to conduct nanoscale research without a cleanroom environment," said Robert Haddon, director of UCR's Center for Nanoscale Science and Engineering. "In some respects having a cleanroom to process samples in is the price of admission into nanoscale research."
With $7 million worth of equipment, the facility will allow researchers to conduct their work with a full compliment of technology.
"If successful the work will lead to a new generation of electronic devices, based on materials and device structures that extend beyond current silicon-based electronic circuitry," said Haddon. Those devices may be based on carbon nanotubes or porphyrins and may employ the spin of the electron as well as the charge to carry out computation and memory storage. This will lead to devices that consume less power, are smaller and much more powerful than current silicon-based devices.
The facility is a Class 100/1,000. This means that some areas of the room have less than 100 particles of size 300 nanometers or larger per cubic foot of air in the room, while other areas have less than 1,000 particles of size 300 nanometers or larger per cubic foot. A nanometer is about 100,000 times smaller than a human hair. On the scale of nanoscience research, a particle that is 300 nanometers is huge and capable of causing short circuits in a nanoscale electronic circuit.
The cleanroom is located in an existing area of the Bourns College of Engineering. The site was chosen because the 16-foot-high ceilings that provided the space needed to install a HEPA air filtration system and air delivery system as well as temperature and humidity control systems. The system constantly "washes" the air down to the floor, where it is sucked back into the return air system, cleaned and sent back into the room.
"When you are in the room, it's like you are in a giant laminar air shower," said Mark E. Heiden, manager of the Nanofabrication Facility.
As researchers enter the room a sticky mat removes dirt and dust particles from their shoes. Safety glasses, gloves and "bunny suits" made from non-linting, anti-static fabric, must be worn over street clothes, shoes and hair at all times. Researchers must move slowly while in the room so as not to generate dust particles. The room's eerie yellow illumination prevents light sensitive material from being exposed to ultraviolet light.
The room provides benefits to more than just UCR researchers, said Haddon.
"This nanofabrication cleanroom provides additional impetus for UC Riverside's nanotechnology research and serves as a conduit to bring high-tech industry to the Inland Empire area," he said.
The Center for Nanoscale Science and Engineering (CNSE) was created in 2000 with the hiring of the Director, Distinguished Professor Robert C. Haddon. CNSE is joint effort between the Bourns College of Engineering and the College of Natural and Agricultural Sciences. A five-year plan, developed in 2001, identified milestones that included the development of collaborative research thrusts, a national presence in nanotechnology as signified by center funding for a specific initiative involving a significant number of faculty, and the presence of a semiconductor processing and nanofabrication facility. With the completion of the CNSE Nanofabrication Facility all three of these goals have been achieved.
RELATED LINKS
ADDITIONAL CONTACTS
The University of California, Riverside (www.ucr.edu) is a doctoral research university, a living laboratory for groundbreaking exploration of issues critical to Inland Southern California, the state and communities around the world. Reflecting California's diverse culture, UCR's enrollment has exceeded 21,000 students. The campus opened a medical school in 2013 and has reached the heart of the Coachella Valley by way of the UCR Palm Desert Center. The campus has an annual statewide economic impact of more than $1 billion.
A broadcast studio with fiber cable to the AT&T Hollywood hub is available for live or taped interviews. UCR also has ISDN for radio interviews. To learn more, call (951) UCR-NEWS.