UCR Garners Four Environmental Fellows
---
EPA Fellowships Support Graduate Students' Environmental Research
FourUC Riverside students receive fellowships that pay tuition, buy lab equipment and pay for conference attendance
(September 9, 2005)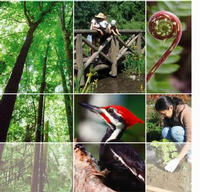 RIVERSIDE, Calif. —
www.ucr.edu
— Four University of California, Riverside graduate students have been chosen to receive highly competitive U.S. Environmental Protection Agency (EPA) fellowships that will support their studies in environmentally related fields of study.
The EPA grants two types of fellowships. The Science to Achieve Results (STAR) program offers graduate fellowships for master's and doctoral level students in environmentally related fields. The Greater Research Opportunities (GRO) Fellowship is designed to help recipients pursue degrees in traditionally recognized environmental disciplines as well as other fields such as social anthropology, urban and regional planning. The fellowships pay tuition during graduate studies, pays annual stipends, usually around $30,000, and stipends for research equipment and conference travel.
Caroline Ridley, Angelia Seyfferth
and
Bethany Warren
were UCR's STAR Fellowship recipients, of the 131 who received such awards nationally, who were chosen from more than 1,700 applicants. UCR's GRO Fellowship recipient, one of 37 students chosen from among 260 applicants, is
Yu-Chen Hwang
.
STAR award recipient,
Caroline Ridley
was announced earlier this year. Read more about her research, which focuses on how hybrids between cultivated radish and a wild cousin have developed into an invasive weed in California, at the
UCR Newsroom
Web site, or call media contact Ricardo Duran at (951) 827-5893 for details.
Angelia Seyfferth
is a Ph.D. student who just completed her second year in the Soil and Water Sciences program in the Department of Environmental Sciences. She is studying the accumulation of perchlorate by lettuce plants, including whether the concentrations differ among the different varieties of lettuce in her research. She's also examining the extent to which the plants metabolize the chemical into less toxic forms.
Perchlorate, a contaminant that originates from rocket fuel and other explosives, has been found at low concentrations in the Colorado River and is known to interfere with the human thyroid gland's use of iodine. The river is the principal source of irrigation water for the Coachella and Imperial valleys, which grows most of the nation's winter lettuce. The situation is complicated by the development of public policy amid a dearth of hard facts about the chemical.
For details the research, contact Professor of Soil Chemistry David Parker, Seyfferth's doctoral advisor, at (951) 827-5126.
Bethany Warren
, a graduate student in UCR's Bourns College of Engineering's Chemical and Environmental Engineering Department, studies how temperature, humidity, salts and other environmental factors influence the formation of particulate matter, called secondary organic aerosols (SOA), which appear in the air as haze or smog. Formed from hydrocarbons, SOA can cause health problems and are believed to affect the global climate.
Warren's research involves a unique environmental chamber that allows researchers to study both gas- and particle-phase atmospheric reactions at ambient pollutant concentrations. The knowledge uncovered by such research helps create the research bases upon which the U.S. EPA and the California Air Resources Board can develop and implement policy.
For more about Warren's research, contact her graduate advisor, Assistant Professor of Environmental Engineering David Cocker at (951) 827-2408, or 951-781-5695.
EPA GRO fellowship recipient
Yu Chen Hwang
is pursuing her Ph.D. in microbiology with Professor of Environmental Microbiology Marylynn V. Yates. Hwang is developing a method of quickly and accurately detecting infectious intestinal viruses found in drinking water using a genetically engineered line of cells as bio-detectors.
Hwang uses a cell line that reacts to the presence of a virus by glowing under a fluorescent light microscope. Her experiments use a neutralized version of the polio virus, which is considered a model viral system for research purposes. Hwang hopes the approach she is developing could one day be refined into field-testing of water systems and sources in developing countries, which could render quick results without the need to send samples to a laboratory.
For more about Hwang's research, contact her doctoral advisor Marylynn V. Yates at (951) 827-2358.
RELATED LINKS
ADDITIONAL CONTACTS
The University of California, Riverside (www.ucr.edu) is a doctoral research university, a living laboratory for groundbreaking exploration of issues critical to Inland Southern California, the state and communities around the world. Reflecting California's diverse culture, UCR's enrollment has exceeded 21,000 students. The campus opened a medical school in 2013 and has reached the heart of the Coachella Valley by way of the UCR Palm Desert Center. The campus has an annual statewide economic impact of more than $1 billion.
A broadcast studio with fiber cable to the AT&T Hollywood hub is available for live or taped interviews. UCR also has ISDN for radio interviews. To learn more, call (951) UCR-NEWS.