Stellar Cast of Health Scientists to Speak at UCR
---
Stellar Cast of Health Scientists to Speak at UCR
Speakers include leading researchers who enhance our understanding of biomedicine
(September 27, 2005)
NEWS MEDIA CONTACT
Name:

Iqbal Pittalwala


Tel:

(951) 827-6050


E-mail:

iqbal@ucr.edu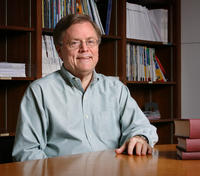 Bruce McEwen, Ph.D., the Alfred E. Mirsky Professor and head of the Harold and Milliken Hatch Laboratory of Neuroendocrinology at The Rockefeller University, is the final speaker in the "Frontiers in Biomedical Research" seminar series. He will speak at UCR on Jan. 18. Photo credit: The Rockefeller University.
RIVERSIDE, Calif. — Some of the country's most distinguished health scientists and leaders in the field of medical education will be giving seminars at UC Riverside on a wide range of topics in health and modern medicine. All presentations are free and open to the public, with seating available on a first-come basis.
Presented by UCR's Health Sciences Initiative, the seminars are grouped into two categories, the first of which will address biomedical research issues. The second group of seminars, still under development, will focus on the design of new medical schools in the 21st century.
The seminars addressing biomedicine will be held at 4 p.m., Room 206, Engineering II, with light refreshments available at 3:30 p.m. The seminars, presented under the banner "Frontiers in Biomedical Research," are:
•
Robert M. Kaplan
, "The Disease Reservoir Hypothesis: Is there value in screening for disease?" Tuesday, Oct. 11, 2005
Kaplan, Ph.D., is professor and chair of the Department of Health Services, UCLA School of Public Health. His research interests include behavioral medicine, health services research, epidemiology, health outcome measurements, psychometrics and multivariate data analysis. He is a past president of several organizations, including the American Psychological Association Division of Health Psychology, the International Society for Quality of Life Research, the Society for Behavioral Medicine, and the Academy of Behavioral Medicine Research. Selected honors include APA Division of Health Psychology Annual Award for Outstanding Scientific Contribution, Distinguished Scientific Contribution Award from the American Association of Medical School Psychologists, National Leadership Award from the Society of Behavioral Medicine, and President's Award for Career Achievement from the International Society for Quality of Life Research. The author or co-author of more than a dozen books and approximately 400 articles or chapters, Kaplan earned his M.A. in 1970 and Ph.D. in 1972 from UCR.
•
Michael Longaker
, "Regenerative medicine," Monday, Nov. 7, 2005
Longaker, M.D., is the Deane P. and Louise Mitchell Professor in the Department of Surgery at Stanford University School of Medicine. He also is director of Children's Surgical Research at Stanford, where he is responsible for developing a research program in the broad areas of developmental biology, epithelial biology and tissue repair, and tissue engineering. Dr. Longaker has a unique understanding of wound healing and fetal wound healing research. His extensive research experience includes the cellular and molecular biology of extracellular matrix, the biology of keloids and hypertrophic scars, and the cellular and molecular events that surround distraction osteogenesis with respect to craniofacial development. A James IV Traveling Fellow, Dr. Longaker is the recipient of the Dr. Bernd Spiessl Award by the American Society of Maxillofacial Surgeons. He is a member of the Society of University Surgeons, American Surgical Association and American Society for Clinical Investigation. A recent M.B.A., Dr. Longaker is the author or coauthor of more than 750 publications.
•
David Lo
, "Dual-use weapons: genes regulating both tissue development and immunity," Tuesday, Nov. 29, 2005
Lo, M.D., Ph.D., is a member of Developmental Immunology at the La Jolla Institute for Allergy and Immunology. His research focuses on the development of the mucosal immune system and also on the regulation of CD4 T cell responses. He is the director of Neurome's Vaccine Technology Division and has served on numerous NIH review committees and as an associate editor for The Journal of Immunology. Dr. Lo is currently on the Editorial Board of Cellular Immunology and is Editor-in-Chief of Current Immunology Reviews. He received his M.D. and Ph.D. from the University of Pennsylvania in 1986, and has published more than 120 scientific articles.
•
Ira Mellman
, "Dendritic cells and the immune response," Monday, Dec. 12, 2005
Mellman, Ph.D., is Sterling Professor of Cell Biology and Immunobiology, chair of the Department of Cell Biology and member of the Ludwig Institute for Cancer Research at Yale University. He is interested in fundamental questions of understanding membrane transport and cell morphogenesis as they apply to two specific issues: cell polarity and antigen processing. A member of the American Academy of Arts and Sciences, Mellman has received numerous awards for his scientific work, including his appointment as a "Sterling Professor" in 2002, one of the highest tributes Yale bestows on its faculty members. Mellman also is the Editor-in-Chief of The Journal of Cell Biology, and sits on several other editorial and advisory boards.
•
Bruce Spiegelman
, "Transcriptional control of energy homeostasis," Monday, Jan. 9, 2006
Spiegelman, Ph.D., is professor of cell biology at the Dana Farber Cancer Institute and Harvard University Medical School. A member of the National Academy of Sciences, Spiegelman has made numerous fundamental contributions to our understanding of energy metabolism, the control of fat production, and mechanisms of insulin resistance. These contributions include seminal work on two proteins that are dominant regulators of fat cell differentiation and insulin sensitivity. His laboratory is centered on the molecular basis of cell differentiation and tissue development, using adipogenesis as a model system. He also is interested in the biochemical mechanisms of metabolic diseases relating to adipogenesis, especially obesity and insulin-resistant diabetes. In addition, he has a major interest in trying to alter cancer cell growth by stimulating pathways of terminal differentiation. Spiegelman received his Ph.D. from Princeton University.
•
Bruce McEwen
, "Stressed or Stressed Out: What is the Difference?" Wednesday, Jan. 18, 2006
McEwen, Ph.D., is the Alfred E. Mirsky Professor and head of the Harold and Milliken Hatch Laboratory of Neuroendocrinology at The Rockefeller University. A member of the National Academy of Sciences, McEwen is a major figure in behavioral neuroendocrinology. He has produced a massive body of important work on the roles of steroid hormones in reproductive behavior, brain development, gene expression in the brain, brain plasticity in adulthood, and on effects of stress on the age-related brain degeneration that causes cognitive deficits. His laboratory also studies sex differences and sex hormone effects on the brain. A pioneer in tracking the specific ways in which the brain influences the glands and the immune system, McEwen is a member of the Institute of Medicine, the American Academy of Arts and Sciences and the MacArthur Foundation Research Network on Socioeconomic Status and Health. He is a fellow of the New York Academy of Sciences.
About the Health Sciences Initiative
:
The Health Sciences Initiative aims to strengthen and focus research and graduate education in the biomedical and related health sciences at UCR. It has two major programs — the Health Sciences Research Institute and the expansion of the
UCR/UCLA Thomas Haider Program in Biomedical Sciences
to a full-fledged, four-year, research-based School of Medicine. The planning effort for the Health Sciences Initiative is led by
Robert D. Grey
, executive assistant to the chancellor for health affairs.
RELATED LINKS
ADDITIONAL CONTACTS
The University of California, Riverside (www.ucr.edu) is a doctoral research university, a living laboratory for groundbreaking exploration of issues critical to Inland Southern California, the state and communities around the world. Reflecting California's diverse culture, UCR's enrollment has exceeded 21,000 students. The campus opened a medical school in 2013 and has reached the heart of the Coachella Valley by way of the UCR Palm Desert Center. The campus has an annual statewide economic impact of more than $1 billion.
A broadcast studio with fiber cable to the AT&T Hollywood hub is available for live or taped interviews. UCR also has ISDN for radio interviews. To learn more, call (951) UCR-NEWS.