Creativity and Hard Work Honored
---
UC Riverside Recognizes Excellence in Teaching, Research and Collaboration
Those honored are a writer from Nigeria, a researcher who studies chemicals in the environment, and a researcher who combines plants and technology
(September 26, 2005)
RIVERSIDE, Calif. (www.ucr.edu) -- The 2004-2005 Non-Senate Distinguished Research and Teaching Awards at the University of California, Riverside were awarded to Christopher Abani, recognized as a distinguished teacher in the Department of Creative Writing; Robert I Krieger, a pioneer in environmental toxicology; and Thomas Girke, who made significant contributions to the Department of Botany and Plant Sciences in the area of bioinformatics.
These awards recognize members of the UC Riverside faculty who were lecturers, instructors or researchers at the time. A parallel awards program recognizes tenured members of the Academic Senate.
Distinguished Teaching
Abani, a writer from Nigeria, won the Hemingway Foundation/PEN Award for his debut American novel, "GraceLand."
"He is not only a brilliant writer, but he is a great mentor for our students," said Susan Straight, department co-chair last year.
As a teen, Abani earned attention in his home country for the precocious publication of a thriller whose plotline led to allegations of involvement in a military coup, triggering paranoia in his country's political dictatorship. Abani's ideas and his college activism resulted in prison sentences, sometimes in solitary confinement.
Abani has been known to invite his students to join in a game of "Twister" to help them remember how to break out of constricting techniques or habits, and keep a sense of play in their work. And he won this award after only two years of teaching at UCR.
"Here, I have really hungry students. There is a real sense of hunger," he said. "And then they become my friends."
This year Abani has moved into the tenured ranks as a full professor in the Department of Creative Writing.
Distinguished Research
Krieger's work in environmental toxicology has proven valuable in both research and practical matters.
"Dr. Krieger is an outstanding and productive researcher who has made numerous important contributions to developing protocols and data that help us monitor the safety of the food we eat and water we drink," said Ring Carde, chair of the department of entomology.
In his nomination letter, Carde wrote: "The effects of environmental pollutants used by humans to control insect pests remains an issue of utmost importance. In this field, Dr. Krieger has been a pioneer for decades, receiving many other awards, and will continue to be a leader in the field for many years to come."
Krieger's research in part involves perchlorate contamination of the food supply, and the uncertain message the public has received on the possible dangers of such contamination. Krieger helped develop extensive research to study the matter.
"The perchlorate lettuce database developed by Dr. Krieger is the largest database for a single commodity in the U.S.," Carde wrote. "It is important for risk assessment that is guiding current exposure mitigation efforts." Other sources in Dr. Krieger's perchlorate risk assessment database include water, milk, and human breast milk.
"During the past two years, Dr. Krieger has made numerous important contributions to this field, and his group is the leading laboratory in the country in the evaluation of residential and agricultural exposure assessment," Carde wrote.
Residential pesticide exposure is the research Krieger is involved in that has the greatest impact and scientific visibility, and his research involving pesticide residue found in food is considered essential, Carde said.
Distinguished Collaboration
Girke joined the Department of Botany and Plant Sciences in 2002 as an Academic Coordinator in bioinformatics.
"I believe that most faculty in the department would agree that Dr. Girke's extraordinary performance has raised the expectations for Academic Coordinators to a new high level since he arrived at UCR," wrote department chair Jodie S. Holt in her nomination letter.
Numerous department colleagues wrote nomination letters supporting Girke, citing the fact Girke made significant and unique contributions to the research and instruction of faculty, staff, and students in the area of bioinformatics, the science of managing and analyzing biological data, particularly genomic research data, using advanced computing techniques.
"Upon arrival at UCR, he set up a bioinformatics computer facility that is used widely by faculty, staff, and students in many departments and several colleges across campus," Holt wrote. "He regularly holds workshops to instruct others in this modern, cutting-edge field. He is also engaged in research in collaboration with UCR faculty, and by adding a bioinformatics component, has been instrumental in obtaining federal research grants to support their work."
Girke's publication record over the past year includes five co-authored technical journal articles. All of these articles appeared in high-quality journals, including Journal of Molecular Biology, Proceedings of the National Academy of Sciences, The Plant Journal, Plant Physiology and The Plant Cell.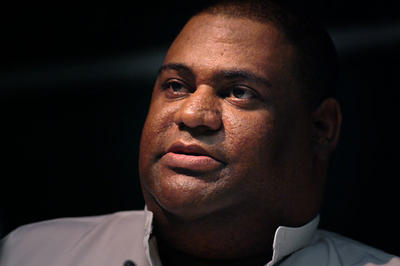 Enlarge
Christopher Abani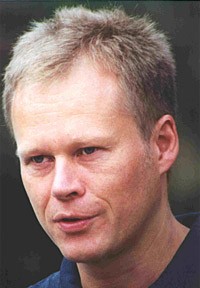 Thomas Girke
The University of California, Riverside (www.ucr.edu) is a doctoral research university, a living laboratory for groundbreaking exploration of issues critical to Inland Southern California, the state and communities around the world. Reflecting California's diverse culture, UCR's enrollment has exceeded 21,000 students. The campus opened a medical school in 2013 and has reached the heart of the Coachella Valley by way of the UCR Palm Desert Center. The campus has an annual statewide economic impact of more than $1 billion.
A broadcast studio with fiber cable to the AT&T Hollywood hub is available for live or taped interviews. UCR also has ISDN for radio interviews. To learn more, call (951) UCR-NEWS.