UCR Alumnus Wins Nobel Prize in Chemistry
---
UCR Alumnus Wins Nobel Prize in Chemistry
Richard R. Schrock, professor at MIT, honored for chemical reaction used to make pharmaceuticals, fuels and synthetic fibers
(October 5, 2005)
NEWS MEDIA CONTACT
Name:

Iqbal Pittalwala


Tel:

(951) 827-6050


E-mail:

iqbal@ucr.edu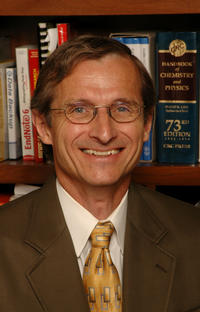 Enlarge
UC Riverside alumnus Richard R. Schrock, co-winner of the 2005 Nobel Prize in chemistry, graduated with a Bachelor of Arts degree in chemistry in 1967. Photo credit: MIT.
RIVERSIDE, Calif — UC Riverside alumnus Richard R. Schrock has won the
2005 Nobel Prize in chemistry
. Schrock graduated with a Bachelor of Arts degree in chemistry from UCR in 1967.
Schrock won the Nobel Prize for the development of a chemical reaction now used daily in the chemical industry for the efficient and more environmentally friendly production of important pharmaceuticals, fuels, synthetic fibers and many other products.
"UCR congratulates Dr. Schrock, who is among our most distinguished alumni," Chancellor France Córdova said. "He is a shining example of the outstanding quality of our undergraduate degree recipients and the faculty who nurture them."
Schrock
, the Frederick G. Keyes Professor of Chemistry at the Massachusetts Institute of Technology, shares the prize with Yves Chauvin of the Institut Français du Pétrole and Robert H. Grubbs of Caltech "for the development of the metathesis method in organic synthesis." Each will share one third of the $1.3 million prize money that accompanies the award.
In metathesis reactions, molecules exchange fragments under the influence of a catalyst, which is a substance that increases the rate of a chemical reaction, but remains unchanged itself. Double bonds between carbon atoms are broken and made in a manner akin to a dance in which the dancers swap partners.
Together, the laureates' contributions "have already assumed major significance in the chemicals industry, opening up new opportunities for synthesizing molecules that will streamline the development and industrial production of pharmaceuticals, plastics and other materials," according to the Nobel committee.
Thanks to the work of the laureates, production is also cheaper and more environmentally friendly, an
MIT press release
notes. Catalytic metathesis shortens the synthesis routes for these materials, which means fewer byproducts. Further, the control made possible by the reaction allows more efficient manipulation of raw materials.
Chris Reed, Distinguished Professor of chemistry and a contemporary of Schrock, once served on a National Institutes of Health committee with him. "Richard is an excellent scholar and a testament to UCR's Department of Chemistry," Reed said. "The department has known of his work for a long time, recognized its importance and invited him to our campus on several occasions." Schrock served as the department's Bryan Kohler Memorial Lecturer in 2003.
Having become interested in chemistry at the age of eight when his brother gave him a chemistry set, Schrock, 60, began serious scientific work as a UCR undergraduate, engaging himself in physical chemistry. He then went to Harvard University, where he received his Ph.D. in 1971. He spent a year as a National Science Foundation postdoctoral fellow at Cambridge University followed by three years at the Central Research and Development Department of E.I. duPont de Nemours and Co. before joining the MIT faculty in 1975.
He is a member of the American Academy of Arts and Sciences and the National Academy of Sciences. He was associate editor of Organometallics for eight years and has published more than 400 research papers.
While at MIT, Schrock was a Camille and Henry Dreyfus Teacher-Scholar (1978-1983) and a recipient of an Alfred P. Sloan Fellowship (1976-1978). In 1996 he received the American Chemical Society Award in Inorganic Chemistry for his efforts to develop cleaner and more efficient ways to manufacture chemicals. In addition, he has received the ACS Award in Organometallic Chemistry (1985), the Harrison Howe Award of the Rochester ACS section (1990), an Alexander von Humboldt Award (1995), the Bailar Medal from the University of Illinois (1998), an ACS Cope Scholar Award (2001) and the Sir Geoffrey Wilkinson Medal (2002).
Schrock was born Jan. 4, 1945, in Berne, Ind. He and his wife, Nancy F. Carlson, have two children.
The University of California, Riverside (www.ucr.edu) is a doctoral research university, a living laboratory for groundbreaking exploration of issues critical to Inland Southern California, the state and communities around the world. Reflecting California's diverse culture, UCR's enrollment has exceeded 21,000 students. The campus opened a medical school in 2013 and has reached the heart of the Coachella Valley by way of the UCR Palm Desert Center. The campus has an annual statewide economic impact of more than $1 billion.
A broadcast studio with fiber cable to the AT&T Hollywood hub is available for live or taped interviews. UCR also has ISDN for radio interviews. To learn more, call (951) UCR-NEWS.