Leading Health Scientists and Medical Educators to Speak at UCR
---
Leading Health Scientists and Medical Educators to Speak at UCR
Speakers to focus on the design of new medical schools
(October 20, 2005)
NEWS MEDIA CONTACT
Name:

Iqbal Pittalwala


Tel:

(951) 827-6050


E-mail:

iqbal@ucr.edu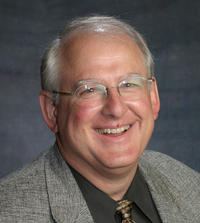 Perry Pugno, an alumnus of UCR and director of the Division of Medical Education of the American Academy of Family Physicians, is the seventh speaker in "The Design of New Medical Schools in the 21st Century" seminar series. He will speak at UCR on May 15.
RIVERSIDE, Calif. — Leading health scientists and experts in medical education will give seminars at UC Riverside that address the design of new medical schools. Invited speakers will share their expertise and insights on a variety of topics such as the importance of primary care, the design of medical schools that meet the needs of the United States this century, why more diversity is essential in the health professions and how disparities in the health status of populations can be reduced.
Presented by UCR's Health Sciences Initiative under the banner "The Design of New Medical Schools in the 21st Century," the seminar series plans to add more speakers next year. Unless noted otherwise below, each seminar will be held at 4:30 p.m. in room E, UC Riverside Extension on the UCR campus. All presentations are free and open to the public, with seating available on a first-come basis.
Physicians attending the lectures in the seminar series may report one hour of Category 1 credit toward the California Medical Association's Certificate in Continuing Medical Education and the American Medical Association's Physician's Recognition Award. Through the UCR/UCLA Thomas Haider Program in Biomedical Sciences and UC Riverside Extension, UCR provides CMA-accredited continuing medical education to physicians through seminars, conferences and courses.
Nurses attending the lectures may receive California Board of Registered Nursing continuing education credit. Each presentation is approved for BRN continuing education credit for one contact hour.
Confirmed speakers in the seminar series are:
•
Jordan J. Cohen
, M.D., "Contemporary challenges for medical education," Monday, Oct. 31, 2005
As president and chief executive officer of the Association of American Medical Colleges, Dr. Cohen leads the AAMC's support and service to the nation's medical schools and teaching hospitals. His almost 40-year career in academic medicine has included positions at some of the most prestigious institutions in the country. Most recently, he served as dean of the medical school and professor of medicine at the State University of New York at Stony Brook, and president of the medical staff at University Hospital. In his six-year administration at Stony Brook, Dr. Cohen fostered the Medical Center's development as a regional health care provider and launched an innovative model curriculum that emphasized the changing role of medicine in modern society. He has held a wide variety of leadership positions in almost all aspects of academic medicine, including chair of the American Board of Internal Medicine and of the Accreditation Council for Graduate Medical Education, as well as president of the Association of Program Directors of Internal Medicine. The author of more than 100 publications, Dr. Cohen's chief areas of research interest are acid-base metabolism and renal physiology.
•
Steven A. Schroeder
, M.D., "Does California need another medical school? If so, what kind?", Monday, Jan. 23, 2006
Dr. Schroeder is a distinguished professor of health and health care, Division of General Internal Medicine, Department of Medicine, UC San Francisco, where he also heads the Smoking Cessation Leadership Center. Dr. Schroeder graduated from Stanford University and Harvard Medical School, and trained in internal medicine at the Harvard Medical Service of Boston City Hospital and in epidemiology as an Epidemic Intelligence Service officer at the Centers for Disease Control. Prior to joining UCSF, he held faculty appointments at Harvard University and George Washington University. He has published extensively in the fields of clinical medicine, health care financing and organization, prevention, public health, and the work force. He currently serves as chair of the American Legacy Foundation and of the International Review Committee of the Ben Gurion School of Medicine. He serves on the editorial board of the New England Journal of Medicine, and is a member of the Harvard Overseers, the Save Ellis Island Foundation, and the Council of the Institute of Medicine, National Academy of Sciences. Dr. Schroeder has been awarded six honorary doctoral degrees.
•
Kevin Grumbach
, M.D., "New Medical Schools in the 21st Century: The Challenge of Fulfilling the Mission," 5:30 p.m., Monday, Feb. 6, 2006
Dr. Grumbach is professor and chair of Family and Community Medicine at UC San Francisco and chief of Family and Community Medicine at San Francisco General Hospital. He is the director of the UCSF Center for California Health Workforce Studies. His research on topics such as primary care physician supply and access to care, racial and ethnic diversity in the medical profession, and the impact of managed care on physicians have been published in major medical journals such as The New England Journal of Medicine and JAMA, and cited widely in both health policy forums and the general media. Dr. Grumbach is a recipient of a Generalist Physician Faculty Scholar award from the Robert Wood Johnson Foundation and the Health Resources and Services Administration Award for Health Workforce Research on Diversity. In 1997, he was elected a member of the Institute of Medicine, the National Academy of Sciences. Dr. Grumbach also is co-chair of the Research Committee of the Bayview Hunters Point Health and Environmental Assessment Task Force, a community-research partnership, and is a founding member of the California Physicians' Alliance, the California chapter of Physicians for a National Health Program. He practices family medicine at the Family Health Center at San Francisco General Hospital.
•
Lonnie Bristow
, M.D., M.A.C.P., "Look to your left, then look to your right," 5:30 p.m., Monday, March 6, 2006
As the recipient of the second National Medical Fellowships Founder's Award, Dr. Bristow has studied internal medicine for over 30 years. He is the former president of the American Medical Association and continues to advocate, through the AMA and other organizations, for programs that encourage youth, particularly those of color to consider the health professions as a career. He also has a special interest in the availability and access to the best quality care for all ethnic or economic groups. Dr. Bristow studied at Morehouse College in Atlanta from 1947 to 1949. He served in the U.S. Navy from 1949 to 1950, and then became a Naval Reservist from 1950 to 1956. Dr. Bristow entered the City College of New York where he graduated with a B.S in 1953 and entered New York University College of Medicine. He earned an M.D. in 1957. Dr. Bristow has been active in several medical organizations including the Sickle Cell Committee for the California Department of Health, the National Council of Health Care Technology, and Health Care Financing Administration. Widely honored for his work, his honors also include honorary Doctor of Science degrees from the Morehouse College School of Medicine, Wayne State University School of Medicine, and the City College of the City University of New York.
•
Barbara Starfield
, M.D., M.P.H., "Primary care and specialty care: Relevance for the Inland Empire," 5:30 p.m., Monday, April 3, 2006
Dr. Starfield is University Distinguished Service Professor with appointments in the Department of Health Policy and Management and Pediatrics at the Johns Hopkins University Schools of Public Health and Medicine. She also is the director of the Johns Hopkins University Primary Care Policy Center. Dr. Starfield's overriding concerns are understanding the impact of health services on health, especially with regard to the relative contributions of primary care and specialty care on reducing social inequities in health. Her focus is both on clinical care and on services to populations as well as the interrelationships between the two. Trained in pediatrics and epidemiology, she devotes her energies to health services research and its translation into health policy at the national, state and local levels. A member of the Institute of Medicine, the National Academy of Sciences, Dr. Starfield is the recipient of numerous national awards, including the first Pew Primary Care Research Award, the Distinguished Investigator Award of the Association for Health Services Research and the American Public Health Association's Martha May Eliot Award.
•
Kiki Nocella
, M.H.A., Ph.D., "A pipeline of medical resources to rural communities ... from pipedream to reality: How not to be pipeless in Perris, Phelan, and Pinyon Pines," 5:30 p.m., Monday, May 1, 2006
Nocella is clinical assistant professor of family medicine at the University of Southern California Keck School of Medicine and the former vice chair of finance and administration at USC. Nocella believes, based on her research and practical experience, that medical schools and residency programs must focus on culture and commitment, rather than structural elements of the curriculum, in order to address rural workforce shortages. A certified member of the American College of Medical Practice Executives, Dr. Kiki Nocella serves on a variety of boards and advisory groups, including Secretary of the Board of the California State Rural Health Association and the Board of the California Academy of Family Physicians Foundation. Dr. Nocella is the Principle Investigator first for a planning grant and now for a three-year grant from the Agency for Healthcare Research and Quality to implement health information technology in rural southeast Kern County. She has spoken nationally and internationally on issues of rural health delivery, quality, and workforce.
•
Perry Pugno
, M.D., M.P.H., C.E., "Medical education for the 21st century - an evidence-based, patient-centered approach," 5:30 p.m., Monday, May 15, 2006
Dr. Pugno, an alumnus of UCR, is director of the Division of Medical Education of the American Academy of Family Physicians. After service with the National Health Service Corps, he became a residency director, and accumulated more than 20 years experience in that role. His professional background also includes trauma center director, hospital chief medical officer, public health officer, vice president of a large integrated health system, and medical director of a health plan.
About the Health Sciences Initiative:
The Health Sciences Initiative aims to strengthen and focus research and graduate education in the biomedical and related health sciences at UCR. It has two major programs — the Health Sciences Research Institute and the expansion of the
UCR/UCLA Thomas Haider Program in Biomedical Sciences
to a full-fledged, four-year, research-based School of Medicine.
Robert D. Grey
, executive assistant to the chancellor for health affairs, leads the planning effort for the Health Sciences Initiative.
RELATED LINKS
ADDITIONAL CONTACTS
The University of California, Riverside (www.ucr.edu) is a doctoral research university, a living laboratory for groundbreaking exploration of issues critical to Inland Southern California, the state and communities around the world. Reflecting California's diverse culture, UCR's enrollment has exceeded 21,000 students. The campus opened a medical school in 2013 and has reached the heart of the Coachella Valley by way of the UCR Palm Desert Center. The campus has an annual statewide economic impact of more than $1 billion.
A broadcast studio with fiber cable to the AT&T Hollywood hub is available for live or taped interviews. UCR also has ISDN for radio interviews. To learn more, call (951) UCR-NEWS.