Writers Week Continues
---
UC Riverside Creative Writing Department to Host Writers Week Feb. 14-18
Graphic Novelists' Visions to Provide Splash of Color as Wordsmiths Share Work
(February 1, 2006)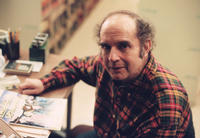 Enlarge
Harvey Pekar
RIVERSIDE, Calif. (www.ucr.edu) -- UC Riverside's 29th annual Writers Week will bring 14 prominent authors from a variety of genres to share their work on campus and in the community Feb. 14 through 18.
Because this year's special focus is the graphic novel -- the comic book's grown-up offspring, which has developed into a literary form in its own right -- Writers Week organizers have chosen Harvey Pekar, creator of the autobiographical comic series American Splendor, to present the keynote reading.
For 30 years, American Splendor has turned day-to-day existence into pretty complex stuff, said Michael Jayme, director of Writers Week and an assistant professor of creative writing at UCR. He said the week's lineup, including Pekar and other graphic novelists, plus poets and translators and fiction and nonfiction writers reflects "a continuing tradition of gathering emerging and established authors in several fields -- novelists and editors, journalists and memoirists, and many more in between."
Pekar's celebrity has increased since the HBO Films/Fine Line Feature film about his life, also titled American Splendor, won the Sundance International Film Festival Grand Jury Prize, Cannes International Film Festival Fipresci Award, and the National Society of Film Critics Best Picture Award -- but at the podium, Jayme said, Pekar remains mundane yet poetic, honest and profound as he shares his views.
Each day of Writers Week will be devoted to a different genre of writing. Most reading sessions will take place in the Humanities and Social Sciences Building, Room 1500. The Harvey Pekar keynote reading will be in University Theatre. One poetry reading session will be off-campus, at the Riverside Public Library. All sessions are free and open to the public.
On Tuesday, Feb. 14, the subject is fiction.
Featured at 1 p.m. Tuesday is Chieh Chieng, who was born in Hong Kong and moved to Orange County at age 7. His stories have appeared in Glimmer Train, The Antioch Review, The Threepenny Review and the Santa Monica Review. A Long Stay in a Distant Land is his first novel.
At 3 p.m. Tuesday, UCR creative writing faculty member Dwight Yates will read. Most recently the author of Bring Everybody, a short story collection that won the inaugural Juniper Prize for Fiction, Yates is the recipient of an NEA fiction fellowship and author of two collections of short stories.
At 5 p.m. Tuesday comes Merrill Joan Gerber, who writes both fiction and nonfiction. Her eight novels include Glimmering Girls: A Novel of the Fifties and Anna in the Afterlife, which was selected by the Los Angeles Times as a "Best Book" of 2002. Her short fiction and essays have appeared in The New Yorker, The Atlantic, The Sewanee Review and The American Scholar, as well as numerous other literary journals.
On Wednesday, Feb. 15, the focus is nonfiction writing.
Reading at 1 p.m. Wednesday is Joshuah Bearman, an editor at the LA Weekly and a regular contributor to The Believer and McSweeney's. He has focused his investigative efforts -- and offered his many theories, which he acknowledges often flow from limited data -- on a vast variety of great and small matters. He was recently the editor of a McSweeney's publication called Yeti Researcher.
At 3 p.m. Wednesday comes William Celis, the author of Battle Rock: The Struggle Over a One-Room School in America's Vanishing West. Celis is a former education correspondent for The New York Times and a former reporter and columnist for The Wall Street Journal. He now teaches journalism at the USC Annenberg School for Communication.
Reading at 5 p.m. Wednesday is Regina Louise, author of Somebody's Someone, a best-selling memoir of her childhood experience in and out of America's foster care system. Louise is also the founder of the Esther Collins Memorial Children's Foundation for Literacy. Her writing and advocacy have attracted attention from media nationwide, including The Early Show on CBS, CNN, and National Public Radio.
On Thursday, Feb. 16, the featured literary genres are poetry and translation.
Reading at 1 p.m. Thursday is poet Christopher Howell, who was a Navy journalist during the Vietnam War, and is now on the creative writing faculty at Eastern Washington University. Howell has written eight full-length books of poems. He has also published six chapbooks and a small volume of translations from the Chinese.
At 3 p.m. Thursday, the reader will be David Young, who has written 10 collections of poetry, most recently Black and At the White Window. An accomplished translator of verse in several languages, including Chinese, Italian and Czech, he also edits Field, a semiannual journal of poetry and poetics.
Reading at 5 p.m. Thursday will be Peter Everwine, whose books of poetry and translation include In the House of Light: Collecting the Animals, which was a Lamont Selection by the Academy of American poets and a finalist for the National Book Award; Keeping the Night; The Static Element; and most recently, From the Meadow: Selected and New Poems. What a Word Dreamt, versions of Aztec poetry, is forthcoming.
At 7:30 p.m. Thursday, Young and Everwine will be in conversation with UCR creative writing Professor Chris Buckley.
On Friday, Feb, 17, Writers Week's emphasis is the graphic novel.
At 1 p.m. Friday, the presenter is Paul Hornschemeier, who grew up on a cultural diet of Edward Gorey, PBS, reprints of Ditko's Spider-Man, Jim Henson and The New Yorker. Now based in Chicago, Hornschemeier recently moved his Forlorn Funnies to Fantagraphics, switching from pamphlet comics to full graphic novels. He has worked for both DC Comics and Marvel Comics.
At 3 p.m. Friday comes Californian Jaime Hernandez, first published in a fanzine called Fandom Circus in 1977. His first issue of Love and Rockets was drawn in 1981 with his brother Gilbert. He still loves doing comics because they are the freest form of artistic expression he knows.
Writers Week's keynote reading will be at 7:30 p.m. Friday in University Theatre. Harvey Pekar's multimedia presentation about American Splendor outlines his own life, from chatting with co-workers, going to the market and taking road trips to the adoption of a daughter and Pekar's 1990 brush with cancer.
On Saturday, Feb. 18, Writers Week takes a foray into the community with poetry readings at Riverside Public Library, 3851 Mission Inn Avenue.
Reading at 3 p.m. is Francisco Aragón, a native of San Francisco and long-time resident of Spain. His most recent work is 2005's Puerta del Sol, a bilingual collection of poems. He has published widely and won many prizes, and is the founding editor of Momotombo Press (www.momotombopress.com).
Reading at 3:30 p.m. is poet Kimiko Hahn, whose most recent book is The Artist's Daughter. Her book of poetry and prose, The Narrow Road to the Interior, is forthcoming from W.W. Norton. She is working on a sequence of poems inspired by the science section of The New York Times.
The University of California, Riverside (www.ucr.edu) is a doctoral research university, a living laboratory for groundbreaking exploration of issues critical to Inland Southern California, the state and communities around the world. Reflecting California's diverse culture, UCR's enrollment has exceeded 21,000 students. The campus opened a medical school in 2013 and has reached the heart of the Coachella Valley by way of the UCR Palm Desert Center. The campus has an annual statewide economic impact of more than $1 billion.
A broadcast studio with fiber cable to the AT&T Hollywood hub is available for live or taped interviews. UCR also has ISDN for radio interviews. To learn more, call (951) UCR-NEWS.