Students' Rainwater Collection Project Recognized
---
Rooftop Rainwater Collection Project gets Regional, National Attention
UCR engineering students' proposal receives grants from the Metropolitan Water District of Southern California and the U.S. Environmental Protection Agency

(January 12, 2006)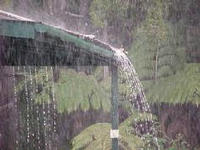 RIVERSIDE, Calif. —
www.ucr.edu
— Rainwater harvesting, or the collection of rainwater for later use, could be more than a drop in the water-conservation bucket for Southern California.
That's why five of UC Riverside's newest alumni in chemical and environmental engineering returned to campus following the New Year's holiday to do manual labor — installing catch basins, piping, downspouts and storage tanks at the Bourns College of Engineering at UCR.
Their concept has attracted regional and national attention. The Metropolitan Water District of Southern California and the U.S. Environmental Protection Agency have each awarded the group $10,000 grants.
Now group members Andrew Chin, Roland Cusick, Steven Gebelin, Greg Guillen and Temi Ogunyoku are building a prototype system on the roof of Bourns Hall that will collect store and use collected rainwater to irrigate the lawns around the Bourns College of Engineering at UCR. They are working with advisors Kawai Tam, a lecturer in the Department of Chemical and Environmental Engineering, and College of Engineering Associate Dean Mark Matsumoto.
The group will present its findings to the MWD in late February and will compete in Washington D.C. on May 9 and 10 against 40 other student design teams. At stake are a top rating by a panel of National Academy of Sciences judges, a $75,000 development grant for the winning concept and receipt of the national P3 (People, Progress and the Planet) Award.
UCR team members developed their idea from an offhand remark made during a discussion about an upcoming class project.
"Temi jokingly came up with the idea of using Dixie cups to collect water and that lead, through our discussions with Dr. Matsumoto, to the idea of rainwater harvesting," said Cusick. "The problem was that, as Southern California gets paved over, we're diverting more of our rainwater to runoff and less is getting into groundwater (aquifers)."
"We started discussing clean water sources and realized the closest source was rainfall and its first contact is rooftops," added Guillen.
"This project has the potential to work with the technologies and resources of many developing countries' governments," said Ogunyoku.
This seemingly simple project is complicated by the fact that all the team members have received their bachelor's degrees from UCR and are moving on in their careers.
Andrew Chin is doing environmental assessment work for the Cabazon Band of Mission Indians in Indio. Cusick is spending this year as a ranger at Glacier National Park in Montana before applying to graduate school. Steven Gebelin is attending New York University's Law School. Greg Guillen is a first-year Ph.D. student in civil and environmental engineering at UCLA. Ogunyoku is a first-year master's student in waste water treatment at UC Davis.
The group looked at Ontario, Calif. as their model because of its rapid growth, adequate rainfall and large numbers of warehouses and distribution centers with large roof surface areas. Currently, Ontario gets 70 percent of its water from underground aquifers and buys the other 30 percent from MWD.
Ontario is one of eight municipal water suppliers operating under the auspices of the Inland Empire Utilities Agency. The agency has set a goal of saving, through conservation, more than 25,000 acre-feet of water, or about seven percent of current use, over the next 20 years.
The UCR group thinks rainwater harvesting can help meet those goals, and can be used in other countries where water scarcity exists, but they have to have solid numbers, and that's where the Bourns Hall experiment comes in.
Computer models suggest that over the last five years (2000-2004) the college's 795-square-foot lawn could be irrigated solely using rainwater for 237 days, or 65 percent of the year. That amounts to an annual savings of about $955 to the college's water bill over those five years.
For the City of Ontario, the group thinks rainwater harvesting could ideally collect more than 2,200 acre-feet of water per year, enough to meet the domestic water needs of nearly 10,000 people annually.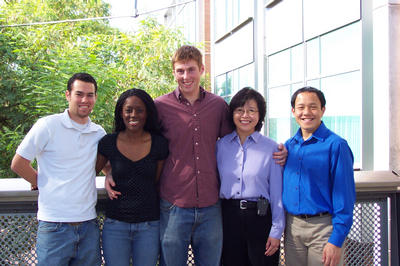 From left: Greg Guillen, Temi Ogunyoku, Roland Cusick, advisor Kawai Tam, and Andrew Chin. Student researcher Steven Gebelin is not pictured.
RELATED LINKS
ADDITIONAL CONTACTS
The University of California, Riverside (www.ucr.edu) is a doctoral research university, a living laboratory for groundbreaking exploration of issues critical to Inland Southern California, the state and communities around the world. Reflecting California's diverse culture, UCR's enrollment has exceeded 21,000 students. The campus opened a medical school in 2013 and has reached the heart of the Coachella Valley by way of the UCR Palm Desert Center. The campus has an annual statewide economic impact of more than $1 billion.
A broadcast studio with fiber cable to the AT&T Hollywood hub is available for live or taped interviews. UCR also has ISDN for radio interviews. To learn more, call (951) UCR-NEWS.