Expanding Medical Education in the Inland Empire
---
Former President of the American Medical Association to Speak on How Inland Southern California Can Expand Medical Education
In free lecture at UCR, Lonnie Bristow will address requirements for a successful medical school in the 21st century
(February 27, 2006)
NEWS MEDIA CONTACT
Name:

Iqbal Pittalwala


Tel:

(951) 827-6050


E-mail:

iqbal@ucr.edu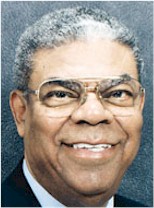 Lonnie R. Bristow, M.D., a former president of the American Medical Association, is the fourth speaker in "The Design of New Medical Schools in the 21st Century" seminar series. He will speak at UCR on March 6.
RIVERSIDE, Calif. — Lonnie R. Bristow, M.D., a former president of the American Medical Association, will give a lecture at UC Riverside that addresses how the university can continue and increase its leadership role in Inland Southern California by successfully expanding medical education in the region.
His lecture, entitled "Look to your left, then look to your right," is scheduled for 5:30 p.m., Monday, March 6, in room E, UC Riverside Extension, 1200 University Avenue, Riverside, Calif. The presentation is free and open to the public, with seating available on a first-come basis.
"My talk will address the essential requirements for a new medical school to succeed in the 21st century," said Dr. Bristow. "I also will discuss how diversity can be increased in the health care profession. Some questions I will share my thoughts on are where UCR can find leadership for the medical school it seeks, and what are the university's obligations to other interested parties — those it finds to its left and right."
Currently, the Inland Empire has the lowest number of primary care and specialist physicians per 100,000 in California. Moreover, only a quarter of California's physicians are trained in the state.
A UC Riverside School of Medicine, if approved, would help serve a medically underserved region in California and increase the number of physicians in the state. It will be the first research-based medical school in California in 40 years and the first new medical school in the United States in the 21st century.
Already, the campus has faculty conducting research in health-related fields, with additional faculty positions in health/biomedical research committed by 2010; furthermore, the UCR/UCLA Thomas Haider Program in Biomedical Sciences provides the first two years of medical school.
Physicians attending Dr. Bristow's lecture may report one hour of Category 1 credit toward the California Medical Association's Certificate in Continuing Medical Education and the American Medical Association's Physician's Recognition Award. Through the UCR/UCLA Thomas Haider Program in Biomedical Sciences and UC Riverside Extension, UCR provides CMA-accredited continuing medical education to physicians through seminars, conferences and courses.
Nurses attending the lecture may receive California Board of Registered Nursing continuing education credit. The presentation is approved for BRN continuing education credit for one contact hour.
Dr. Bristow's lecture is presented by UCR's Health Sciences Initiative under the banner "The Design of New Medical Schools in the 21st Century." For additional information on the lecture, please call Eppi Azzaretto at 951-827-4334 or email eppi.azzaretto@ucr.edu. For information on other speakers in the seminar series, visit www.ucr.edu.
About Lonnie R. Bristow:
The recipient of the second National Medical Fellowships Founder's Award, Dr. Bristow, a board-certified internist, has practiced medicine for more than 40 years. Through the American Medical Association, of which he was president in 1995-1996, and other organizations, he continues to advocate for programs that encourage youth, particularly those of color, to consider the health professions as a career.
Dr. Bristow is a member of the Institute of Medicine of the National Academy of Sciences and chaired its Committee on Institutional and Policy-Level Strategies for Increasing the Diversity of the U.S. Health Care Workforce, which produced the 2004 report "In the Nation's Compelling Interest." In 2005, he was named co-chair of the Sullivan Alliance, a group tasked with increasing diversity in the health care workforce.
During his career, Dr. Bristow served as vice chair and chair of the American Medical Association's Board of Trustees. He also served as a member and vice-chair of the Physician Leadership for a New Drug Policy, and as chair of the Board of Regents of the Uniformed Services University of Health Sciences. He has been active in several medical organizations at the county, state and national levels. In 2004, at the request of the U.S. State Department, he spent three weeks in South Africa and Lesotho as a lecturer on the subject of HIV prevention.
Dr. Bristow earned his M.D. in 1957 from the New York University College of Medicine. His many honors include honorary Doctor of Science degrees from the Morehouse College School of Medicine, Wayne State University School of Medicine, and the City College of the City University of New York.
He has written and lectured extensively on medical science, as well as socio-economic and ethical issues related to medicine. His many writings include papers on liability insurance problems, sickle cell anemia and coronary care unit utilization. A reviewer for the Journal of the American Medical Association, Dr. Bristow recently retired from private practice. He continues his activities now as a professional consultant.
RELATED LINKS
ADDITIONAL CONTACTS
The University of California, Riverside (www.ucr.edu) is a doctoral research university, a living laboratory for groundbreaking exploration of issues critical to Inland Southern California, the state and communities around the world. Reflecting California's diverse culture, UCR's enrollment has exceeded 21,000 students. The campus opened a medical school in 2013 and has reached the heart of the Coachella Valley by way of the UCR Palm Desert Center. The campus has an annual statewide economic impact of more than $1 billion.
A broadcast studio with fiber cable to the AT&T Hollywood hub is available for live or taped interviews. UCR also has ISDN for radio interviews. To learn more, call (951) UCR-NEWS.