A Chip to Improve Citrus Varieties
---
UCR researchers design chip that can improve citrus varieties
GeneChip® Citrus Genome Array launched by Affymetrix, Inc.
(March 2, 2006)
NEWS MEDIA CONTACT
Name:

Iqbal Pittalwala


Tel:

(951) 827-6050


E-mail:

iqbal@ucr.edu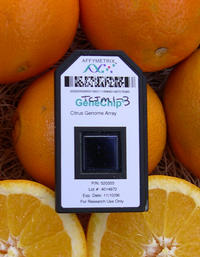 Enlarge
The GeneChip® Citrus Genome Array can improve citrus varieties and suggest ways to better manage them.
RIVERSIDE, Calif. — UC Riverside researchers, in partnership with Affymetrix, Inc., have designed a chip — the GeneChip® Citrus Genome Array — that can improve citrus varieties and suggest ways to better manage them. By helping determine which genes are turned on in a tissue of citrus — genes that are associated with taste, acidic content and disease, for example — the chip provides information useful to researchers for rectifying existing problems and making improvements to the fruit.
The citrus array will be used to develop new diagnostic tools for the improvement of citrus agriculture and post-harvest fruit handling, as well as to understand mechanisms underlying citrus diseases. Researchers will study traits pertinent to the citrus industry such as easy peeling, seedlessness, flavor components, pest and disease control, nutritional characteristics, and reproductive development.
"The citrus array helps us quickly examine a certain trait in citrus," said
Mikeal Roose
, a professor of genetics in the Department of Botany and Plant Sciences at UCR and a leader of the three-year research project. "For a trait posing a problem for the consumer, such as an undesirable flavor, we can identify genes associated with the trait and target these for correction to improve the flavor. The chip also helps us address citrus diseases by helping us see what happens in cells when a citrus plant is under attack from a virus. And with this chip we can better understand what happens at the cellular level when oranges are put in cold storage after they are harvested, leading eventually to better methods of storage that improve fruit flavor."
Manufactured by Affymetrix, Inc., the GeneChip® Citrus Genome Array is made up of a glass wafer on to which nearly one million different pieces of citrus DNA are deposited on a grid or microarray using methods similar to those used to produce computer chips. The glass wafer is encased in a plastic container somewhat smaller than the size of a credit card.
To use the chip, researchers purify total RNA (which reflects the genes expressed in the tissue) from plant tissue, make a copy of these molecules with a chemical tag added, and then "wash" the chip with the RNA sample. If a gene is being expressed in the tissue, its corresponding RNA will be present and bind to the complementary DNA sequences on the chip. The locations of the bound RNA have a visible signal because of the tag, rather like bright and dim pixels on a computer screen. Analysis of which pieces of DNA on the chip have signals indicates which genes are expressed in the tissue.
The chip is the first commercial citrus microarray and allows analysis of expression of more than 20,000 different genes. The array will also be used to develop a detailed genetic map of citrus that will help researchers locate many genes. The map location information will be used to make the development of new varieties more efficient.
"This industry-supported effort both added to and made use of publicly available citrus sequences to develop an entirely new tool that will benefit all citrus researchers and help sustain the citrus industry locally and worldwide," said
Timothy Close
, a professor of genetics at UCR and a co-leader of the project. "We owe a special thanks to colleagues in the citrus community: Abhaya Dandekar at UC Davis, Bob Shatters, Jose Chaparro and Greg McCollum at the USDA Horticultural Research Lab, and Avi Sadka at Volcani Institute in Israel for sharing the full content of their citrus sequence data.
"Other colleagues in the United States, Japan and Spain who deposited sequences to the public repository maintained by the National Center for Biotechnology Information also made valuable contributions. The use of all available public data resulted in very nice coverage of the citrus genome. We are pleased with the outcome — the initial data from the citrus GeneChip have fulfilled our highest expectations."
Besides Roose and Close, UCR's Steve Wanamaker and Matthew Lyon; and Chris Davies, Brant Wong and Eric Schell of the Affymetrix Chip Design team collaborated on the project. The GeneChip® Citrus Genome Array is the product of a three-year effort funded by the California Citrus Research Board and the University of California's Industry-University Cooperative Research Program (www.ucdiscoverygrant.org), which provides matching funds for University of California research sponsored by California industries. Affymetrix sponsored the design and fabrication of the chip through the Affymetrix GeneChip Consortia Program.
For more information about the citrus genome array, visit www.affymetrix.com.
RELATED LINKS
ADDITIONAL CONTACTS
The University of California, Riverside (www.ucr.edu) is a doctoral research university, a living laboratory for groundbreaking exploration of issues critical to Inland Southern California, the state and communities around the world. Reflecting California's diverse culture, UCR's enrollment has exceeded 21,000 students. The campus opened a medical school in 2013 and has reached the heart of the Coachella Valley by way of the UCR Palm Desert Center. The campus has an annual statewide economic impact of more than $1 billion.
A broadcast studio with fiber cable to the AT&T Hollywood hub is available for live or taped interviews. UCR also has ISDN for radio interviews. To learn more, call (951) UCR-NEWS.