Long-Time Citrus Curator Dies
---
Professor W.P. Bitters, Key Curator of the Citrus Variety Collection Dies
(April 6, 2006)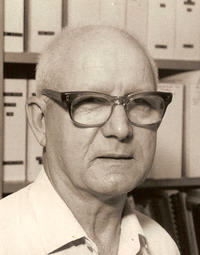 RIVERSIDE, Calif. (www.ucr.edu) — Professor W. P. Bitters, a long-time citrus researcher who served as curator of the Citrus Variety Collection at UC Riverside for 35 years, died Thursday March 30, 2006 at the age of 90.
Curator of the Citrus Variety Collection from 1947 to 1982, he researched citrus rootstocks and varieties and traveled the world to help the California Citrus Industry survive threats such as the citrus tristeza virus.
In 1946, before the founding of UC Riverside, Mr. Bitters accepted a job as an assistant horticulturalist at the Citrus Experiment Station. Later he worked as a faculty member in UCR's Department of Botany and Plant Sciences.
His initial assignment was to work on horticultural aspects of tristeza, a serious vector-transmitted virus disease which threatened to destroy California citrus orchards. Tristeza was already in California and spreading in 1946. At that time most citrus trees in California were grafted trees on a rootstock called sour orange that was known to be susceptible to tristeza. Prof. Bitters was responsible for screening over 500 cultivars to determine which rootstock-scion combinations were resistant to this disease. As a result of his work several resistant cultivars were identified and released to the industry. Among these were "Troyer" citrange and Citrus macrophylla, which continue to be important rootstocks worldwide.
Another important contribution was his developmental work with "Flying Dragon" trifoliate rootstock, which is able to dwarf most standard cultivars by 90 percent, making them easier to harvest.
But perhaps Prof. Bitters' most important contribution was his work with the Citrus Variety Collection. When he became the curator of the collection in 1947, it had been somewhat neglected. At that time the collection also contained avocados, figs, sapotes, guavas, and other fruit trees. Mr. Bitters refocused the collection on citrus and increased the number of accessions in the collection from 600 to 1200. During this time he traveled extensively throughout the citrus growing regions of the world and became recognized as a world authority on citrus. As a result of his work the collection is still viewed as one the major collections of citrus genetic resources in the world.
In 1967 Mr. Bitters received the Annual Citrograph Award in recognition of his many outstanding contributions resulting in the use of rootstock and scion varieties that produce improved tree growth and fruit quality.
In addition to his research activities, Prof. Bitters taught two important plant sciences courses at UCR, "Citrus Fruits and their Relatives" and "Citriculture". In those classes he provided background on citrus taxonomy and cultivation that introduced his love of citrus to many students at UCR, some of whom became leading citrus researchers around the world. He also advised many Masters and Ph.D. students, including Tracy Kahn, the current curator of the Citrus Variety Collection.
"Dr. Bitters was the conscience of the Citrus Variety Collection and cared deeply about preserving varieties of citrus in their true form", Kahn said. "Yet he also had a dry sense of humor. He thought in puns all the time. We called them 'Bitterisms' and in fact, I have a favorite: 'In order to find your way around a Citrus Variety Collection — you have to follow the scions.'"
Born in Eau Claire, Wisconsin, in June of 1915, Prof.Bitters earned his bachelor's degree in biology from St. Norbert College and his master's degree and Ph.D. from the University of Wisconsin. After earning his doctorate, he worked as the superintendent of the Valley Research Farm that belonged to the University of Arizona before moving to Riverside. He became a UCR professor in 1961. After his retirement in 1982, Mr. Bitters continued to work with other UCR researchers to improve the quality of the variety collection and to advise others working in citriculture.
He was a member of many academic organizations, including the American Society of Horticultural Science, the International Society of Citriculture, the Japanese Society of Horticultural Science, and the California Lemon's Men's Club.
Prof. Bitters is survived by his two children, Tom and Katie. No services are currently planned, but UC Riverside holds a memorial service each May to honor faculty, staff and students who have died during the previous year and a citrus tree will be planted in his honor at that time. Those who wish to contribute to his legacy may consider making a donation to the Citrus Variety Collection http://www.citrusvariety.ucr.edu.
RELATED LINKS
ADDITIONAL CONTACTS
The University of California, Riverside (www.ucr.edu) is a doctoral research university, a living laboratory for groundbreaking exploration of issues critical to Inland Southern California, the state and communities around the world. Reflecting California's diverse culture, UCR's enrollment has exceeded 21,000 students. The campus opened a medical school in 2013 and has reached the heart of the Coachella Valley by way of the UCR Palm Desert Center. The campus has an annual statewide economic impact of more than $1 billion.
A broadcast studio with fiber cable to the AT&T Hollywood hub is available for live or taped interviews. UCR also has ISDN for radio interviews. To learn more, call (951) UCR-NEWS.