Facility Named for UCR Entomologist
---
Coachella Valley Pest Control District Honors UCR Entomologist
Distinguished Professor of Entomology Mir S. Mulla is honored with a biological control facility in his name at the Coachella Valley Mosquito and Vector Control District Headquarters in Indio
(April 6, 2006)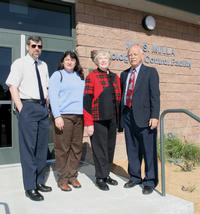 The Mulla Family from left, son David, daughter Janet, wife Lelia, and Mir S. Mulla in front of the building bearing his name.
RIVERSIDE, Calif. —
www.ucr.edu
— With half a century helping to solve some of the Coachella Valley's most intractable insect problems, you might say UCR's Distinguished Professor of Entomology
Mir S. Mulla
has worked out a lot of the bugs that used to come with living in the desert.
So much so that the
Coachella Valley Mosquito and Vector Control District
named its 5,590-square-foot biological control research facility at its Indio headquarters after him during a dedication ceremony Thursday, April 6. Before a crowd of governmental and educational dignitaries, and at least 70 students from the Eagle's Peak Charter School in Indio who were touring the district headquarters, district General Manager Donald Gomsi gave the crowd a little background before introducing Mulla.
"The district was founded in 1928 to control the eye gnat problem that impacted life in the Coachella Valley and spread conjunctivitis (pink eye) to such an extent that schools had to be closed from time to time to control its spread," Gomsi said. "In the 1950s the spread of St. Louis Encephalitis by mosquitoes added to the growing number of vector problems the district had to contend with."
So common was the gnat problem in the 1920s and '30s, that Coachella Valley residents' constant waiving in front of the eyes was known as the "Coachella Hello," added district Board of Trustees Vice President John Fuschetti of Rancho Mirage.
It was Mulla's championing of the use of natural enemies to control pests, an approach known as biological control, which eventually helped bring the eye gnat, biting midge and mosquito problems under control in the Coachella Valley. This development is known as a key factor in allowing the tourist and resort industries to flourish in the valley.
Fuschetti said that biological control became an increasingly important approach to pest control because of three key developments First, mosquitoes have slowly become resistant to pesticides and built-up immunities to the poisons. Secondly, chemical companies are introducing fewer pesticides due to increased regulation, and research and development costs. Finally, the growing public awareness and concern over the uses of pesticides and their accumulations in the environment are making biological control a more desirable approach.
Mulla's research brought to the valley, the rearing and distribution of mosquitofish, which eat mosquito larvae. His research has also advanced the use of tadpole shrimp, another mosquito predator that can live in high water temperatures, survives the drying up of its habitat and grows at a rapid rate when standing water returns. The new facility's rearing operation will be able to produce 300,000 mosquitofish a year, according to district biologists.
Mulla credited his supporters with allowing him to move forward with his work. Most importantly, he thanked his wife of 52 years, Lelia Louise Mulla, who supported his efforts. Two of the couple's four children attended the dedication.
"I want to thank the district and the board for their constant support and encouragement in the 50 years I've been working in the Coachella Valley," Mulla said.
He added that with the continued urbanization of the valley, pest control was going to get more complicated, and new tools and methodologies would be needed to address these issues.
"There are 80 to 100 pestiferous species to deal with in the Coachella Valley," he said. "There's no other district in California facing such an insect problem and requiring the cooperation of districts such as this one and the researchers at places like UCR and others to find solutions that are effective and economical.
"Most of the tools used by the district today have been developed or tested in our laboratories at UCR," he concluded. "These tools have contributed to the 90 to 95 percent reduction in the Coachella Valley's eye gnat problem, considered unsolvable in the 1950s and 1960s."
RELATED LINKS
ADDITIONAL CONTACTS
The University of California, Riverside (www.ucr.edu) is a doctoral research university, a living laboratory for groundbreaking exploration of issues critical to Inland Southern California, the state and communities around the world. Reflecting California's diverse culture, UCR's enrollment has exceeded 21,000 students. The campus opened a medical school in 2013 and has reached the heart of the Coachella Valley by way of the UCR Palm Desert Center. The campus has an annual statewide economic impact of more than $1 billion.
A broadcast studio with fiber cable to the AT&T Hollywood hub is available for live or taped interviews. UCR also has ISDN for radio interviews. To learn more, call (951) UCR-NEWS.