Into the Wardrobe We Go
---
UC Riverside to Host Conference on C.S. Lewis' 'Narnia' Chronicles
Organizers of May 5 Gathering include scholars in English, psychology, religious studies, film
(April 26, 2006)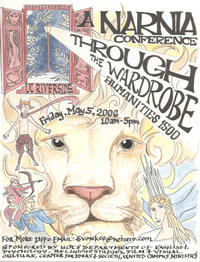 Enlarge
conference poster (artist is Franceil Masi)
RIVERSIDE, Calif. (www.ucr.edu) -- You might want to grab one of the old coats hanging in that big closet: It can be chilly where UC Riverside is taking scholars and fans of C.S. Lewis' Narnia books, even though travelers will remain in the Humanities 1500 lecture hall the whole time.
Fortunately, guides for the journey -- from 10 a.m. to 5 p.m. on Friday, May 5 -- have had some experience with fantasy worlds. "Through the Wardrobe: A Narnia Conference" follows October's very successful "Pottermania" conference, which drew an enthusiastic, standing-room-only crowd.
The Narnia event has already attracted the sponsorship of UC Riverside's departments of English, Psychology and Religious Studies, Center for Ideas and Society, Visual Culture Program and United Campus Ministry.
"With so many departments co-sponsoring the conference, we hope to make it truly interdisciplinary," said Craig Svonkin (SFON-kin), a lecturer in UCR's English department, chairing the conference alongside Professor John Briggs of the English department and Assistant Professor Rebekah Richert (RICK-ert) of the Psychology department.
In fact, Richert said, an academic critique of the Narnian chronicles will likely mesh well with ongoing research into what children learn through engagement in fantasy worlds — both through reading and through movies and television.
"Some parents and religious leaders argue that 'The Lion, the Witch, and the Wardrobe' provides a better fantasy environment for children than other alternatives --e.g., the Harry Potter series," she said. "However, whether children actually learn qualitatively different values from these different fantasy worlds remains an open question."
Lewis wrote for children from a Christian point of view, offering engaging characters plus lots of laughs and adventure along with his spiritual subtext. Svonkin acknowledged that some scholars hearing about a Narnia conference might infer an evangelical emphasis, or be wary of a trivial look at popular culture or children's culture -- but that is why he and others behind the conference believe it is important to look seriously at Lewis' creation.
"We agreed that it is possible, and indeed perhaps necessary . . . to look seriously at popular, religious, and children's authors," Svonkin said. "These authors have a profound influence on our culture."
Mainstream academia need not, and should not, leave a writer like Lewis to be explored by Christian scholars simply because the writer has been claimed by many Christians as their own, he said.
Co-Chairman John Briggs, a professor in the English Department, agreed. "C.S. Lewis is an interesting figure . . . because of his status as a cultural icon, his learning, his many dimensions, his immense popularity beyond the bounds of evangelical faith communities -- who are not all enthusiastic about him -- and his refusal to forget his non-Christian past," Briggs said.
The best-known book in Narnia's saga is "The Lion, the Witch, and the Wardrobe," in which four British children discover a frozen world while hiding among old coats in what turns out to be a magical wardrobe. They learn about courage and loyalty -- and bring on a long-delayed thaw -- by helping the mighty lion Aslan defeat a tyrannical witch-queen who has oppressed Narnia for 100 years. Other books deal with earlier and later crises for Narnia, and in the hearts and lives of the characters involved. But there is more to discuss than the storyline: As with most enduring fantasy, what resonates with readers has its roots in this world -- and this world sees Lewis' Narnia from many perspectives.
Topics likely to figure in discussions, Svonkin said, include the cultural phenomenon of C.S. Lewis' reputation among Christian communities in the United States, differences in the ways Christians respond to Lewis and to J.K Rowling, author of the Harry Potter books, the psychological impact fantasy fiction has on children, and the recent release of the enormously popular Disney/Walden film adaptation of "The Lion, the Witch, and the Wardrobe."
"Our hope is that we will be able to provide a space for scholarly discussion that is at the same time welcoming to a more general reading audience," Svonkin said. "We hope that the conference will be a forum for open discussion between scholars and fans of these works, and will also allow for a more general discussion of Lewis's fantasy in relation to the current popularity of J.R.R. Tolkien's and J.K. Rowling's fantasy works, or other pertinent fantasy."
To accomplish that, organizers have sought scholarly presentations of approximately 17 minutes, and encouraged creative, engaging methods of presentation. They have also built in extra time for open discussion, Svonkin said.
The conference is free and open to the public, but participants must pay to park on campus -- $6 for an all-day pass, or by the hour in a metered lot.
Schedule and program:
10 a.m. Introductory Remarks: Entering the Wardrobe
John Briggs, University of California, Riverside
Biography: Professor John Briggs, a member of the UCR English Department since 1980, teaches courses in Shakespeare, the history of rhetoric, composition pedagogy, Renaissance literature, Lincoln's speeches, and other topics. Among his publications are a book on the origins of modern science in Francis Bacon's reading of Scripture and several articles on catharsis in Shakespeare's plays. His recent book, Lincoln's Speeches Reconsidered, was published last May by Johns Hopkins University Press.
10:15-11:30 a.m.: Session One: Reading Narnia
Moderator: Rebekah Richert, UC Riverside
1. "Potter vs. the Pevensies: Battle for the Fantastical Moral High Ground"
Rebekah Richert, University of California, Riverside
Abstract: This past fall saw the nearly simultaneous releases of Harry Potter and the Goblet of Fire (November 18, 2005) and The Lion, the Witch and the Wardrobe (December 9, 2005). In connection with this juxtaposition of release dates, some Christian parents and religious leaders argued that The Lion, the Witch, and the Wardrobe provided a "better" fantasy environment for children than other alternatives, specifically the Harry Potter series. However, whether children actually learned qualitatively different values from these different fantasy worlds remains an open question. This paper will use research in the field of cognitive development to explore what children likely learned from these two movies.
Biography: Rebekah Richert is an Assistant Professor in the Psychology Department at UC Riverside. Her research focuses on pretense, imagination, and religion in childhood and adolescence. She has published various articles on these topics in Child Development, Developmental Psychology, Cognitive Development, The International Journal of Psychology and Religion, Method and Theory in the Study of Religion, and Review of Religious Research. Currently, her research focuses on how children view information learned in various fantasy contexts, such as storybooks, movies, and video games.
2. "The Subversive and the Sublime: The Transgressive Appeal of Lewis's Narnia Books"
Craig Svonkin, University of California, Riverside
Abstract: Alison Lurie divides children's literature into two types: didactic works that attempt to teach children to "depend on authority for help and advice" and "to be more like responsible grown-ups," and subversive works that celebrate "daydreaming, disobedience, answering back, [and] running away from home." The reality is more messy, for even works as overtly didactic and religious as C. S. Lewis's may hide transgressive images, ideas, and themes within a largely moralistic framework, and children often desire both sides of this complex coin, the moral and the transgressive. For me, as a Jewish American child with a strong ethical interest, Lewis's Christian morality often proved to be simultaneously troubling and alluring, with his more pagan, subversive, and sublime moments working to draw me along. This paper will explore both my childhood and adult experiences reading the Narnia books.
Biography: Craig Svonkin, a Ph.D. candidate and lecturer at UC Riverside, writes on children's literature, American literature, and aesthetics. His publications include New Directions in American Literary Scholarship: 1980-2002, co-written with Emory Elliott, "Melville and the Bible: Moby-Dick; or the Whale, Multivocalism, and Plurality," and "If Only L.A. Had a Soul: Spirituality and Wonder at the Museum of Jurassic Technology."
3. "Appropriating Narnia: Sunday School, 'Lazy Sunday' and the Culture Wars in Marketing C. S. Lewis's The Chronicles of Narnia"
Kristin Brunnemer, University of California, Riverside
Abstract: This paper explores the multiple marketing strategies of C. S. Lewis's novel and film, beginning with Lewis's own perspective on the series' disparate meanings and interpretations, to the ways in which Adamson's film, like many others, has been utilized by church groups as a form of Christian outreach. Centered on red state/blue state interpretations of the film, my talk will also discuss "Lazy Sunday," Saturday Night Live's recent skit which highlights the ways in which the Narnia films have come to represent, for both conservatives and liberals, "red state" values.
Biography: Kristin Brunnemer is a Ph.D. candidate at the University of California, Riverside. Her interests include film and visual culture, media studies, comparative minority discourse and 20th century American literature. She is the author of "Sex and Subjectivity: Glancing and Gazing at HBO's Sex and the City" as well as other articles on Ana Castillo, Wanda Coleman, and Maria Weston Fordham.
11:30-12:15 p.m.: Lunch Break Glimpses of Shadowlands
12:15-1:50 p.m.: Session Two: Fantasy, Analogy, and the Sublime
Moderator: Liam Corley, Cal Poly Pomona
Biography: Liam Corley is an Assistant Professor of English at Cal Poly Pomona specializing in American literature. A lifelong fan of the Narnia Chronicles, he now enjoys reading them aloud to his children.
1. "'It Really Won't Do': Why Tolkien Detested Narnia"
Sam McBride, DeVry University
Abstract: J. R. R. Tolkien disliked C. S. Lewis's Narnia stories for several reasons. Lewis's ability to produce a new Narnia book in a matter of months, while also writing volumes of literary criticism and Christian apologetics, offended the sensibilities of a man who labored 12 years on a single book. In addition, Tolkien may have resented Lewis's 'borrowing' the concept of a mythical alternate reality. Most importantly, Tolkien disliked the superficial nature of the Narnia books, assimilating elements of multiple mythologies (such as "Father Christmas" in a world without Christ); Tolkien preferred mythological coherence, incorporating only story elements that develop from a pre-given pseudo-historical background.
Biography: Sam McBride is co-author (with Candice Fredrick) of Women Among the Inklings: Gender, C. S. Lewis, J. R. R. Tolkien and Charles Williams. His published articles have examined the maturation processes of young people in Narnia, the Catholic underpinnings of Middle-earth, and Lewis's literary critical work A Preface to Paradise Lost as Christian evangelism. He is currently working on a book-length study of religion in The Lord of the Rings. McBride is a Senior Professor at DeVry University in Pomona, CA.
2. "No Rain at the Epiphany"
Vivian-Lee Nyitray, University of California, Riverside
Abstract: In films ranging from The King of Kings (DeMille 1927) to The Matrix (Wachowski 1999), epiphanic moments—times when the boundary between sacred and profane is breeched and divinity is manifest—are conventionally marked by a literal opening of the heavens. In The Chronicles of Narnia: The Lion, the Witch and the Wardrobe, this dramatic expectation is thwarted: when the children first see Aslan, it is a warm sunny spring afternoon. Some instances of the unexpected are less momentous and rather quaint, as in the costuming of Mr. Tumnus, a bare-chested faun who seems to require a scarf to ward off winter's chill; others seem more sinister, as in the case of Father Christmas, who distributes weapons rather than playthings to the children. This paper explores the relationship between expectation and contrarian fulfillment in the textual and filmic narratives of C. S. Lewis' Christian allegory. Such inversions or twists of expectation are key to understanding the power of the Narnian chronicles in readers' and viewers' imaginations.
Biography: Vivian-Lee Nyitray is an Associate Professor in the Department of Religious Studies at UC Riverside. Her research focuses on Chinese religions, particularly the hermeneutics of Confucian tradition and its narrative portrayal of the virtuous life. In addition to teaching courses in the religions of China, she has created and teaches a course on Religion and Film.
3. "Narnia and Transposition"
Terry Mathis, University of California, Riverside
Abstract: C. S. Lewis briefly developed his religious epistemology in a chapel sermon at Oxford on May 28, 1944, entitled "Transposition." Lewis's views will be found to be similar in some ways to Michael Polanyi and Wittgenstein, and more recently a popular idea in philosophy of mind. Some philosophers use the concept of supervenience to describe a relation between properties of different levels so that an instantiation on a higher level (mental) may have the consequence of an instantiation on a lower level (physical). We will find that Lewis's notion of transposition involves a similar description but is also quite different. Lewis attempts to account for experience of God. Accordingly, the Narnia stories will be seen as devices that may induce transposition, an experience of God through ordinary circumstances.
Biography: The Rev. Dr. Terry Mathis is the Campus Minister at UC Riverside, where he directs the University Religious Conference through United Campus Ministry. He earned the M. Div. in theology from Fuller Theological Seminary and the Ph.D. in philosophy from Claremont Graduate University, and was ordained with the Church of the Brethren. He has had an interest in C. S. Lewis for many years. From 1986 to 1993 he edited The Lamp-Post of the Southern California C. S. Lewis Society. In 2000 he taught a course on C. S. Lewis for the Johnson Center at the University of Redlands. He has presented a number of talks on Lewis, including a psychobiography of Lewis to the Association of Christian Psychologists in 2000.
4. "Aslan and the Sublime: A Comparison of the Sublime in C. S. Lewis's The Lion, the Witch, and the Wardrobe and the Film Adaptation by Andrew Adamson"
Alan Noble, California State University, Bakersfield
Abstract: Looking at the character Aslan through Edmund Burke's conception of the sublime, this paper examines the difference between C. S. Lewis's character from The Lion, the Witch, and the Wardrobe and the version of Aslan we see in the recent film adaptation by Andrew Adamson. Through Burke's theory of the sublime, we can see that the terror, which produces awe in the novel, is missing from the film version due to an altering of Lewis's text, and a poor representation of Aslan in visual form.
Biography: Alan Noble is currently a graduate student of English at California State University, Bakersfield, where he graduated with a Bachelor's degree in English in 2004. Alan presented a paper on Samuel Taylor Coleridge's "Christabel" in 2005 at the International Conference on Romanticism and is preparing his thesis on Cormac McCarthy's Blood Meridian this year. While he plans on pursuing a doctorate degree in Modern American Literature, Alan's interests are wide and include apologetics, Christian aesthetics, creative writing, Hip-Hop, the sublime, Science Fiction, and Latin.
1:55-3:30 p.m.: Session Three: Lewis and Intertextuality
Moderator: Craig Svonkin, UC Riverside
1. "Fairy-Tale Protagonists in Other Worlds: The Under-Hero of George McDonald's Fairy Land"
Rebecca Ritter, Independent Scholar
Abstract: C. S. Lewis considered George MacDonald his "master," and an analysis of MacDonald's fairy-tale novels Phantastes and Lilith exposes characteristics central to the fantasy fiction of both writers: alternate worlds that act morally and redemptively on their protagonist-heroes. MacDonald's "under-heroes," demonstrating inner weakness of a moral nature, reflect the underpinnings of MacDonald's and Lewis's fiction, and also suggest diverging trends in the development of twentieth-century fantasy, indicating significant distinctions between Lewis's and MacDonald's fantasy and that of other fantasists whose heroes display Übermensch-like capability and morality.
Biography: Rebecca Ritter holds an M.A. in English Language and Literature (2003) from the University of Georgia, where her chief area of study was C.S. Lewis's developing position on the written word and the efficacy of language in communicating intended meaning, particularly as worked out in his novels Perelandra and Till We Have Faces. She currently lives in the Blue Ridge Mountains of Asheville, North Carolina, where she works as a freelance copywriter and editor and continues her own research and writing.
2. "The Rime of the Youthful Mariner"
Winona Howe, La Sierra University
Abstract: At first glance, there seems to be little similarity between "The Rime of the Ancient Mariner" and The Voyage of the Dawn Treader. A voyage may be the central motif of both narratives, but Lewis features a group of fresh-faced children on a mission that is a hazardous attempt to locate and, perhaps, rescue the seven missing lords of Narnia, a journey set in the context of an adventurous and daring tale of exploration. Coleridge, on the other hand, presents the glittering-eyed individual who seizes a hapless wedding guest in order to force his autobiographical tale (of a doomed voyage and a thoughtless sailor who shoots an albatross) on this unsettled and unwilling audience. As each ship sails into an uncharted ocean, however, connections become apparent that cause each text to be illuminated by the other.
Biography: Winona Howe is professor of English at La Sierra University, where she teaches classes in Victorian, children's and young adult literature. She received her B.A. from Pacific Union College, her M.A. from Loma Linda University, and her Ph.D. from University of California, Riverside. She has published articles on Charles Dickens and Wilkie Collins, folk tales, westerns, and the Australian author, Arthur Upfield.
3. "The Ordinary and the Fantastic: Everyday Life within a Folklore Structure"
Anne Sullivan, University of California, Riverside
Abstract: C. S. Lewis and J. K. Rowling both incorporate aspects of everyday life within a folklore structure, as we see when characters enter a magical world through a wardrobe or travel to a wizarding school by train. I will explore why the relationship between the familiar and the fantastic is so compelling in both The Chronicles of Narnia and Harry Potter.
Biography: Anne Sullivan, a second year English major and Creative Writing minor at UC Riverside, was first introduced to C. S. Lewis when her second grade class read The Lion, the Witch and the Wardrobe. Though she grew up watching the BBC versions of The Chronicles of Narnia, she absolutely loves the new film by Andrew Adamson. C. S. Lewis was very influential in founding her own passion for folklore, mythology, and story telling, and sparked her interest in other fantasy works that deal with folkloric/mythological elements.
4. "Gender Attitudes in Philip Pullman's His Dark Materials Trilogy and C. S. Lewis's Chronicles of Narnia"
Nicole Lyons, California State University, Northridge
Abstract: Despite Philip Pullman's expressed disgust for C. S. Lewis's Chronicles of Narnia, there are similarities to Lewis's work in his own His Dark Materials trilogy. Of specific interest is gender construction; a closer examination of their works will reveal if Pullman has distanced himself from Lewis's ideas on gender roles and identities.
Biography: Nicole Lyons is a third year graduate student finishing her master's degree at CSUN. She is interested in children's literature, science fiction, and 20th century American literature. As a child, she read and loved the Narnia stories, especially enjoying the character of Lucy. She is currently writing her thesis on subversive representations of children and how gender is constructed in Philip Pullman's His Dark Materials Trilogy.
3:35-5:10 p.m.: Session Four: Religious Themes and Issues
Moderator: John Briggs, UC Riverside
1. "Winning One's Spurs: War, Gender and Moral Agency in The Lion, the Witch, and the Wardrobe"
Devin Kuhn, Claremont Graduate University
Abstract: Using theories of just war, nonviolence and feminism, this paper explores Lewis's location of moral maturity in the choice to engage in violence and critiques the gendered and militaristic nuances of such morality, demonstrating possibilities for nonviolent alternatives within Narnia.
Biography: Devin Kuhn is a Ph.D. student in Women's Studies in Religion at Claremont Graduate University. Her research interests involve the intersections between activism, peace studies, moral agency and popular culture.
2. "Light from a New Angle: Screwtape, Narnia and Christianity"
Sharon Tyler, Independent Scholar
Abstract: C. S. Lewis called the Narnia stories not a Christian allegory but a "supposal," a story about another world redeemed. This alternative myth is a mixture of various traditions even more wildly syncretic than Christianity itself, but reveals underlying beliefs about the world, about evil, and about human behavior and attitudes which are more important to Lewis than doctrine, ideas which also appear in the more explicitly Christian Screwtape Letters. Lewis does not require Christian readers, and would probably be happier with the way that modern popular culture reflects general positive values than with the present uses made of religion.
Biography: Sharon Tyler is an independent scholar and a former lecturer at UC Riverside, from which she has a doctorate in Renaissance drama, specializing in Shakespeare's history plays. Besides having an interest in fantasy from Greek mythology to Tolkien, she has written on detective fiction and on the genre of historical drama.
3. "Emeth and the Possibility for Salvation in Non-Christian Religions"
Elissa McCormack, Graduate Theological Union
Abstract: At the end of The Last Battle, Emeth, a Calormene who has always worshipped the god Tash, finds himself faced with Aslan in the New Narnia. The salvation granted to this character raises questions about Lewis's beliefs surrounding the possibility of salvation in non-Christian religions. I propose that if one looks at Emeth within the wider context of Lewis's works, it seems clear that Lewis's personal beliefs coincide with an inclusivist interpretation of salvation. For Lewis, it is not holding correct beliefs that is ultimately necessary for salvation, but committing your life to a constant and sincere search for Truth.
Biography: Elissa McCormack is currently working on her Masters of Arts in theology at the Dominican School of Philosophy and Theology at the Graduate Theological Union. Her interest in the overlaps between theology and Lewis' fiction arose from reading The Great Divorce in one of her undergraduate theology classes at Georgetown University. Although her current research interests relate to the history of Catholicism in Europe, she continues to pursue her interest in studying the works of both Lewis and Tolkien in her spare time.
4. "From Saladin to Rabadash: Western Views of Islam"
Andrew Howe, La Sierra University
Abstract: For many reasons, C. S. Lewis' fictional Calormenes have often been coded as metaphors for Islam. In his ambivalent treatment of this group and their opportunities for salvation, particularly in The Last Battle, Lewis's paradoxical loathing and fascination follows in a vein that has long troubled Christian writers writing about Islam. Using Sir Walter Scott's The Talisman and Lewis's The Horse and his Boy and The Last Battle, this paper examines the complicated space occupied by Islam in the imagination of the west.
Biography: Andrew Howe is an Assistant Professor of American Studies at La Sierra University. His teaching and research interests include popular culture, film studies, and World War II. Recent conference presentations have focused on Alfred Hitchcock, Martin Scorsese, and J. K. Rowling. He hopes the recent interest in Narnia films will carry through to The Horse and His Boy, his favorite of the series.
5:10-5:45 p.m.: An Open Discussion and Question & Answer
Moderator: John Briggs, UC Riverside
The University of California, Riverside (www.ucr.edu) is a doctoral research university, a living laboratory for groundbreaking exploration of issues critical to Inland Southern California, the state and communities around the world. Reflecting California's diverse culture, UCR's enrollment has exceeded 21,000 students. The campus opened a medical school in 2013 and has reached the heart of the Coachella Valley by way of the UCR Palm Desert Center. The campus has an annual statewide economic impact of more than $1 billion.
A broadcast studio with fiber cable to the AT&T Hollywood hub is available for live or taped interviews. UCR also has ISDN for radio interviews. To learn more, call (951) UCR-NEWS.