Gluck Program Invites Children to Campus
---
Gluck Day of the Arts Lets Children Experience the Arts
Elementary school students sampled theatre, music, dance and creative writing
(May 2, 2006)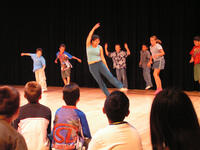 Enlarge
Dancers and students interact at a previous Gluck Day of the Arts. (Photo by Kris Lovekin)
RIVERSIDE, Calif. -- The Gluck Fellows Program of the Arts at UC Riverside invited 270 students from four elementary schools in Riverside and Moreno Valley to participate in the third annual Gluck Day of the Arts Tuesday, May 2 from 9:30 a.m. to 2 p.m.
Students from Emerson, Longfellow, Sunnymeadows, and Town Gate elementary schools were transported to the ARTS Building on the campus of UC Riverside, and participated in a variety of arts-related workshops, including creative writing, dance, music, and theatre. Each school attended all four workshops throughout the day.
Joel Martin, interim Dean of the College of Humanities, Arts, and Social Sciences opened the program at 9:30 a.m.
Each year, the Gluck Fellows Program of the Arts provides fellowships to exceptional UC Riverside undergraduate and graduate students, faculty, and visiting guest artists to conduct arts-related presentations, performances, and workshops in Riverside County schools, residential facilities for the elderly, and community centers. Participating departments include Art, Creative Writing, Dance, History of Art, Music, and Theatre, as well as the Sweeney Art Gallery and the UCR/California Museum of Photography.
Since its inception at UC Riverside in 1996, the Gluck Fellows Program of the Arts continues to follow its mission and goals of integrating the arts within the broader community, using talented faculty and students from the College of Humanities, Arts, and Social Sciences.
WORKSHOPS
Creative Writing
Creative Writing Gluck Fellows conducted a collaborative writing project with the students, which will result in a prose piece that each student can take home. Gluck Fellows used candy as an incentive, both to stimulate the senses for description and simply as a reward for coming up with storyline suggestions and sentences. The students came away with the knowledge that storytelling is a creative mystery, not reliant on pragmatic rules, and that everyone has a story to tell.
Gluck Fellows/Workshop presenters: Gervel Jones, Christine Kitano, Tory Patterson, Sherri Wyatt
Location: morning sessions in ARTS 355 Screening Room; afternoon sessions in Humanities 1500.
Dance
The choreography of the Contemporary Dance Ensemble demonstrated the different skills, personalities, and backgrounds of the dancers. While much of the dance is set, some sections are improvised. Movement choices include action from everyday life, contemporary dance vocabulary, and athletic partnering. Music accompanies many but not all sections of the dance, suggesting an independence of dance on music. Students will be invited to dance with the Ensemble in this interactive workshop!
Gluck Fellows/Workshop presenters: members of the Contemporary Dance Ensemble
Location: ARTS 166 Performance Lab
Music
Musical improvisation, which is making music up on the spot, is an important part of many kinds of music, from Indian ragas to jazz to classical music. Students will learn about the art of musical improvisation with the Musical Free Improvisation Ensemble in this interactive workshop. Students played along and created their own musical improvisations!
Gluck Fellows/Workshop presenters: members of the Free Improvisation Ensemble
Location: ARTS Outdoors Stage
Theatre
Theatre Gluck Fellows worked with students on awareness of the various ways to say things, and on how meaning changes depending on how we say words. Gluck Fellows also worked with students to test the boundaries of how much words can say by using the body, gesture and facial expressions to strengthen the meaning of language. Gluck Fellows also introduced some use of Shakespeare's rich language to help students see an earlier example of theatre use of physical language full of imagery.
Gluck Fellows/Workshop presenters: Raemi Baldwin, Gaya Khmoyan, and Valerie Stulman
Location: ARTS 113 Studio Theatre
RELATED LINKS
ADDITIONAL CONTACTS
The University of California, Riverside (www.ucr.edu) is a doctoral research university, a living laboratory for groundbreaking exploration of issues critical to Inland Southern California, the state and communities around the world. Reflecting California's diverse culture, UCR's enrollment has exceeded 21,000 students. The campus opened a medical school in 2013 and has reached the heart of the Coachella Valley by way of the UCR Palm Desert Center. The campus has an annual statewide economic impact of more than $1 billion.
A broadcast studio with fiber cable to the AT&T Hollywood hub is available for live or taped interviews. UCR also has ISDN for radio interviews. To learn more, call (951) UCR-NEWS.