More Bad News for SATs
---
Conscientiousness a Better Predictor of College Success than SAT's
Hard work and determination are more important than test scores.
(May 4, 2006)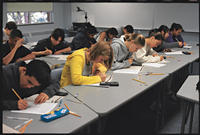 RIVERSIDE, Calif. (www.ucr.edu) — What kind of student will succeed in college? While there are many possible answers to that question, researchers at UC Riverside have found that one predictor is being seriously undervalued — conscientiousness.
In their paper, "Acquaintance reports of personality and academic achievement: A case for conscientiousness," Seth Wagerman, a doctoral candidate in psychology, and David Funder, chairman of the UCR Psychology Department, found that "success in college is much more related to a student's work ethic and self-discipline than to absolute intelligence or excellent test-taking ability."
Wagerman and Funder's study also adds more evidence to the argument that less emphasis should be placed on the SAT college entrance exams. "We found a trend in our data that both SAT scores and high school grade point averages increased steadily along with parent's income. That is, the more affluent the family, the better the opportunities the student had so the better they tended to do both GPA-wise and on the SAT."
"Not only did the trait of conscientiousness predict college grades nearly as well as the SAT, it showed no such trend and is not biased against any national or ethnic group. This is definitely one of its top selling points," Wagerman said.
In an ongoing study examining personality judgment, students were asked to describe themselves and were also described by two acquaintances and a trained clinician. Their grades and SAT scores were obtained with permission from the registrar's office. "Conscientiousness - whether rated by the self, friends, or the clinician - was related to performance in every class year, from freshman to senior. The amazing thing is that being described by others as conscientious and hard-working predicted college grades years down the line," Wagerman said.
This has important implications for students deciding what they can and cannot succeed at doing," added Funder. "It is also has implications for parents and counselors advising students on what they should be willing to attempt."
"The bottom line is that in almost all cases, where there is a will, there is a way," said Funder. "Highly motivated and organized students who are determined to succeed -- conscientious ones in other words -- are likely to do well, regardless of their SAT or SAT-like (e.g., IQ) scores."
"Parents of college-bound students should be looking more at their child's organization skills and their self-discipline. College admission officers should be looking at whether applicants have started their own business or have held a job for a considerable length of time," Funder said.
"In general, we should take a more holistic approach," Wagerman concludes.
The paper will be published in the Journal of Research in Personality but as yet it does not have a publication date. However, it is available on line at www.sciencedirect.com.
The University of California, Riverside (www.ucr.edu) is a doctoral research university, a living laboratory for groundbreaking exploration of issues critical to Inland Southern California, the state and communities around the world. Reflecting California's diverse culture, UCR's enrollment has exceeded 21,000 students. The campus opened a medical school in 2013 and has reached the heart of the Coachella Valley by way of the UCR Palm Desert Center. The campus has an annual statewide economic impact of more than $1 billion.
A broadcast studio with fiber cable to the AT&T Hollywood hub is available for live or taped interviews. UCR also has ISDN for radio interviews. To learn more, call (951) UCR-NEWS.