Chancellor Speaks Up for Girls
---
UC Riverside Chancellor Speaks at National Summit to Help Girls Keep Pace in Math and Science
U.S. Department of Education brings together experts to take on the challenge
(May 15, 2006)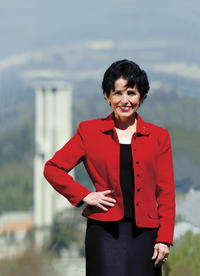 Enlarge
Chancellor France A. Córdova
WASHINGTON, D.C. -- UC Riverside Chancellor France A. Córdova spoke at the U.S. Department of Education's first-ever national summit for girls on math and science in Washington D. C. today (Monday, May 15.)
She was part of a panel on Higher Education/Workforce Development issues, moderated by Shana Dale, deputy administrator at NASA.
"I am pleased to represent higher education's role in getting more young women interested and prepared for careers in math and the sciences," Córdova said before she left campus. "The goal of this meeting is to propose action items to insure that progress is made."
UC Riverside has a number of programs geared to help prepare girls for careers in math and science. Most of them are coordinated through the ALPHA Center, which brings together university programs that directly address education in the K-12 sphere.
U.S. Secretary of Education Margaret Spellings announced that the event, held in conjunction with the Girls Scouts, will help U.S. schools keep pace in a world that is increasingly oriented toward technology. During the event, she announced the 17 expert panelists and six ex-officio members chosen to comprise the National Mathematics Advisory Panel. The panel will advise President Bush and Secretary Spellings on the best use of scientifically based research to advance the teaching and learning of mathematics.
"To keep up with the competition, we must pick up the pace," she said. "We must provide our children with the knowledge and skills to succeed. And we must close the gender gap in math and science."
A full schedule of the event follows:
May 15, 2006
Barnard Auditorium, U.S. Department of Education
400 Maryland Ave., SW
Washington, D.C., 20202
Lunch at the Library of Congress
8:30am — 9:00am Coffee
9:00am — 9:45am WELCOME, INTRODUCTIONS AND GOAL SETTING
Secretary Margaret Spellings, U.S. Department of Education
Dr. Kathie Olsen, Deputy Director, National Science Foundation
Shannon Babb, Intel Science Award Winner
Girl Scouts Member
9:45am — 10:15am ELEMENTARY AND SECONDARY SCHOOL CHALLENGE
Discussion Leaders:
Dr. Camilla Benbow, Dean, Peabody College of Education and
Development, Vanderbilt University
Dr. Eric Jolly, President and CEO of the Science Museum of
Minnesota
Cathy Seeley, President, National Council of Teachers of Mathematics
Dr. Jo Anne Vasquez, Member, National Science Board; Past
President of National Science Teachers Association, former teacher
Girl Scouts Member
Moderator:
Shana Dale, Deputy Administrator, NASA
10:15am — 10:45am General Discussion (Town Hall style)
10:45am — 11:00am Break
11:00am — 11:30pm HIGHER EDUCATION/WORKFORCE DEVELOPMENT ISSUES
Discussion Leaders:
Bryan Albrecht, President, Gateway Technical College
Dr. France Cordova, Chancellor, University of California, Riverside
Lucy Sanders, CEO & Co-Founder, National Center for Women &
Information Technology
Net Day Young Adult
Moderator:
Marion Blakey, Administrator, Federal Aviation Administration
11:30am — 12:00pm General Discussion (Town Hall style)
12:00pm — 12:25pm Travel to Library of Congress
12:30pm — 1:15pm Moderator: Secretary Margaret Spellings
Honored Guest: Senator Ron Wyden
Introduction of Sally Ride: Marion Blakey, Administrator, Federal Aviation
Administration
Working Lunch & Keynote: Dr. Sally Ride
Closing: Dr. Kathie Olsen
***Open Press
1:00pm — 1:15pm Media Availability
1:15pm — 1:45pm CREATING AN EFFECTIVE MEDIA/PUBLIC AFFAIRS CAMPAIGN
Discussion Leaders:
Dr. Patricia Galloway, Past President, American Society of Civil
Engineers and CEO and CFO, Nielsen-Wurster Group, Inc.
Pat Harrison, President and CEO, Corporation for Public Broadcasting
Ellen Levine, Editor-in-Chief, Good Housekeeping
Ann Moore, Chair and CEO, Time, Inc.
Girl Scouts Member
Moderator:
Patricia Diaz Dennis, Chair of the National Board of Directors, Girl Scouts of the
USA and Senior Vice President and Assistant General Counsel, AT&T
1:45pm — 2:15pm General Discussion (Town Hall style)
2:15pm — 2:45pm Action Items Moving Forward
Secretary Margaret Spellings and Dr. Kathie Olsen
The University of California, Riverside (www.ucr.edu) is a doctoral research university, a living laboratory for groundbreaking exploration of issues critical to Inland Southern California, the state and communities around the world. Reflecting California's diverse culture, UCR's enrollment has exceeded 21,000 students. The campus opened a medical school in 2013 and has reached the heart of the Coachella Valley by way of the UCR Palm Desert Center. The campus has an annual statewide economic impact of more than $1 billion.
A broadcast studio with fiber cable to the AT&T Hollywood hub is available for live or taped interviews. UCR also has ISDN for radio interviews. To learn more, call (951) UCR-NEWS.