Housing Market Hot...For Bees, That Is
---
It's House Hunting Time for Bees — Make Yours Unattractive
A UCR Researcher is part of team that described how a swarm decides where to hang its collective hat, and offers tips for keeping your home or property from becoming their next address.
(May 17, 2006)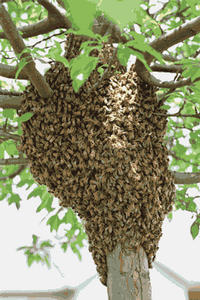 Honey Bee Swarm in crook of a tree.
RIVERSIDE, Calif. —
www.ucr.edu
— The cardinal rule in real estate — location, location, location — also holds true for bee swarms seeking new homes this spring and summer, according to UC Riverside Entomologist
Kirk Visscher
.
For centuries, beekeepers have known that in late spring or early summer a strong honey bee colony will split itself by swarming, a process in which the queen and about half the worker bees leave their hive and establish a new colony, leaving a daughter queen and the balance of the workers behind to perpetuate the old colony. They're identified as a football-size mass of bees clustered on a tree branch.
So for the wise property owner, the cardinal rule this time of year is prevention, prevention prevention. More specifically, making your home and property unattractive to house-hunting bees, Visscher said.
So what makes for prime apiary real estate?
According to an article titled,
Group Decision Making in Honey Bee Swarms
, Visscher co-authored with Cornell's Thomas Seeley and Ohio State's Kevin Passino in the May-June 2006 issue of American Scientists, a first-rate home for a honey bee colony has a cavity greater than 20 liters in size, or about the size of a wastebasket. Its ideal entrance hole should be smaller than 30 square centimeters, or about the size of a ping-pong ball, and located at the bottom of the cavity. The whole thing should be perched several meters off the ground, and face south.
"Originally, bees select the hollow of a tree but a crack in a wall or a hole in the eave of a house that allows access to an attic or other cavity will do just fine," Visscher said.
Because removal of an established colony can be an involved and expensive process, property owners are encouraged to bee proof their homes by caulking or screening over holes in walls and eaves that lead to cavities. Other potential nesting sites can be anything with a fairly small hole leading to a cavity. Examples include upside down flower pots, old water heaters, electrical boxes, or barbeques. If the cavity is removed, such as taking that water heater to the dump, exposed, such as turning over the flower pot, or inaccessible, such as plugging holes, it will no longer attract nesting bees.
A swarm will take about three days to decide on a home site and quickly makes the move, according to the article. Scouts use a specialized "waggle" dance to communicate the best sites and recruit other scouts to look at them. Eventually, a kind of quorum of scouts convinces the swarm to select a site.
"Even before bees begin looking for new hive sites, it's a good idea to eliminate your property as a potential site by filling openings, and opening up or filling cavities," Visscher said.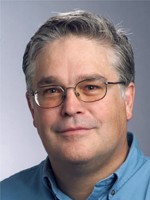 Kirk Visscher
RELATED LINKS
The University of California, Riverside (www.ucr.edu) is a doctoral research university, a living laboratory for groundbreaking exploration of issues critical to Inland Southern California, the state and communities around the world. Reflecting California's diverse culture, UCR's enrollment has exceeded 21,000 students. The campus opened a medical school in 2013 and has reached the heart of the Coachella Valley by way of the UCR Palm Desert Center. The campus has an annual statewide economic impact of more than $1 billion.
A broadcast studio with fiber cable to the AT&T Hollywood hub is available for live or taped interviews. UCR also has ISDN for radio interviews. To learn more, call (951) UCR-NEWS.