Memorial Set for Botanic Gardens
---
UC Riverside will hold Ceremony to Honor UCR Family
The event will honor faculty, staff students, alumni and campus friends who passed on this past academic year
(May 25, 2006)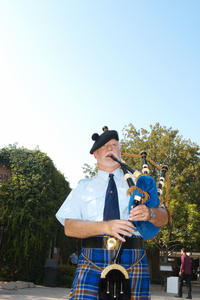 Enlarge
Bagpiper Mike Terry. Photo by Michael Elderman.
UCR will hold a campus memorial service at 4 p.m. on Wednesday, May 31 at the Botanic Gardens to mark the passing of faculty, staff, students, alumni and campus donors.
The ceremony, which is open to the public, is designed to allow family, friends and colleagues to reflect on the important roles of individuals at UC Riverside, and how their passing impacts the UC Riverside family.
Among those being honored are Ruth apRoberts, a professor of English who worked on campus for more than three decades, and Willard "Bill" Bitters, curator of the Citrus Variety Collection from 1947 to 1982.
This is the second year for the event, which will include a reception, remarks from Chancellor France A. Cordova, a poetry reading, two songs from the UCR Chamber Singers, a reading of the names of those who have died and the playing of a lone bagpipe.
Reservations are requested and may be made online at memorial.ucr.edu.
Those honored will include:
President Emeritus
David S. Saxon, Dec. 8, 2005
Faculty
Ruth apRoberts, March 26, 2006
Willard P. Bitters, March 30, 2006
William T. Bradshaw, Oct. 4, 2005
Francis H. Cook, March 24, 2006
Achilles Dugaiczyk, Oct. 31, 2005
Louis Riehl, Sept. 4, 2005
Vernon Stern, March 16, 2006
Academic
Maria Fernanda Agius, Nov. 10, 2005
Oscar Brown, May 30, 2005
Colin Hackett, July 18, 2005
Muriel Ingham ('63 M.A., '67 Ph.D.), July 22, 2005
Walter Moore, Feb. 3, 2006
Staff
Douglas C.G. Aitken, Sept. 1, 2005
Ronald E. Aker, June 12, 2005
Hisako Brown, Jan. 7, 2006
Barbara J. Campbell, Jan. 29, 2006
Gilbert C. Daft, Feb. 13, 2006
Donald F. Dixon, Jan. 1, 2006
Woodrow V. Drake, Jan. 22, 2006
Eugene Grgurevic, May 18, 2005
Lajos B. Horvath, July 7, 2005
Floy Lee Jarzabek, May 1, 2005
Geoffrey S. Kostiuk, Dec. 12, 2005
Anita L. Laford, Feb. 15, 2006
James L. Lane, March 22, 2006
Harry Wilson Lawton ('69), Nov. 20, 2005
L. Benjam Livingston, Dec. 4, 2005
Mitsuo Matsumura, Feb. 1, 2006
Sharon Midland, June 26, 2005
Patricia A. Moody ('84, '84 M.A.),
March 15, 2006
John Robert Noble, Jan. 15, 2006
Marion L. Rappe, Nov. 17, 2005
James A. Rothenberger, April 9, 2006
Edward I. Sadler, June 22, 2005
Edward Allen Schroeder, Dec. 14, 2005
Fujio Shibuya, Dec. 4, 2005
Harry D. Slemmer Jr., Jan. 31, 2006
Cindy Smith, Aug. 10, 2005
Ralph A. Strohman, July 30, 2005
Jack Telliard, Nov. 28, 2005
Ethel M. Wheeler, Jan. 21, 2006
Ann M. White, Feb. 4, 2006
Paul J. Wilson, Oct. 27, 2005
The University of California, Riverside (www.ucr.edu) is a doctoral research university, a living laboratory for groundbreaking exploration of issues critical to Inland Southern California, the state and communities around the world. Reflecting California's diverse culture, UCR's enrollment has exceeded 21,000 students. The campus opened a medical school in 2013 and has reached the heart of the Coachella Valley by way of the UCR Palm Desert Center. The campus has an annual statewide economic impact of more than $1 billion.
A broadcast studio with fiber cable to the AT&T Hollywood hub is available for live or taped interviews. UCR also has ISDN for radio interviews. To learn more, call (951) UCR-NEWS.