Europeans Honor DNA Chip Inventor
---
UCR Chemist Named European Inventor of the Year
The European Patent Office recognizes Michael C. Pirrung's role in inventing gene chip technology, which has greatly advanced genetic research.
(May 31, 2006)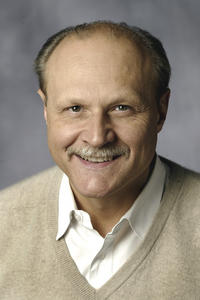 Michael Pirrung
RIVERSIDE, Calif. — May 31, 2006 — Developing the tool to make today's genetic research possible has brought University of California, Riverside Chemistry Professor Michael C. Pirrung acclaim as a recipient of the European Inventor of the Year 2006 award, announced recently by the European Patent Office.
Pirrung, a professor and the holder of the UC Presidential Chair in Chemistry at UCR since 2004 was lauded for developing what is today known as the DNA chip — a small glass chip that holds vast amounts of biological data and allows medical, scientific and commercial researchers to check tens of thousands of genes at once instead of one at a time.
He was one of 14 recipients in six categories honored at a May 3 ceremony in Brussels, Belgium.
The technology Pirrung pioneered, sometimes called the Rosetta Stone of functional genetics, marries the technologies of semiconductor manufacturing with advances in biochemistry to develop the revolutionary analytical tool.
"Instead of thousands of transistors on a microchip, we found a way to place thousands of molecules on the microchip," Pirrung said. "The technology allows us to take a snapshot of a biological process and determine what genes are activated and what mutations are created."
Pirrung was teaching at Stanford University when, in 1989, he went to work at Affymax in Palo Alto with Affymax co-founder Leighton Read. There, they developed the gene chip technique, which led to more than 40 U.S. patent filings and others in Europe in the early 1990s.
A single DNA chip measuring 1.28 centimeters by 1.28 centimeters can hold more than 400,000 such "probe" molecules, allowing biologists to carry out huge numbers of experiments simultaneously, performing in hours, research that used to take months or years before the technology emerged.
Pirrung believes the current technology has probably reached its limits, but that DNA chip technology will branch out into other interesting areas.
"I think if you take Gordon Moore's law that basically says at some point you reach the limits of microchip technology, you can't get much better than where you're at now," he said. "We're probably reaching the limits of light technology, which is what you're using with DNA chips."
However, shifting chip manufacturing to a non light-dependent technique may improve DNA chip technology.
"I think, what we'll see in the future is a programmable DNA chip that allows the user to customize their chip to look for certain specific genetic markers," he concluded.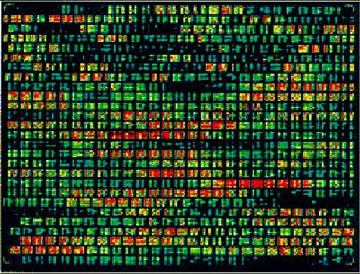 DNA chip array.
Courtesy: U.S. Department of Energy Human Genome Program
RELATED LINKS
ADDITIONAL CONTACTS
The University of California, Riverside (www.ucr.edu) is a doctoral research university, a living laboratory for groundbreaking exploration of issues critical to Inland Southern California, the state and communities around the world. Reflecting California's diverse culture, UCR's enrollment has exceeded 21,000 students. The campus opened a medical school in 2013 and has reached the heart of the Coachella Valley by way of the UCR Palm Desert Center. The campus has an annual statewide economic impact of more than $1 billion.
A broadcast studio with fiber cable to the AT&T Hollywood hub is available for live or taped interviews. UCR also has ISDN for radio interviews. To learn more, call (951) UCR-NEWS.