Treasure Trove of Spider Silk Genes Unlocked
---
UCR Spider Silk Researchers Uncover Treasure Trove of Genetic Information About the Wonder Fibers

A search for the genetic basis of different orb-weaver silks reveals their common ancestry and greatly expands the genetic library for the amazing material that intrigues commercial manufacturers.
(June 23, 2006)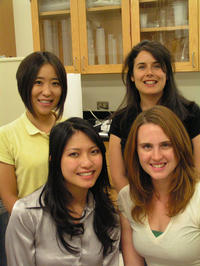 The researchers: (clockwise from top left) Cheryl Hayashi, Jessica Garb, Teresa DiMauro and Victoria Vo.
RIVERSIDE, Calif. —
www.ucr.edu
— University of California, Riverside scientists seeking the genetic origins of spider orb-web silks, discovered evidence indicating that wagon-wheel shaped nets are extremely old, so old that dinosaurs may have seen them.
The researchers also greatly increased the knowledge available about the genetic recipes for spider silks, a boon to silk researchers and those wishing to commercialize the wonder material.
The findings appear in the June 23 edition of the journal
Science
in a paper titled
"Silk Genes Support the Single Origin of Orb-Webs."
Post-doctoral researcher
Jessica Garb
co-authored the paper with Assistant Professor of Biology
Cheryl Hayashi
, and undergraduate students Teresa DiMauro and Victoria Vo.
The research was supported by the National Science Foundation and the U.S. Army Research Office.
The latest developments are valuable for those who wish to someday use spider silk technology for things such as light-weight body armor, biodegradable surgical sutures or high-tech, Olympic-quality athletic body suits.
Scientists have long been fascinated with spider silks because of their extraordinary properties. Some silks are one-tenth the diameter of a human hair, lighter than cotton, yet ounce for ounce up to five times tougher than steel, making spider silk a truly tantalizing material.
It's not that there's only one type of spider silk, but that spiders have evolved numerous types of silks, such as dragline silk, the I-beams of spider architecture, and egg case silk that is breathable, water resistant, and possibly antimicrobial.
Garb and her co-authors examined two groups of orb-weaving spiders: deinopoids, which use a "dry silk" with a Velcro-like quality to snag flying prey; and araneoids, which use a "wet silk" that has a glue-like coating to snare quarry. The scientists looked at the genes encoding deinopoid spider silk proteins by constructing silk gland expression libraries, reporting the genetic makeup of 12 new types of silk proteins.
"While there previously was information about araneoid silks, nothing was really known about deinopoid silk proteins," Hayashi said. "These data will go a long way toward helping us understand how spider silks evolved."
Although seemingly different, both groups of spiders share an ancestor that lived at least 136 million years ago, or around the Cretaceous period, when dinosaurs ruled the planet.
"Our paper indicates that the common ancestor of these two spider groups had the key molecular elements necessary for orb-web construction, suggesting that the orb-web architecture is extremely old," Garb said.
Hayashi and Garb credited their undergraduate students for playing a vital role in carrying out the research and data analysis needed to publish the findings.
"I'm very excited about this paper because it highlights the importance of undergraduate research," added Hayashi. "Teresa and Victoria's work was invaluable because it takes a team effort to accomplish this type of study."
For DiMauro, the experience added tremendously to her education as a biochemistry major — and took up much of her summer. The two undergraduates' work was funded through an NSF Research Experiences for Undergraduates (REU) award to Hayashi.
"I never had scientific research experience before I came to work in Cheryl's lab," DiMauro said. "It's exciting not just to publish, but to publish in such a prestigious journal as Science, and to have it come out just after I graduate."
For Victoria Vo, the experience honed her book and lecture knowledge in molecular biology while giving her the opportunity to investigate important scientific questions by unlocking some of the mysteries behind the exceptional properties of spider silks.
"I began by collecting spiders on the UCR campus and performing dissections," Vo said. "I also assisted in making cDNA libraries and locating silk genes through various screening techniques."
Both students said they gained valuable laboratory skills and deepened their understanding of how genes and genetic engineering work through their participation in the research, which may help answer an ongoing debate in the spider silk research field.
"There has been a controversy as to whether the orb-web architecture evolved once or twice in the history of life," Garb said. "By examining the molecular components of orb-webs, we found evidence supporting the single, ancient origin of this web type."
This finding suggests that since the orb-web evolved, it has been modified many different ways among the more than 10,000 species of araneoid and deinopoid spiders. Some of them have developed other ways of spinning webs such as black widows, which weave tangled cob-webs, and other species that construct sheet-webs.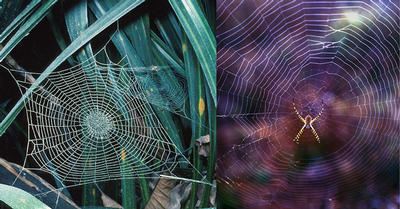 Orb weavers, from left: deinopoidea, araneoidea
The University of California, Riverside (www.ucr.edu) is a doctoral research university, a living laboratory for groundbreaking exploration of issues critical to Inland Southern California, the state and communities around the world. Reflecting California's diverse culture, UCR's enrollment has exceeded 21,000 students. The campus opened a medical school in 2013 and has reached the heart of the Coachella Valley by way of the UCR Palm Desert Center. The campus has an annual statewide economic impact of more than $1 billion.
A broadcast studio with fiber cable to the AT&T Hollywood hub is available for live or taped interviews. UCR also has ISDN for radio interviews. To learn more, call (951) UCR-NEWS.