High School Students Needed for Arts Camp
---
UC Riverside Needs High School Students for Free Summer Camp for the Arts
Successful Gluck arts program adds free workshops on campus for high school students
(July 11, 2006)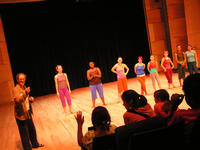 Enlarge
Wendy Rogers, a UC Riverside dance professor, takes a question from a student at a 2004 Gluck event.

RIVERSIDE, Calif. (www.ucr.edu) — Space is still available for high school students interested in acting, painting, singing, writing and dancing on the UC Riverside campus during a new Gluck Summer Camp for the Arts, July 10 through July 28, organized by the Gluck Fellows Program of the Arts.
This year's camp is already underway, but space is available for any high school student interested in hands-on workshops with UCR graduate students.
Workshops are scheduled between 11 a.m. and 6 p.m. in contemporary art, story-telling, modern dance, vocal blues and jazz, and improvisational theatre. Some of the workshops may include film screenings or field trips.
The results of their work will be on display at 2 p.m. Friday, July 28 in the Arts building on campus. The student performance is free and open to the public. Parking on campus costs $2 per hour.
"We are excited about adding this new kind of camp that serves as a bridge for high school students thinking about pursuing the arts in college," said John Medina, coordinator for the Gluck program. "We are hoping to inspire their creative minds and spirits through the arts, and encourage them to seek a college degree."
He said he hopes to make the Summer workshops an annual event.
Founded in 1996, the Gluck Fellows Program of the Arts has been funded through the Gluck Foundation. Dancers, writers, musicians, actors and art historians teach and perform in schools and nursing homes in the Inland area. It is one of only three similar arts outreach programs in the nation funded by the Gluck Foundation. The other two are at The Juilliard School and at the University of California, Los Angeles.
Performances have been held at a variety of schools and retirement communities in the area.
Camp workshops are listed below:
Contemporary Art
Gluck Fellow: Greg Kozaki, who earned a bachelor's in studio art from UCR in 2003 and is pursuing an MFA in studio art.
A series of slide shows and one field trip to local museums will introduce the students to current themes, ideas, and issues concerning contemporary art-making. Students will be given two projects that will facilitate their exploration in painting, drawing, collaging, photography, etc. One project will be a group project in the form of drawing and painting, and the other will be independent.
Creative Writing: Storytelling and Creation Myths
Gluck Fellow: Ky-Phong Paul Tran, bachelor's degree from UCLA and pursuing an MFA in Creative Writing at UCR. He has traveled to over fifteen countries.
Who can tell stories? Why are they important? How are they used in poetry, fiction and theatre? Students will examine and write creation myths using murals influenced by hieroglyphics, petroglyphs, or personal photographs..
Dance I: Modern, Jazz, and Movement Invention
Gluck Fellow: Alison Bory is currently pursuing both an MFA in Dance and a PhD in Dance History and Theory at the UC Riverside. Her recent MFA concert, "I was cooler then," was a fictional memoir of more awkward days, a re-imagining of her high school experience. Originally from Arlington, Virginia, she earned her BA at Mount Holyoke College and her MA at the University of Surrey (UK).
The workshop will use modern dance technique, yoga and breath to warm up our bodies and open up possibilities. As the class progresses, we will begin to explore making and refining movement that builds on our own personal histories and sense of style. .
Dance II: Modern Dance, Movement, and Personal History
Gluck Fellow: Rosie Trump, who is pursuing her MFA in Dance at UC Riverside. She received her BA in Dance and graduated Summa Cum Laude from Slippery Rock University in 2003. Her interests include digital video technology, dance improvisation, and multi-media.
This workshop will feature modern dance technique, jazz technique, and movement invention. Classes will draw heavily on the experiences of the instructor as a modern dance choreographer, improviser, and yoga practitioner.
Music: No Jazz Without the Blues
Gluck Fellow: Karen Wilson, who earned her PhD in History from UC Riverside in 2006. She holds an MA in Music Education from Columbia University, and an MA in History from UC Riverside. Karen is a singer and storyteller specializing in African-American and African Diasporic Music and History, and also tells stories from around the world. Her stories address conflict resolution, community building and the power of change.
This singer's Blues and Jazz workshop is built around the elements of music making and storytelling in the Black traditions of the United States.Singers will also learn Jazz repertoire, delivery and style (including improvisation). The audio and visual component of this workshop invites the discovery of the history of Black music in the United States and where Blues and Jazz fit in the tradition.
Theatre I: Improvisational Theatre
Gluck Fellow: Rob Rinow, who is pursuing his MFA in Creative Writing at UCR. He has worked in Chicago as a playwright and a comedian.
The workshop will focus on improvisational theatre and improvisation comedy. At the end, students will perform different improvisational styles as well as performing skits created by the students.
Theatre II: Story Theatre
Gluck Fellow: Valerie Stulman, who is an MFA candidate in writing for the performing arts. Her many years in the entertainment industry include acting in New York and Los Angeles. In the early 1980s she worked in below-the-line television production, with credits that include Roseanne, Full House, Suddenly Susan, and The Drew Carey Show. She has also written several screenplays and theatrical productions. Her latest screenplay, Family Place, is currently in development with Emmy-award winning producer, Jeff Lambert.
The workshop is designed to develop performance, acting, ensemble, writing, and improvisational skills. Using theatre games and playwriting techniques, students will develop a series of vignettes centered around a theme, this year, summertime/summer camp.
RELATED LINKS
ADDITIONAL CONTACTS
The University of California, Riverside (www.ucr.edu) is a doctoral research university, a living laboratory for groundbreaking exploration of issues critical to Inland Southern California, the state and communities around the world. Reflecting California's diverse culture, UCR's enrollment has exceeded 21,000 students. The campus opened a medical school in 2013 and has reached the heart of the Coachella Valley by way of the UCR Palm Desert Center. The campus has an annual statewide economic impact of more than $1 billion.
A broadcast studio with fiber cable to the AT&T Hollywood hub is available for live or taped interviews. UCR also has ISDN for radio interviews. To learn more, call (951) UCR-NEWS.