Letting Kids be Scientists, Naturally
---
UCR Summer Math, Science Program Lets Kids be Scientists, Naturally
The ALIAS program brings math, science and fun together for students and their teachers.
(August 1, 2006)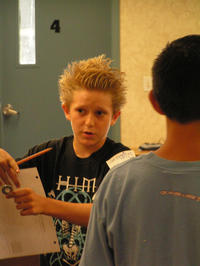 Kyle Gibreal discuses an experiment using pendulums with partner Austin Singhavong, in foreground.
RIVERSIDE, Calif. —
www.ucr.edu
— On a searing week in mid-July, about 65 fourth-, fifth- and sixth-grade students and their teachers braved triple-digit temperatures to come to Camino Real Elementary School west of Riverside where they put their brains to work.
They learned about slope, ranges, means and extremes by playing with cars, determined what factors affect the period of a pendulum, created magnets and classified matter into solids, gases and liquids among other scientific endeavors. The activities were all free and thanks to a University of California, Riverside program called
ALIAS
(Accelerating Literacy Integrating Algebra and Science).
ALIAS is one of a group of programs under the umbrella of Mathematical ACTS at UCR funded by a $5.2 million grant from the National Science Foundation. The program uses fun, hands-on lessons directed to students and their teachers to help raise California's mathematics and science achievement.
"Kids are natural scientists," said Richard Cardullo, a professor of biology at UCR and the Principal Investigator for Mathematical ACTS. "They like to ask questions of the world around them and play around to figure things out."
The program is a partnership among UCR's
Graduate School of Education
, The
College of Natural and Agricultural Sciences
, the
ALPHA Center
, and the
Jurupa Unified School District
.
ALIAS's approach wasn't wasted on Pierce Ford, who will enter the fifth grade in September, as he measured the travel of a car built of K-Nex launched from a plywood ramp.
"We're trying to figure out if the angle of the ramp changes things or if changing how far up the ramp the car starts from changes things," he said.
"One thing I learned is you don't build your car with anything hanging behind the back wheels because it slows you down," chimed Adam Mabus, another soon-to-be fifth grader.
Their teacher, Katherine Gonzalez said her group of boys was fascinated at the combination of concepts with activities.
"I really think the hands-on manipulatives bring the concepts alive for the students and gives us ideas of how to illustrate these ideas," she said. "We're seeing how the angle of the slope affects the travel of the car and we'll collect data over 11 trials, then we'll graph the data figuring out the mean, median and range of our findings."
Meanwhile, across campus, Kristin Hook, Scout Sanchez and Erin Harris, all entering the seventh grade in September, were discussing the findings of their experiment on what changes the speed of the swing, or the period, of their pendulum.
"I thought the more weight you put on the pendulum, the faster it would travel," said Sanchez. "I guess it didn't pan out."
"My hypothesis was right," added Harris proudly. "I had heard that things all fall at the same rate whether they're heavy or light so weight wouldn't matter, but the length of the string did."
"We've learned so much this week that were going to be able to use to help us in all the things were going to do next year," said Hook.
Their teacher, Kathy Nitta, who has been through several UCR teacher enrichment courses, said they have added quality to her 21-year teaching career.
"For instance, this program has given me more ideas for hands-on experiments, and they provide you with equipment and knowledge to teach these specific areas," she said. "My teaching focus is in math and science but I wasn't a math major in college, I was a psychology major."
Scott Herrick, a biology professor at Riverside Community College, said he got involved as a graduate student under Cardullo and has returned every year since.
"I love working with the kids and the teachers, gaining insights into what standards they have to meet and what challenges the teachers have and what challenges the students have," he said.
"I wish we had something like this when I was growing up," said Rocky McGowan, a Ph.D. student in biology who was an ALIAS facilitator.
For parent Jeff Gibreal, whose son Kyle, a sixth grader going into seventh grade in September, the program was just what he needed to keep his son interested in his studies through the long summer break.
"I think it's great that they take these students out of the summer vacation mode and get them back into thinking," he said, adding that his son has always liked science. "I guess Kyle was destined for something like this. He got the sixth-grade Outstanding Scholar award at his school."
UCR faculty and Mathematical ACTS staff included the following:


Michael Rettig, professor emeritus of chemistry, UCR


Kimberly Hammond, professor of biology, UCR


Michael Bryant, professor of mathematics, California Insitute for the Arts


Cathy Miller, Mathematical ACTS staff member, UCR


Kathleen Bocian, Mathematical ACTS staff member, UCR


The University of California, Riverside (www.ucr.edu) is a doctoral research university, a living laboratory for groundbreaking exploration of issues critical to Inland Southern California, the state and communities around the world. Reflecting California's diverse culture, UCR's enrollment has exceeded 21,000 students. The campus opened a medical school in 2013 and has reached the heart of the Coachella Valley by way of the UCR Palm Desert Center. The campus has an annual statewide economic impact of more than $1 billion.
A broadcast studio with fiber cable to the AT&T Hollywood hub is available for live or taped interviews. UCR also has ISDN for radio interviews. To learn more, call (951) UCR-NEWS.