What They Did Last Summer
---
UC Riverside Theatre Faculty 'Perform' All Over the World
Important Stages for UCR Dramatists: Writing, Design, Fundraising, Travel
(August 22, 2006)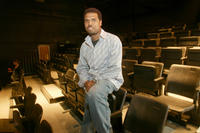 Enlarge
Rickerby Hinds
RIVERSIDE, Calif. (www.ucr.edu) -- From writing an episode of the TV series "Monk" to designing a theatrical performance in front of the world's largest dam in China, UC Riverside theatre faculty members have kept busy this summer.
"These are wonderful personal accomplishments, and they will also enhance the education of UCR students," said Eric Barr, chairman of the Department of Theatre.
Associate Professor Rickerby Hinds put a hip hop beat in his fundraising work, and has been rewarded with grants that will allow for several important productions on campus in the coming academic year. Hinds won a UC Institute for Research in the Arts Grant for the CaliFest Hip-Hop Theatre Festival, a five-day celebration of hip hop culture through theatre, dance, music, poetry, spoken word and art. The festival is coming up on its fifth year at UCR under Hinds' direction.
Hinds and Professor Renee Coulombe won a Mellon Grant to create an improvisational theatre work incorporating music, dance, drama and elements of hip hop culture. Hinds will use his Regents Faculty Fellowship to complete a play about Frederick Douglass, focusing on the abolitionist movement hero's connection to present-day hip hop culture. Hinds also won a grant from the National Parks Service to create a special playbill for his play Straight From Tha Underground.
"The playbill replicates a 'pass book' required to be carried by enslaved Negroes stating where they were allowed to go," Hinds said. "This pass book will have a listing of Underground Railroad locations throughout the United States in order to encourage people to visit these locations." The grant will also make it possible for Hinds to mount a production of Straight From Tha Underground, he said.
Assistant Professor Robin Russin spent June and part of July in Venice on a grant from the National Endowment for the Humanities, taking part in an NEH Institute titled "Venice, the Jews, and Italian Culture: Historical Eras and Cultural Representations."
Russin and two dozen other academics spent five weeks in intensive study and conversation about Venice and Italian Jewish issues, and about Jewish history and culture in general as seen through the prism of Venice, which was for hundreds of years not only the main intersection of Europe with Asia, but of the Christian, Jewish and Muslim worlds. "While there I worked on a presentation dealing with the history, background and sources for Shakespeare's character of Shylock in 'The Merchant of Venice,' and began a play about Shylock, re-imagined and informed by what we were learning about the actual lives of Venetian Jews during the period."
The Institute plans to publish the scholars' combined work, both online and in
print, in a "Venetian Jewish Anthology" this fall. "While in Venice I also concluded a deal for selling a screenplay of mine, and had the very Hollywood experience of having the producers fly in to Venice to meet with me -- near the Lido, of course -- to talk story notes," Russin said.
Recent Fulbright Award winner Brian Brophy, who taught in the UCR Theatre Department for seven years before graduating this year with a master of fine arts degree, is getting ready to move to India for six months with his wife and two daughters. Brophy will attend the Peace Studies program at Banares Hindu University in Varanasi, in northern India. At UCR his lecture specialty was performance and social change, with an emphasis on representations of violence and peace in colonial and postcolonial literature, film and theater.
"These are very exciting times as we gear up for the fall," Brophy said. "I'd love to help get the word out widely that UCR is the groovy place to study, learn and change the world!" Brophy is a member of Los Angeles' Actors Gang and can be seen in such films as The Shawshank Redemption, The Player and The Cradle Will Rock.
Assistant Professor Charles Evered has recently finished writing an episode of the cable TV show "Monk," about a neurotic detective, and has a movie script in the works. Evered teaches playwriting at UCR's Palm Desert campus. He has won many awards for his writing, and his works include The Size of the World and Other Plays, Wilderness of Mirrors, Cloud Hill and Adopt a Sailor. He has sold stories to Paramount Pictures, Dreamworks and Universal Pictures, and his work has been featured in The New York Times, on NBC's Weekend Today Show and BBC World.
Assistant Professor Haibo Yu recently designed two productions in China: "Three Gorges in the Golden Time" in Yichang, China. A cast of 600 performs the grand panoramic dance outdoors on the waterfront of the Yangtze River, with Three Gorges Dam, the world's largest, as a backdrop. Yu also designed the production of an opera, "Zhang Qian," at the People's Theatre in Xian, China. That production has been selected as an outstanding show for the 2005-06 season by the Ministry of Culture.
RELATED LINKS
ADDITIONAL CONTACTS
The University of California, Riverside (www.ucr.edu) is a doctoral research university, a living laboratory for groundbreaking exploration of issues critical to Inland Southern California, the state and communities around the world. Reflecting California's diverse culture, UCR's enrollment has exceeded 21,000 students. The campus opened a medical school in 2013 and has reached the heart of the Coachella Valley by way of the UCR Palm Desert Center. The campus has an annual statewide economic impact of more than $1 billion.
A broadcast studio with fiber cable to the AT&T Hollywood hub is available for live or taped interviews. UCR also has ISDN for radio interviews. To learn more, call (951) UCR-NEWS.