Colorful Fish Turn Heads
---
Red Fish, Blue Fish, Distinctive Color Keeps Gene Pools Healthy
Research developed at UCR helps prove theory that fish with rare colors are more popular mates, keeping gene pools healthy.
(August 25, 2006)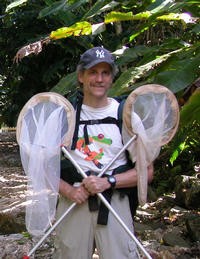 David Reznick
RIVERSIDE, Calif. —
www.ucr.edu
— Long-running evolutionary biology research on fish populations by UC Riverside scientist
David Reznick
has yielded new findings into how fish keep their gene pools healthy. Female fish tend to choose males with distinctive or rare coloration, thus ensuring that no one genetic line smothers out less common ones.
The phenomenon is known as "negative frequency-dependent selection," and has been widely accepted in theory but has not been widely tested through experimentation. Previous experimentation had been in laboratory situations, not in the wild.
Reznick has co-authored a paper with former post-doctoral researcher
Kimberly A Hughes
, now an assistant professor at the University of Illinois, Urbana, which shows how mate selection by female guppies for mates with rare color patterns keeps the gene pool deep.
The paper, titled,
Frequency-Dependent Survival in Natural Guppy Populations
, recently published in the journal Nature, puts the theory to the test and showed that, indeed, preference for males with rare color patterns— a reflection of a rare phenotype in the population — maintains broad genetic variation among the fish in any given natural population.
"This paper for the first time shows that this inferred feature, which we've accepted as a matter of faith, has been put through experimentation and replicated and that now there's nothing to take on faith," Reznick said.
This preference for the rare is thought to be self regulating mechanism that keeps uncommon phenotypes from disappearing and maintains genetic variation.
The research was carried out on three natural guppy populations in Trinidad with 34 separate experiments on populations in 19 separate pools along three streams. The work was carried out over four years — 1996, 1999, 2003 and 2004. It includes the contributions of University of Illinois, Urbana colleague Robert Olendorf; Helen Rodd of the University of Toronto; Anne E. Houde of Lake Forest College, Ill.; and Carla Hurt of the Smithsonian Tropical Research Station, Panama City, Panama.
Reznick's role in the research emerged from his long-standing study of guppy populations in the rivers and streams of Trinidad and his development of the methods used to study wild fish populations.
So what does this say beyond the guppy world?
"It suggests that frequency dependent selection can serve as a general mechanism for sustaining genetic variation in natural populations since it has been experimentally demonstrated to be effective in a new context and has been shown to be effective in a natural setting," Reznick said.
The research was supported by the National Science Foundation's Division of Environmental Biology, Population Biology Program.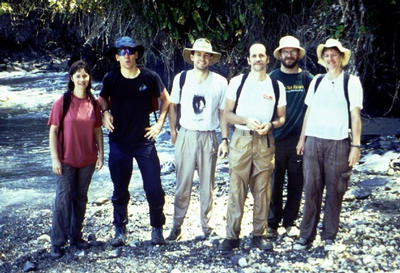 The Reseach Crew is, from left, Helen Rodd, Greg Clevens, Alistair Cullum, David Reznick, Michael Bryant, and Kimberly Hughes.
The University of California, Riverside (www.ucr.edu) is a doctoral research university, a living laboratory for groundbreaking exploration of issues critical to Inland Southern California, the state and communities around the world. Reflecting California's diverse culture, UCR's enrollment has exceeded 21,000 students. The campus opened a medical school in 2013 and has reached the heart of the Coachella Valley by way of the UCR Palm Desert Center. The campus has an annual statewide economic impact of more than $1 billion.
A broadcast studio with fiber cable to the AT&T Hollywood hub is available for live or taped interviews. UCR also has ISDN for radio interviews. To learn more, call (951) UCR-NEWS.