A Decade of Arts Outreach
---
Gluck Arts Outreach Celebrates 10 Years of Success at UC Riverside
A new $1 million grant means community members of all ages will continue to benefit from hands-on performances and workshops
(September 6, 2006)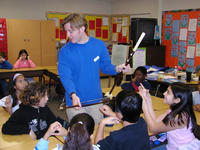 Enlarge
Colin Pearson, a graduate student in ethnomusicology and a Gluck Fellow, demonstrates instruments from Southeast Asia to school children in the inland region
RIVERSIDE, Calif. (www.ucr.edu) -- A $1 million grant from the Maxwell H. Gluck Foundation will continue a successful arts outreach program that puts faculty and student artists from the University of California, Riverside directly into the community.
The grant, which continues the Gluck Fellows Program of the Arts for two more years, though June, 2008, brings the total Gluck Foundation funding to UCR to nearly $5 million since its inception in 1996. For a decade now, dancers, writers, musicians, actors and art historians have brought the arts to schools and nursing homes in the Inland area. It is one of only three similar arts programs in the nation funded by the Gluck Foundation. The other two are at The Juilliard School and at the University of California, Los Angeles.
"We will continue to bring the arts into the community by providing a wide variety of arts programming, expanding existing projects like the Gluck Day of the Arts, and adding new ones like the Summer Camp for the Arts," said John Medina, program coordinator.
"We will also be programming more arts outreach events in downtown Riverside, including the free music and dance performance/lecture series at the Riverside Public Library, and the First Thursdays and First Sundays programs at the Sweeney Art Gallery and the UCR/California Museum of Photography."
Workshops during the past decade have included dancers and choreographers, singers, costumed actors, poets, art historians and others, traveling to a school or nursing home to bring the arts to an audience that might otherwise not have the opportunity. Some current partners in the program are: Sherman Indian High School, Moreno Valley High School, Vista del Lago High School, Chemawa Middle School, Community Care and Rehabilitation Center, Longfellow Elementary School, Cypress Gardens, Emerson Elementary School, Gage Middle School, Edgemont Elementary School, North High School, the Jerry L. Pettis Memorial Veterans Administration Hospital, Magnolia Rehabilitation and Nursing Center in Riverside, Lincoln High School, Poly High School, Mira Loma Middle School, Ramona High School and Plymouth Tower Retirement Community.
Dance Professor Wendy Rogers, who is the co-director of the Gluck Contemporary Dance Ensemble, said with each passing year the Gluck program is accumulating benefits, not only for the audience but also for the performers. "Last year's Ensemble members improved their performance skills by leaps and bounds, literally," Rogers said. "They were excited by the heightened quality of responses and questions from the ever-more experienced student audiences."
Steve Cullenberg, dean of the College of Humanities, Arts and Social Sciences, said he is grateful to the Gluck Foundation for its long-standing support of UC Riverside arts.
"In the last 10 years the Gluck program has grown into a signature event for this campus, and one of the best ways we have to reach out to the community and inspire people to pursue the arts, or to become appreciators of live performance," Cullenberg said. "This program makes a real difference in the community."
Below are comments people have made about the Gluck Program at UC Riverside:
"Greg Kozaki's project gave the students the opportunity to expand their compositional skills and their eye-and-hand coordination. The students loved the actual mural when it was finally put together. The tension built up until they were finally able to see their efforts come to fruition."
Monica Royalty, teacher at Sherman Indian High School
"Due to budget cuts, times, state standards, we are unable to do visual and performing arts. The Gluck Fellows Program of the Arts helps us to get in touch with our right side of our brain. I think we have gained when we hear our kids and I quote 'I want to do that when I grow up' or during Gluck Day a student said, 'I want to go to this college.'"
Esther Layne, head librarian at Town Gate Elementary School
"The students learned to value their own lives and to be observant of their day-to-day experiences and the significance of those experiences. She validated their lives!"
Sandra Pray, teacher at Lincoln High School (talking about Tory Patterson, Graduate Gluck Fellow in Creative Writing)
"It was an absolute pleasure and honor to have been a part of the Gluck Program. I thoroughly enjoyed performing for our audiences, children and elders alike. This project showed me that the arts continue to be a very important part of a student's education, and a person's life in general."
Monica Olivas, Undergraduate Gluck Fellow in Dance
"The Gluck Fellows Program of the Arts provides excellent programs and assists in diversifying the community's cultural programming."
Daniel Foster, Executive Director, Riverside Art Museum
"I learned that you should never give up on what you want to be. I learned to always try my best. I enjoyed all the songs and rhythmic tunes, and how they explained everything."
Mark Torres, student at Castle View Elementary School (taking about the Tap Troupe)
"The Gluck Fellows Program of the Arts brought the University to our school. Our students are beginning to see that college is attainable. All of the Gluck Fellows made sure to tell the students to work hard, listen to their own passions, and create, create, create."
Cathy Berndt, teacher at Hyatt Elementary School
"The Gluck Fellows Program of the Arts has been such an asset to the social, emotional and intellectual well being of our residents at Plymouth Tower. All of the Gluck presentations were very memorable for our residents."
Edoardo Estrada, Plymouth Tower Retirement Community Activities Director
"Riverside Public Library is very grateful to the Gluck Fellows Program of the Arts for providing our public with a wonderful series of free cultural performances — of both music and dance — during the academic year. Our audience members tell us over and over how grateful they are for these opportunities and how much they look forward to more. Many times we hear of people who have had their first exposure to the performing arts at a Gluck event held at the Riverside Public Library."
Kathryn Morton, Cultural Program Coordinator at Riverside Public Library
"It is such a great opportunity for the students to be able to receive instructions from Gluck Fellows and advance their training beyond their high school classes."
Brian Brophy, Graduate Gluck Fellow in Theatre
"I really can't express what this experience has meant to me. It truly was the highlight of my first year in my graduate program. The students surprised me with their talent and creativity. I learned that even the most seemingly impossible students could be reached through the arts."
Heather McTear, Graduate Gluck Fellow in Theatre
"I learned that when you write a story with other kids you must listen to their ideas. I enjoyed reading my story with my friends in front of the class."
-Curtis Wilson, student at Sunnymeadows Elementary School
"The Gluck Day of the Arts presentations were designed in an excellent fashion. Our day was rich in sounds and sights combined with hands-on experiences. I felt my students got to participate and do things they never would have before. It was extremely effective for the presenters to demonstrate and afterward have the students join in. Thanks so much for wonderful program."
- Jan Harris, teacher at Sunnymeadows Elementary School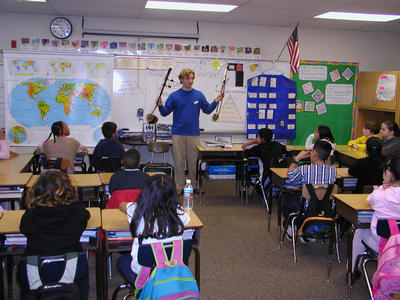 Enlarge
Colin Pearson, a graduate student in ethnomusicology and a Gluck Fellow, demonstrates instruments from Southeast Asia to school children in the inland region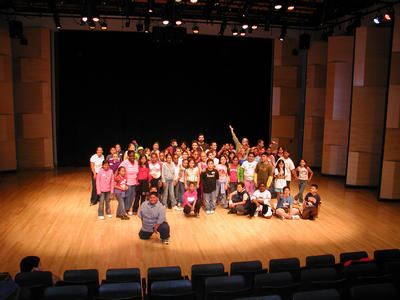 Enlarge
Wendy Rogers, UCR professor of dance and Gluck Fellow, celebrates in the back row after a contemporary dance session on campus with elementary school students
RELATED LINKS
ADDITIONAL CONTACTS
The University of California, Riverside (www.ucr.edu) is a doctoral research university, a living laboratory for groundbreaking exploration of issues critical to Inland Southern California, the state and communities around the world. Reflecting California's diverse culture, UCR's enrollment has exceeded 21,000 students. The campus opened a medical school in 2013 and has reached the heart of the Coachella Valley by way of the UCR Palm Desert Center. The campus has an annual statewide economic impact of more than $1 billion.
A broadcast studio with fiber cable to the AT&T Hollywood hub is available for live or taped interviews. UCR also has ISDN for radio interviews. To learn more, call (951) UCR-NEWS.