Bioengineering Department Opens This Fall
---
UCR's College of Engineering Debuts new Department this Fall
The Bourns College of Engineering will have nearly 80 students enrolled in the Department of Bioengineering when classes resume.
(September 7, 2006)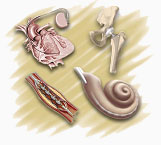 RIVERSIDE, Calif. —
www.ucr.edu
— Nearly 80 bioengineering majors at the University of California, Riverside will, for the first time, have the backing of a full-fledged department when classes resume Sept. 28.
The
Department of Bioengineering
, on the drawing board since 2000, was approved by the UCR campus' academic senate in May. Bioengineering at UCR will focus on advancing technologies that help develop medical devices; pharmaceuticals; and uncovering knowledge of the cellular factors involved in diabetes, cancer and other diseases.
The Department of Bioengineering will be the fifth academic department at the
Bourns College of Engineering
. The college's established departments include Chemical and Environmental Engineering, Computer Science and Engineering, Electrical Engineering and Mechanical Engineering.
"With the enthusiastic campus approval of the graduate program earlier this year we are embarking on an ambitious recruiting effort to bring highly qualified students here," said Distinguished Professor of Bioengineering Jerome Schultz, who led the efforts to build the department. "Already five graduate students have requested admission to the program that will be made official by the UC Office of the President by this fall."
Another 50 incoming freshmen are expected to join 24 undergraduate students transferring to the major from other programs in September, he added. A core faculty of six will be teaching a dozen newly established bioengineering undergraduate courses and half a dozen graduate courses. This group along with help from about 30 affiliated faculty members from other disciplines across campus will provide a wide range of research opportunities for the bioengineering graduate program.
Bioengineers do a wide variety of tasks, from developing medically important processes and products, to making and testing new materials, finding ways to protect the environment, improve human heath and boost food production. It involves interdisciplinary knowledge and skills.
At UCR, becoming a bioengineer won't be easy, though.
"Our intensive undergraduate program will have a strong emphasis on the life sciences, which means our students will gain a background in organic chemistry, biology, and biophysics, plus they will be required to learn the math-heavy, technically rich engineering discipline as well," Schultz said. "As engineering students, our undergraduates will also have to complete a senior design course, which means they'll have to design a product or device, or explain a process to a panel of professors." This unique element of their education is added to strengthen critical cross-cultural communication skills that are vital to successful bioengineers in their highly interdisciplinary environment.
UCR's Department of Bioengineering research programs address current biotechnology and medical-related problems including the regulation of cellular metabolism, such as the way cells use sugars and fats, analysis of how metabolic processes are disrupted in diabetic and obese individuals, design of a bioartificial pancreas, design of drugs to regulate the immune response, formulating a fundamental understanding of the auditory system to address hearing loss, and understanding photosynthesis and other similar processes in biological systems.
Already the Bioengineering faculty are participating in research projects valued at about $10 million along with leading researchers from cooperating universities such as Princeton, Penn, Johns Hopkins, Baylor, and Iowa.
The goal of the Bioengineering Department is to educate undergraduates who could successfully land jobs in the biotechnology/biomedical device industry or go on to medical or other graduate schools, Schultz said. Graduate students will be trained to be the future leaders for innovations which couple the life sciences and engineering.
About 35 percent of bioengineering students go into industry after earning their bachelor's degrees but most go on to graduate or medical schools. And for biotechnology-heavy California, a well trained workforce is crucial.
Forty percent of the world's 6,250 life sciences firms are located in California, according to the California Life Sciences Action Plan. And of the nation's life sciences industry, 25 percent call the golden state home. UCR is uniquely positioned to become a leader in the education and research in bioengineering with its proximity to two of the state's three major life sciences industry clusters in the Los Angeles and San Diego areas.
The department will also greatly add value to UCR's
Health Sciences Initiative
, which aims to establish a full medical school and an associated Health Sciences Research Institute.
The Bioengineering Department, currently housed in Bourns Hall, will eventually be housed in the proposed 134,000-square-foot Materials Science and Engineering building to be located just north of Bourns Hall and expected to be completed by 2010. The UC Board of Regents approved the funding for the building construction in early 2006.
The University of California, Riverside (www.ucr.edu) is a doctoral research university, a living laboratory for groundbreaking exploration of issues critical to Inland Southern California, the state and communities around the world. Reflecting California's diverse culture, UCR's enrollment has exceeded 21,000 students. The campus opened a medical school in 2013 and has reached the heart of the Coachella Valley by way of the UCR Palm Desert Center. The campus has an annual statewide economic impact of more than $1 billion.
A broadcast studio with fiber cable to the AT&T Hollywood hub is available for live or taped interviews. UCR also has ISDN for radio interviews. To learn more, call (951) UCR-NEWS.