Carillon Gets a Birthday Bash
---
UCR Celebrates Bell Tower's 40th Anniversary with a Chancellor's Carillon Concert Series
The campus enjoyed music, as well as Hostess Ding Dongs, at the Bells and Brass Birthday Bash

(October 30, 2006)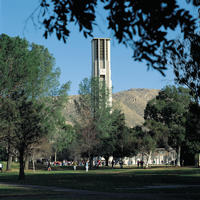 Enlarge
The bell tower is not only a musical instrument, but serves as a clock tower at the center of campus
RIVERSIDE, Calif. (www.ucr.edu) — UC Riverside will be the center of the carillon universe this year as musicians from all over the world visit the campus to play the carillon during its 40th year.
UCR's first carillonneur, Lowell Smith, played a concert at 6 p.m. Saturday, Oct. 14, to mark the 40th anniversary of his original dedication concert. He will be followed during the year by artists from Stanford University, the University of Michigan and Wiesbaden, Germany. A complete schedule is included below.
At 12 noon on Oct. 30, carillonneur David Christensen played several pieces from the tower, the UCR Concert Band joined in on "Happy Birthday." A basket of shiny Hostess Ding Dongs sat on the refreshment table at the "Bells and Brass Birthday Bash."
UCR has one of only five carillons in California. A carillon consists of bronze bells, precisely tuned to sound harmoniously together when played at a console at the top of the tower.
"Our bell tower houses a treasured musical instrument and we are excited to be celebrating 40 years this year," said Walter Clark, chair of the Department of Music.
All concerts are free and open to the public. Parking permits are available at campus parking kiosks.
The UC Riverside carillon was provided by a contribution from UC Regent Phillip L. Boyd and his wife, Dorothy Marmon Boyd, enabling the school to purchase the 48-bell, thirty-thousand pound carillon and build a tower to house it. The carillon bells were raised into the nearly completed tower on June 24, 1966, with an audience of 500 people and nearly as many cameras.
After research done by William H. Reynolds, one of UCR's first professors of music, the carillon was cast by the Les Fils de Georges Paccard in Annecy le Vieux, France. The largest bell in Europe, the 20-ton "La Savoyarde" at the Basilica of Sacré-Coeur, Montmarte, was also cast by the Paccard foundry. The bell tower was designed by the Los Angeles architectural firm of A. Quincy Jones and Frederick E. Emmons, and was built by Brezina Construction Company of Pomona.
Chancellor's Carillon Concert Series 2006 - 2007
October 14, Saturday, 6 p.m.
Lowell Smith, the first University Carillonneur (1966-1976), will present a carillon recital in honor of the bell tower's 40th anniversary. Smith's recital will be 40 years to the month from his dedication recital of October 1966.
November 11, Saturday, 3 p.m.
Margo Halsted, University Carillonneur (1977-1987) and University of Michigan Carillonneur (1987-2003)
December 9, Saturday, 3 p.m.
Holiday Carillon Concert
David Christensen, University Carillonneur, rings in the holidays with a selection of traditional and popular holiday music.
January 13, Saturday, 3 p.m.
Lucy Dechéne, Faculty Fitchburg State College, Massachusetts, and UCR alumnus
February 10, Saturday, 3 p.m.
Hans Hielscher, carillonneur from Wiesbaden, Germany
March 4, Sunday, 3 p.m.
William H. Reynolds Memorial Carillon Concert
Timothy Zerlang, Stanford University Carillonneur
A recital in memory of former Department of Music Chair, William H. Reynolds.
April 7, Saturday, 3 p.m.
Justin Ryan, Graduate student in carillon, University of Denver
May 12, Saturday, 6 p.m.
Twilight Carillon Concert
Steven Ball, University of Michigan Carillonneur.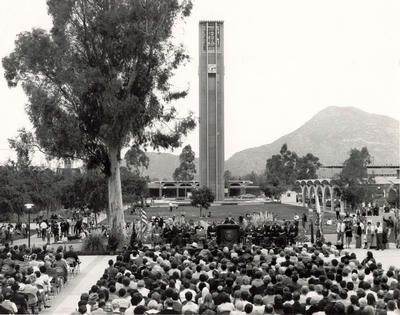 Enlarge
A picture from the dedication of the tower, 40 years ago.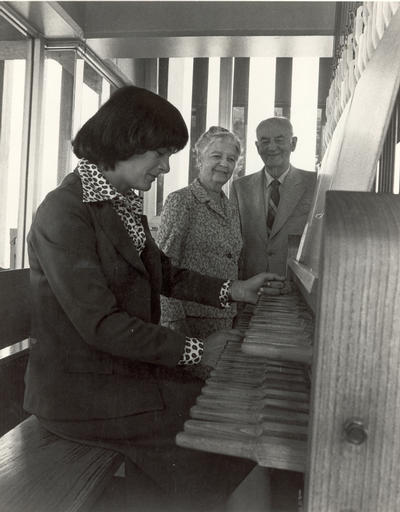 Enlarge
Phillip L. Boyd and his wife, Dorothy Marmon Boyd stand behind carillonneur Margo Halsted in this photo from the archives.
The University of California, Riverside (www.ucr.edu) is a doctoral research university, a living laboratory for groundbreaking exploration of issues critical to Inland Southern California, the state and communities around the world. Reflecting California's diverse culture, UCR's enrollment has exceeded 21,000 students. The campus opened a medical school in 2013 and has reached the heart of the Coachella Valley by way of the UCR Palm Desert Center. The campus has an annual statewide economic impact of more than $1 billion.
A broadcast studio with fiber cable to the AT&T Hollywood hub is available for live or taped interviews. UCR also has ISDN for radio interviews. To learn more, call (951) UCR-NEWS.