Cranor Examines Toxic Torts
---
UC Riverside Professor Writes Book That Examines Human Exposure to Toxins in the Environment
Carl Cranor examines why most victims of toxic exposure are just out of luck when it comes to the courts
(October 9, 2006)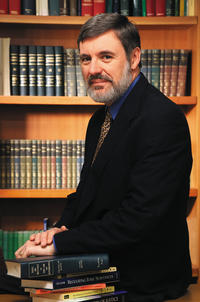 Enlarge
Carl Cranor
RIVERSIDE, Calif. (www.ucr.edu) — At a time when consumers in the United States are being exposed to more toxic chemicals in toys, furniture and other household goods than consumers in Japan or the European Union, UC Riverside Professor Carl Cranor has written a book that examines why most victims of toxic exposure never receive appropriate compensation.
His book, "Toxic Torts: Science, Law and the Possibility of Justice" was published last month by Cambridge University Press. It examines the relationship between tort law and the review of scientific evidence, as it relates to personal injury cases, and suggests some solutions to increase the possibility of justice.
"I wrote it so scientists can read it to learn about the law, lawyers can read it to learn about science, and also so we as a nation can make some progress in how these two institutions interact," Cranor said. It is a subject especially in the news as U.S. regulations about chemicals used in the manufacture of furniture, toys and other goods fails to keep up with regulations in the European Union and Japan, according to an Oct. 9 story in the Los Angeles Times.
"I think Americans will be surprised to realize that they aren't as safe as consumers in Europe," Cranor said. He has written an important book on the subject, according to people who work at the intersection of law and science.
"Carl Cranor has achieved the almost impossible goal of a learned, readable, and exciting book on the torturous interactions between law and science in tort litigation," wrote Ellen K. Silbergeld, a MacArthur Fellow and a Professor of Environmental Health Sciences at Johns Hopkins University, Bloomberg School of Public Health. "For a scientist, his analysis of case law in this field is exceptionally informative and provocative."
Eula Bingham, a former assistant secretary of labor for OSHA, said "Cranor's insightful discussions of science and law as it is seen by the Courts in toxic tort litigation is a "must read" for scientists in toxicology, epidemiology, and pharmacology." Bingham is a professor in the College of Medicine at the University of Cincinnati.
David Michaels, who once served as assistant secretary over environmental safety in the Department of Energy, said, "Toxic Torts is a powerful dissection of the use of science in our system of justice. Professor Cranor has written an important book that examines why most victims of toxic exposures never receive the compensation they deserve." Michaels is now the director of The Project on Scientific Knowledge and Public Policy at the George Washington University School of Public Health and Health Services.
Sheldon Krimsky, professor of urban and environmental policy at Tufts University, said, "Carl Cranor's exceptionally lucid analysis of science in regulation and litigation reveals brilliantly why circumstantial evidence currently can convict a dangerous person but not a toxic chemical."
Krimsky has a long resume, including serving as a consultant to the Presidential Commission for the Study of Ethical Problems in Medicine and Biomedical and Behavioral Research and to the Congressional Office of Technology Assessment.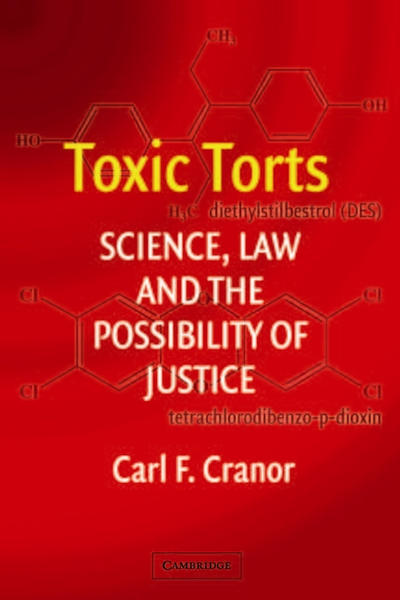 Enlarge
cover of the book
RELATED LINKS
ADDITIONAL CONTACTS
The University of California, Riverside (www.ucr.edu) is a doctoral research university, a living laboratory for groundbreaking exploration of issues critical to Inland Southern California, the state and communities around the world. Reflecting California's diverse culture, UCR's enrollment has exceeded 21,000 students. The campus opened a medical school in 2013 and has reached the heart of the Coachella Valley by way of the UCR Palm Desert Center. The campus has an annual statewide economic impact of more than $1 billion.
A broadcast studio with fiber cable to the AT&T Hollywood hub is available for live or taped interviews. UCR also has ISDN for radio interviews. To learn more, call (951) UCR-NEWS.