In Memory of Herb Quick
---
A Photographer who Never Stopped Innovating
Herb Quick was so busy taking pictures, he never stopped to develop his image
(October 19, 2006)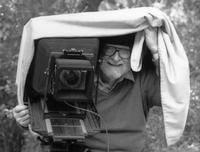 Enlarge
Herb Quick behind the camera. (photo by Steve Walag)
RIVERSIDE, Calif. (www.ucr.edu) -- Herb Quick, an influential photographer who kept a long-time relationship with the University of California, Riverside, has died at the age of 81. A memorial has been set for 2 p.m. Friday, Nov. 17 at UCR/California Museum of Photography, 3824 Main St., Riverside.
Never much for self-promotion, Quick was a man of the people who focused on productivity, said Edward Beardsley, professor emeritus and the founding director of UCR/California Museum of Photography.
"He is widely regarded as one the medium's most able and knowledgeable practitioners," Beardsley wrote in an online tribute. "Few can match his technical skill or his mastery of the underlying science of photography. And in sustained productivity he has only small competition."
Yesterday Beardsley spoke sadly about the death of his long-time friend.
"Herb was a grand teacher, of course. A real task master, but the students understood that he was the best and demanded their best. As cranky as Herb could be when a student wasn't delivering his or her best, they loved him all the more for it."
Beardsley said that when he was gathering material for the founding of UCR/CMP, Quick was his able guide. "He introduced me to a deeper understanding of photography, its history and possibilities, and kept me grounded when headed in what he thought was unproductive territory."
Now planning a memorial service, possibly at UCR/CMP in downtown Riverside, Beardsley said it is only now that he is realizing Quick's pervasive influence in the local area. "I am taking calls today from people from across the spectrum of Riverside society, from judges to cafe waitresses. Those who knew him, loved him."
Born in Michigan, Quick's childhood interest in photography blossomed into an all-consuming career. He had training from the Art Center School in Los Angeles and was a student of Edward Weston, Dorothea Lange, Fred Archer and Ansel Adams. In fact, Quick was one of the only people trusted by Adams to make archival prints of his iconic black and white portraits. Quick printed all the photos displayed in a 1988 exhibit of Ansel Adams' work at the UCR/California Museum of Photography.
Quick's photography was included in many one man shows and also hangs in the permanent collections of New York's Museum of Modern Art, the International Museum of Photography, George Eastman House, Rochester, New York; the San Francisco Museum of Art; the Norton Simon Museum in Pasadena and the National Museum of Canada, among many others. A large collection belongs to UCR/CMP.
In the 1950s, Quick owned Sirks' Camera Shop in Riverside and from 1964 to 1991, he worked as a staff photographer for UC Riverside. Over the course of many years, Quick mentored young photographers as a lecturer at UC Riverside and at California State University, San Fernando.
In 1982, he served on an advisory committee for the development of premium black-and-white photographic paper for the Eastman Kodak Company in Rochester, New York.
In 1985, Collin Gardner of the Los Angeles Times described Quick's documentation of the changing California landscape as an effort undertaken "with as much attraction as regret."
Quick served in the U.S. Navy during World War II. At the time of his death, he lived in Riverside surrounded by cameras, developing equipment and print paper.
Never one to apply for grants, or any other kind of public funding, Quick once estimated that he spent half of his life's income on photography equipment.
Beardsley said that in his experience, Herb Quick spent all of his time and most of his resources on photography.
He left his entire estate, including his photographs, negatives, and books, to the Regents of the University of California to be housed at UCR's California Museum of Photography.
The University of California, Riverside (www.ucr.edu) is a doctoral research university, a living laboratory for groundbreaking exploration of issues critical to Inland Southern California, the state and communities around the world. Reflecting California's diverse culture, UCR's enrollment has exceeded 21,000 students. The campus opened a medical school in 2013 and has reached the heart of the Coachella Valley by way of the UCR Palm Desert Center. The campus has an annual statewide economic impact of more than $1 billion.
A broadcast studio with fiber cable to the AT&T Hollywood hub is available for live or taped interviews. UCR also has ISDN for radio interviews. To learn more, call (951) UCR-NEWS.