College Adds New Scholars
---
UC Riverside Welcomes 19 New Faculty Members in Humanities, Arts and Social Sciences
New scholars study subjects from ancient Indian philosophy to the intersection of hip-hop and religion
(October 30, 2006)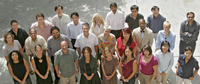 Enlarge
Many of the faces at a new faculty reception belonged to scholars from UCR's College of Humanities, Arts and Social Sciences.
RIVERSIDE, Calif. (www.ucr.edu) — New faculty members hired in the University of California Riverside's College of Humanities, Arts and Social Sciences in 2006-2007 specialize in fields that cross a wide spectrum of human experience.
They study such current societal issues as how youth react to childhood abuse, the economics of the medical establishment, Cuban-American politics and the border between the U.S. and Mexico.
"I have been extremely impressed with the work of these 17 young scholars," said Stephen Cullenberg, dean of the college. "Our college is getting stronger with the addition of people who are not only passionate about their fields, but graduating out of some of the top graduate programs in the nation."
Faculty who began work at UCR in September in the College of Humanities, Arts and Social Sciences are listed by department:
Christina Schwenkel, Assistant Professor of Anthropology
Schwenkel has conducted extensive ethnographic fieldwork in Vietnam. Her dissertation examined representations of the U.S.-Vietnam War and shifts in the aesthetics of memory at Vietnamese museums, war monuments, art and photography exhibits, and tourist sites.
She earned her Ph.D. from the University of California, Irvine, 2004.
Stella Nair, Assistant Professor of Art History
Nair is trained as an architect and architectural historian. Her scholarly interests include material culture studies, post colonial theory, and construction technology, with a special focus on Indigenous architecture and urban form in the Andes. She earned her Ph.D. at the University of California, Berkeley, 2003.
Tom Lutz, Associate Professor of Creative Writing/Director, Palm Desert Campus
Lutz is the author of American Nervousness, 1903, Cosmopolitan Vistas, Crying, and, most recently, Doing Nothing: A History of Loafers, Loungers, Slackers, and Bums. He will be directing the Palm Desert MFA in Creative Writing and Writing for the Performing Arts, and teaching courses in both Palm Desert and Riverside on contemporary and modern literature, nonfiction writing, literary theory, and related topics. He earned his Ph.D. at Stanford University in 1989.
Jorge Agüero, Assistant Professor of Economics
Agüero studies development and labor economics. His recent work focuses on testing theories of discrimination and the evaluation of cash transfer programs in South Africa He earned his Ph.D. at the University of Wisconsin, Madison in 2006.
Richard M. H. Suen, Assistant Professor of Economics
Suen's research interests include macroeconomics, health economics and demographic transitions. His current research investigates the relationships between obesity, morbidity and medical spending in developed countries. He earned his Ph.D. at the University of Rochester, 2006.
Victoria Umanskaya, Assistant Professor of Economics
Umanskaya studies international economics, environmental and natural resource economics, applied game theory and dynamic optimization. Her dissertation, "Three Essays on Pollution Regulations and International Trade," explores the key aspects of the relationship between international trade policymaking and environmental regulations. . She earned a Ph.D. at the University of Wyoming in 2006.
Keith Harris, Assistant Professor of English
Harris specializes in African-American film, gender studies and queer theory. His recent publications include the manuscript, Boys, Boyz, Boies: An Ethics of Masculinity in Popular Film, Television and Video (Routledge 2006) and "'Untitled': D'Angelo and the visualization of the black male body" in Wide Angle (2004). He earned his Ph.D. at New York University in 2002.
Setsu Shigematsu, Assistant Professor of English/Film and Visual Culture
Shigematsu studies the historical relationship between U.S. and Japanese imperialisms, transnational liberation movements, comparative feminist and critical theory, and media and cultural studies. She was a recipient of the University of California President's Postdoctoral Fellowship in 2005. She earned a Ph.D. at Cornell University in 2003.
Jennifer Rose Nájera, Assistant Professor of Ethnic Studies
Nájera is a cultural anthropologist whose geographical focus is the US/Mexico border region of South Texas. Her research interests include Chicano/a racial formation in the United States, Chicana feminisms, the varied processes of Mexican assimilation, and the political impact of everyday actions on larger public policy issues. She earned a Ph.D. at the University of Texas at Austin, in 2005.
Coleen Macnamara, Assistant Professor of Philosophy
Macnamara's research interests include ethics, bioethics, moral psychology, and feminism. Her dissertation, "Beyond Praise and Blame: Toward a Theory of Holding Others Responsible," earned the 2005 Charlotte W. Newcombe dissertation fellowship. She earned a Ph.D. at Georgetown University in 2006.
Benjamin Bishin, Assistant Professor of Political Science
Bishin's research includes representation, public opinion, voting behavior, elections, Cuban-American politics, and the U.S. Congress. He was co-principal investigator of the 2004 Miami Dade County Exit Poll. He earned a Ph.D. at the University of California, Los Angeles in 2001.
Farah Godrej, Assistant Professor of Political Science
Godrej studies ancient and contemporary Indian philosophy, Gandhian political thought, contemporary liberalism, non-Western feminist thought and the political theory of globalization. Her future research projects include a comparative examination of the role of emotions in Indian and ancient Western political thought. She earned a Ph.D. at Georgetown University, 2006.
Edward Korzus,
Assistant Professor of Psychology
Korzus' research is aimed at understanding how neural circuits hold knowledge about the world and guide behavior. His articles have appeared in major peer-reviewed journals including Journal of Neuroscience, Nature, Neuron and Science. In recognition of his scientific achievements, Professor Korzus was awarded an NIH/NIMH Research Career Award and a U.S. Army Medical Research Award. He earned a Ph.D. at the University of Georgia in 1996.
Tuppett Yates, Assistant Professor of Psychology
Yates is a clinical and developmental psychologist who studies how adversity and child maltreatment in particular, broadly influences developmental pathways toward psychopathology and competence. Supported by the National Science Foundation, she has authored several articles and chapters on child abuse, self-injurious behavior, and resilience with the ultimate goal of informing prevention and intervention efforts for at-risk youth. She earned a Ph.D. at the University of Minnesota in 2005.
Jennifer Hughes, Assistant Professor of Religious Studies
Hughes has taught courses on Latin American religion, religion and art, global Christianity, liberation theology, Chicano studies, and Native American religion. She has advocated for homeless Latinos with HIV/AIDS, translated for Angolan refugees in South Africa, and worked with the liberation theology movement in Brazil. She earned a Ph.D. at the Graduate Theological Union, Berkeley, 2005.
Jonathan L. Walton, Assistant Professor of Religious Studies
Walton's dissertation "A Cultural Analysis of the Black Electronic Church Phenomenon" offers a critique of televangelism in the African American community. Prior to joining the UCR faculty, Dr. Walton served as both a research specialist and appointed lecturer for the Program in African American Studies at Princeton University. His first book Watch This! Televangelism and Black Popular Culture is forthcoming with NYU Press. He earned a Ph.D. at Princeton Theological Seminary in 2006.
Charles Evered, Assistant Professor of Theatre
Evered will teach playwriting and screenwriting at UCR as well as at the new graduate center in Palm Desert. He has written screenplays for Paramount Pictures, Dreamworks and Universal Pictures among others. His film and television credits include a feature adaptation of his play Running Funny and an episode of USA Networks Monk. He earned a master's of fine arts at Yale University in 1991.
Erith Jaffe-Berg, Assistant Professor of Theatre
Jaffe-Berg's research interests include the commedia dell'arte, multilingualism in performance and the early-modern actress. She has a background as both performer and director and is a member of the L.A.-based theatre group, the Son of Semele Ensemble. She earned a Ph.D. at the University of Toronto in 1998.
Tamara Ho, Assistant Professor of Women's Studies
Professor Ho's work has appeared in The Encyclopedia of Latinos and Latinas in the United States, Word Matters: Conversations with Asian American Authors, and Amerasia Journal. Her current research focuses on gender issues in human rights, especially as it relates to immigration, imprisonment and narratives about Burma/Myanmar and the United States. She earned a Ph.D. at the University of California, Los Angeles, 2005.
The University of California, Riverside (www.ucr.edu) is a doctoral research university, a living laboratory for groundbreaking exploration of issues critical to Inland Southern California, the state and communities around the world. Reflecting California's diverse culture, UCR's enrollment has exceeded 21,000 students. The campus opened a medical school in 2013 and has reached the heart of the Coachella Valley by way of the UCR Palm Desert Center. The campus has an annual statewide economic impact of more than $1 billion.
A broadcast studio with fiber cable to the AT&T Hollywood hub is available for live or taped interviews. UCR also has ISDN for radio interviews. To learn more, call (951) UCR-NEWS.