UCR and the Phobic Detective
---
UC Riverside Playwriting Professor Pens Script for 'Monk' Episode
Popular series will present the episode twice in one night
(December 15, 2006)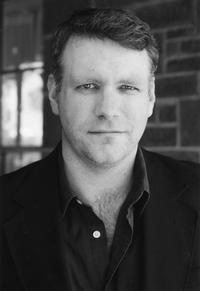 Enlarge
Charles Evered (Photo by Wendy Rolfe)
RIVERSIDE, Calif. (www.ucr.edu) — Charles Evered, an assistant professor of playwriting and screenwriting at UC Riverside, has written an episode of the popular USA television series "Monk" that will air twice on Friday, Dec. 22, first in black-and-white, then in color.
The episode, a film noir-tinged story called "Mr. Monk and the Leper," has the quirky detective played by Emmy Award-winning actor Tony Shalhoub meeting a leper, a situation that seriously challenges the comically phobic and obsessive-compulsive investigator.
Shalhoub will introduce the black-and-white episode, and co-star Ted Levine will introduce the color episode following. Fans of the series will then be allowed to vote online on which version they preferred.
Evered wrote the script at the request of series creator Andy Breckman, who saw Evered's play "The Shoreham," starring Eric Stoltz, in 2001. Writing the "Monk" episode introduced Evered to the cult following that surrounds the show.
"I'm not a 'Monk' freak, but now I'm getting e-mails from all around the world from people who are — and the show hasn't even aired yet," Evered said. "These people really follow the show. They want to know what will happen in the episode and want to guess the ending even before they have seen anything."
A longtime successful playwright, this episode is Evered's first writing for series television.
"This process has been a dream for a lot of reasons," said Evered, who divides his time between the main UC Riverside campus, the UCR Palm Desert Graduate Center and a home in Princeton, N.J., where he lives with his wife and children. "I live in New Jersey and the 'Monk' writing staff works in New Jersey 40 minutes away."
The main "Monk" writing staff came up with the idea for the episode, Evered said, then handed it off to him to write the script. Evered completed the script then handed it back to the show for production.
"It's a very friendly, very collaborative process," Evered said. "I attended a wrap party and Tony could not have been sweeter. I've been a fan of his for years, and he went to Yale 15 years before I did. He is famous there for his excellent theatrical acting."
Evered earned his undergraduate degree from Rutgers and a Masters of Fine Arts degree from Yale University, where he studied with film director George Roy Hill. He is the recipient of an Alfred P. Sloan commission at The Manhattan Theatre Club, The Crawford Playwriting Award, The Edward Albee/William Flanagan Fellowship, The Bert Linder Fellowship at The Millay Colony and The Lucas Artist Fellowship at Villa Montalvo.
Evered's published plays include "The Size of the World and Other Plays"; "The Shoreham and Other Plays"; "Wilderness of Mirrors"; "Clouds Hill"; and "Celadine."
As a writer and journalist, Evered's work has been featured in print in The New York Times and Sports Illustrated, and broadcast on NBC's "Weekend Today Show," NPR and ESPN'S "Cold Pizza."
Evered has written screenplays for DreamWorks, Universal and Paramount Pictures, and collaborated with actor and writer Liev Schreiber on the screenplay adaptation of Evered's play "The Size of the World."
Evered's play "Running Funny" was adapted for an independent film scheduled for film festivals and possible theatrical release next year, and he recently sold a television pilot to NBC Universal.
"It's called 'Stateside,' and it's based loosely on my own experience in the military reserves," Evered said. "It's sort of a "MASH" for the 21st century."
Evered says he is enjoying the bicoastal commute and his time at UC Riverside. "The faculty and students have been supportive and engaging," Evered said. "The students show some serious talent for writing."
At 6 p.m. Jan. 13 Evered and his friend and collaborator, actor Eric Stoltz, will do an informal question-and-answer session at the Palm Desert Graduate Center.
The University of California, Riverside (www.ucr.edu) is a doctoral research university, a living laboratory for groundbreaking exploration of issues critical to Inland Southern California, the state and communities around the world. Reflecting California's diverse culture, UCR's enrollment has exceeded 21,000 students. The campus opened a medical school in 2013 and has reached the heart of the Coachella Valley by way of the UCR Palm Desert Center. The campus has an annual statewide economic impact of more than $1 billion.
A broadcast studio with fiber cable to the AT&T Hollywood hub is available for live or taped interviews. UCR also has ISDN for radio interviews. To learn more, call (951) UCR-NEWS.