Valentine's Day Centennial Gala
---
Valentine's Day Centennial Gala Planned for Citrus Experiment Station
Dinner and symposium commemorate 100 years of service
(January 22, 2007)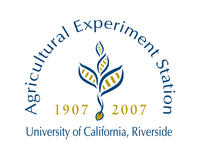 Enlarge
Riverside, Calif. — (www.ucr.edu) -- This Valentine's Day, as couples struggle to find just the right way to say "I love you," UC Riverside will be throwing a Valentine's Day gala to celebrate 100 years of service by its Citrus Research Center - Agricultural Experiment Station.
The Valentine's Day Centennial Gala on Wednesday, Feb. 14, 2007 at the Riverside Convention Center will feature PBS's Huell Howser , host of "California Gold," as master of ceremonies.
The festivities will begin with a wine-tasting (featuring Temecula Valley wines) and reception which will include historical photographs, Ansel Adams prints and citrus crate label displays in the convention center's foyer at 4:30 p.m.
The reception will be followed by a centennial program and dinner at 6:30 p.m. in the Raincross Ballroom. The dinner menu will spotlight citrus developed by university scientists and foods that have benefited from UCR research.
The Jonny May Jazz Quartet will provide live entertainment during the reception and dinner. Cocktail attire is suggested.
The gala is just the beginning of the festivities.
The following day, Thursday, Feb. 15, 2007, there will be a day-long Centennial Symposium entitled "Agricultural Sustainability and New Technologies — The Next 100 Years" also at the convention center.
The symposium will offer a number of sessions including "Tomorrow's Agriculture: Six Trends You Can't Afford to Miss," "Agricultural Sustainability and Pest Management," and "Agricultural Biotechnology."
A session on "Technology Transfer and Commercialization," at 2:30 p.m. will be free to the public.
"One hundred years ago, the founders of the Experiment Station could not have dreamed of the advances agriculture is enjoying today," said UCR Chancellor France Córdova. "The gala will be a celebration of a century's worth of contributions made by UCR scientists, while the symposium will look ahead to the next 100 years of achievements."
In the early 1900s, citrus growers and civic leaders in Riverside County, concerned over the disease and pest problems that threatened crops, began lobbying state legislators to establish research centers to develop scientific solutions. In 1905, the Legislature passed a bill authorizing the University of California to establish a laboratory and citrus experiment station in Southern California.
The Citrus Experiment Station was officially established on Feb. 14, 1907, and located at that time at the foot of Mount Rubidoux. In 1918, the station moved to the building that now houses the A. Gary Anderson Graduate School of Management, where it became the foundation for the University of California's Riverside campus, which opened in 1954.
Over the past 100 years, scientists at the Agricultural Experiment Station have established an international reputation in agricultural research and development, especially in semiarid and arid horticulture and in natural resources. "Our faculty, extension specialists and students address a wide range of agricultural, urban, and natural resource problems that are critical to the future of California," said Don Cooksey, executive associate dean for the Agricultural Experiment Station and Cooperative Extension.
With its roots in citrus research, the experiment station develops new varieties of the fruit and advances new production techniques. On several occasions, it solved pest and disease problems that could have wiped out California's citrus industry.
Very early in its history, the station's mission expanded to include research on other fruit and vegetable crops, as well as graduate education in the agricultural sciences.
Today, researchers working in campus laboratories at the 500-acre experiment station adjacent to campus and at field sites throughout the region undertake extensive studies in the plant sciences, environmental and natural resources, and pest and disease management. The research serves as the basis for new, improved plant varieties — including a newly released asparagus variety — as well as new, more sustainable agricultural practices to combat insect and disease infestations and to enhance crop productivity. More than 50 different crops are grown annually for research, including citrus, turf grass, grapes, avocados, date palms, corn, small grains, ornamental trees and shrubs, and cover crops.
Tickets for the Valentine's Day Centennial Gala are $75, which includes the wine-tasting and the dinner. Tickets for the one-day symposium the following day are $100 per person ($50 for students).
For more information on either of these events please go to www.centennial.ucr.edu or contact Carol Lerner at (951) 827-5089 or carol.lerner@ucr.edu
RELATED LINKS
ADDITIONAL CONTACTS
The University of California, Riverside (www.ucr.edu) is a doctoral research university, a living laboratory for groundbreaking exploration of issues critical to Inland Southern California, the state and communities around the world. Reflecting California's diverse culture, UCR's enrollment has exceeded 21,000 students. The campus opened a medical school in 2013 and has reached the heart of the Coachella Valley by way of the UCR Palm Desert Center. The campus has an annual statewide economic impact of more than $1 billion.
A broadcast studio with fiber cable to the AT&T Hollywood hub is available for live or taped interviews. UCR also has ISDN for radio interviews. To learn more, call (951) UCR-NEWS.