Supercomputer Makes Super-Splash
---
UC Riverside Officials Inaugurate Supercomputer
The Bourns College of Engineering will be home for the Altix 4700, which will supercharge the pace of future research at UCR.
(February 2, 2007)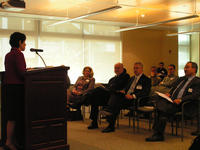 UCR Chancellor France A. Cordova addresses the audience at the inauguration of the supercomputer.
RIVERSIDE, Calif. —
www.ucr.edu
— University of California, Riverside administrators, professors, students and leaders with the Silicon Valley company
SGI
inaugurated the campus' newest addition on Friday, Feb. 2, the Altix 4700 supercomputer, which is expected to boost research in engineering, bioinformatics and computer science.
As speakers extolled the virtues of the supercomputer — its capacity to boost high-end computing and data analysis by up to 1,000 times — to an audience of about 70, mostly engineers and engineering students, the refrigerator-size Altix 4700 whirred away in a mostly empty, bone-chilling room several doors away.
For the faculty in the
Department of Computer Science and Engineering
, the addition of the Altix 4700 was a coup and a catalyst to greater multi-disciplinary research at the Bourns College of Engineering, across the campus and with outside researchers.
"I'm very excited about what this means for research and collaboration here at UCR," said Laxmi Bhuyan, a professor of computer science and engineering. "My hope is that it will bring together physicists, chemists, biologists with our engineering faculty to improve the level of funding for the campus, overall."
After all, Bhuyan and fellow Computer Science Professor Walid Najjar spearheaded the proposal to the National Science Foundation that yielded a $330,000 grant, which paid for the computer. Also involved in the proposal were Department of Computer Science and Engineering faculty members Gianfranco Ciardo, Stefano Lonardi, Thomas Payne, Frank Vahid, and Jun Yang.
The system, the largest single Altix 4700 in the University of California system, is powered by 64 Intel Itanium 2 processor cores and features 128 GB of system memory. It can also be expanded to 1,024 Intel Itanium 2 processor cores and up to 6 terabytes on a single Linux operating system.
By purchasing the Altix system, UC Riverside is in good company, according to Eng Lim Goh, chief technology officer at SGI. He outlined a list of applications in which the system is already being used, such as NASA and the National Oceanographic and Atmospheric Administration's climate prediction models; the University of Tokyo's tsunami prediction simulations; Google Earth's technology that will bring satellite mapping accuracy down to four meters — of course that's reserved for government use.
Oil and gas exploration companies also use Altix technology to improve their likelihood of oil strikes from one in 20 to one in five.
"And at $20 million per try, that's a substantial savings," Goh said.
Rolls Royce uses Altix technology for its jet engine simulations in which they model the effects of the engine striking a bird in flight and how the engine behaves after it has been damaged.
"It's obviously better to run simulations than to blow out one of your engines, which is what they used to have to do to collect their data," he added.
In bioinformatics and proteomics — the technology that made TV shows like CSI hits, new investigations in Altix technology show promise in cutting the time it takes to get results from a sample of unknown origin down from three days to less than an hour, Goh suggested.
For Computer Science Professor Bhuyan, the promise such as system brings is the ability to work with colleagues to develop the research that will fuel other, as yet unidentified, applications.
James River Technical Inc.
President Thomas Mountcastle underscored the importance of developing tools for university researchers to make new discoveries. His company worked with SGI to develop the Altix 4700 that UCR will be using.
"Our industry is dependent in large part on the discoveries made in higher education and research," he said. "And publicly funded research is key to the advances in high-powered computing that can be exploited by industry for the betterment of society as a whole."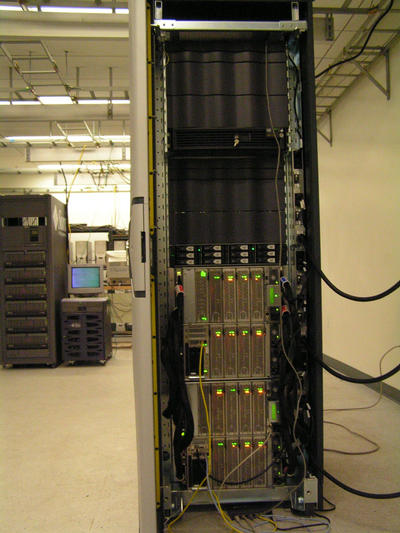 The Altix 4700
ADDITIONAL CONTACTS
The University of California, Riverside (www.ucr.edu) is a doctoral research university, a living laboratory for groundbreaking exploration of issues critical to Inland Southern California, the state and communities around the world. Reflecting California's diverse culture, UCR's enrollment has exceeded 21,000 students. The campus opened a medical school in 2013 and has reached the heart of the Coachella Valley by way of the UCR Palm Desert Center. The campus has an annual statewide economic impact of more than $1 billion.
A broadcast studio with fiber cable to the AT&T Hollywood hub is available for live or taped interviews. UCR also has ISDN for radio interviews. To learn more, call (951) UCR-NEWS.