Small, Rapid Computer Switch Designed
---
UCR Scientist Develops Nano-scale Switch Design for Computers
Mechanical Engineering Professor Qing Jiang's design could combine
the speed of RAM with the stability of a hard drive.

(February 12, 2007)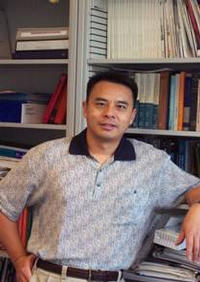 Qing Jiang
RIVERSIDE, Calif. — Feb. 12, 2007 — University of California Professor
Qing Jiang
can imagine a computer that boots up immediately on powering up, that writes data directly onto its hard drive making saving a thing of the past.
In fact, Jiang, a professor of mechanical engineering at the
Bourns College of Engineering
, is designing the building blocks for this type of memory device using telescoping carbon nanotubes as high-speed, low power microswitches.
The design would allow the use of these binary or three-stage switches to become part of molecular-scale computers. Jiang and co-author Jeong Won Kang have published an article outlining this design, titled
Electrostatically telescoping nanotube nonvolatile memory device,
online in January by the Institute of Physics. The article will come out in print in the March 7 edition of the journal Nanotechnology.
Deceptively simple, the design involves inserting one hollow nanotube, closed at both ends, into a slightly larger one, open at both ends, creating a telescoping motion using an electrostatic charge. That contact between the nanotube and the electrodes creates a conduction pathway with three possible positions.
The authors suggest that future research should focus on carefully selecting the right material for the electrodes and addressing the phenomenon of rebounding by the nanotube actuator on the electrode.
The advantages that nanostructures such as quantum dots, carbon nanotubes and nanowires offer over their silicon-based predecessors include their tiny size, speed and their density, according to Jiang.
"One of the biggest problems for the current non-volatile memories (such as flash memory) is their low speeds," Jiang said. "We have demonstrated the speed of these devices using simulations switching times of around 10-11 seconds and data erasing times of around 10-12 seconds."
The potential of such molecular-scale processors have attracted the attention of major corporations such as Hewlett-Packard, IBM, Lucent, Motorola, Siemens and Hitachi to name a few. Jiang predicted a likely functioning prototype of a molecular processor could be demonstrated in the next two to three years.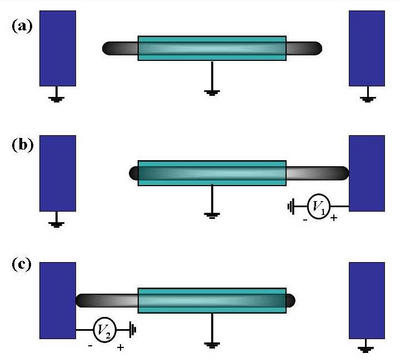 General Design of the multi-walled carbon nanotube-based nonvolatile memory device in its neutral position (a); position 1 (b); position 2 (c)
RELATED LINKS
ADDITIONAL CONTACTS
The University of California, Riverside (www.ucr.edu) is a doctoral research university, a living laboratory for groundbreaking exploration of issues critical to Inland Southern California, the state and communities around the world. Reflecting California's diverse culture, UCR's enrollment has exceeded 21,000 students. The campus opened a medical school in 2013 and has reached the heart of the Coachella Valley by way of the UCR Palm Desert Center. The campus has an annual statewide economic impact of more than $1 billion.
A broadcast studio with fiber cable to the AT&T Hollywood hub is available for live or taped interviews. UCR also has ISDN for radio interviews. To learn more, call (951) UCR-NEWS.