Films of the World
---
Talented Film Students Offer Short Films at University Village Cinema
UCR's program in Film and Visual Culture will co-sponsor the student film night of the Riverside International Film Festival
(February 28, 2007)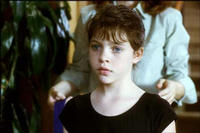 A still from the film, "Janie" by Christine Shin. More photos available at janiethemovie.com
RIVERSIDE, Calif. (www.ucr.edu) -- UC Riverside's burgeoning program in Film and Visual Culture will co-sponsor one night of the upcoming Riverside International Film Festival, a night devoted to 10 award-winning student filmmakers, including graduate students at UCLA, USC and New York University. The event is set from 4 to 10 p.m. Thursday, March 8 at the University Village Cinemas, 1201 University Ave., Riverside.
The films are free and a parking garage at University Village provides free parking in the evenings.
Three students involved in the films will do a question and answer session following the screenings of their film, including Christine Shin (Janie), who was one of 10 finalists in the 2004 Coca Cola Refreshing Filmmaker's Award Contest. The other guest speakers will be actor Justin Fair (Citizen) and Alminta Goyel (The Morning Fog).
The "Evening of Student Films" is one night of The Riverside International Film Festival , which this year lasts from March 2 to March 11, showing films from France, Germany, China, Korea, Japan and India and from all over the United States. The festival is sponsored by the City of Riverside.
"The festival is a wonderful event that exposes our students, faculty, and staff to world cinema releases and lesser known films," said Freya Schiwy, an assistant professor who teaches in UCR's program in film and visual culture. "The student film night is particularly important for our students, especially for those aspiring to work in film production and media in general. It allows them to connect with other young directors, actors, editors to gain first-hand advice."
She said the globalized experiences of many UCR students will resonate with the themes moving other young filmmakers across the nation. "I hope that some of our outstanding student productions will form part of the mix next year."
The 10 student films to be shown Thursday, March 8, are funded by The Caucus Foundation for Television Producer, Writers and Directors, a not-for-profit organization established to promote diversity in the entertainment industry. The Foundation works to help the careers of student filmmakers, especially women and minorities.
The Riverside Youth Council is also helping to co-sponsor the Evening of Student Films, which will include the following short films:
• "Kibera Kid" — The film follows Otieno, an orphan in Kibera, one of Africa's largest slums. Filmmaker Nathan Collett has lived in San Francisco, Caracas, Venezuela, Australia, Pakistan and Kenya. He graduated from Stanford University and enrolled in the film school at the University of Southern California (USC).
• "Absolution" -- A young man recently returned home from the war in Iraq struggles to re-assimilate back into his community. Louisiana native Zack Godshall shot this short film in his hometown of Lafayette. He earned his undergraduate degree from Louisiana State University, and his MFA in film directing from UCLA School of Theatre, Film and Television. He now lives in Lafayette and is working on several documentary and narrative film projects.
• "The Morning Fog" -- Filmmaker Aminta Goyel received a bachelor's in film and theatre studies from Cornell University, where she made some experimental short films. She went on to pursue an MFA at USC's School of Cinema-Television, where she has directed a number of shorts films. This is her thesis film, an unusual tale of a big-city Indian girl, who gets lost in the jungle while searching for a mythical tiger.
• "Citizen" -- In a not too distant future, a teenage boy tries to escape his homeland in order to avoid an unwanted obligation. Filmmaker James Darling was raised in Toronto but spent many summers in Arkansas. He earned a BFA in film and television production at New York University's Tisch School of the Arts, and was the recipient Universal Studios Fellowship, as well as the star of the video shown to all new freshmen. He was a recipient of the Sloan Foundation Screenwriting Award for his feature-length script, "In Motion," about pioneering cinematographer, Eadweard Muybridge. At NYU's First Run Film Festival, he received a Producing Award for his work on "Rusty Forkblade,"an ambitious fantasy film about Vikings that recently played at Comic-Con in San Diego.
• "Under the Roller Coaster" — For Mae Timpano, home was the rollercoaster on Coney Island. Filmmaker Lila Place has worked as an apprentice and assistant film editor in New York. Her previous short film "Each One Teach One" won the best student documentary award at RiverRun International Film Festival and Iowa City International Documentary Film Festival. She graduated from Stanford University's documentary film program.
• "What Remains" — One brother lashes out through petty acts of delinquency while the other cleans up the mess. Filmmaker Eric Lin is currently finishing his studies at New York University's Tisch School of the Arts Graduate Film Program. His films have been selected to screen at festivals, including the Independent Feature Film Market, the Los Angeles International Short Film Festival, the Mill Valley Film Festival and the Golden Lion International Short Film Festival, Taiwan. He also freelances as a director and editor.
• "Janie" — A nine-year-old girl gets a shock when the brother she never knew moves in. Filmmaker Christine Shin, a native of Korea, moved to the United States by herself at 16 to become a filmmaker. She earned her undergraduate degree from the University of Wisconsin and her M.F.A. from the USC School of Cinema & TV. She was one of 10 finalists selected to direct a commercial spot for the 2004 Coca Cola Refreshing Filmmaker's Award Contest. This is her thesis film, which has been supported by Fotokem Grant, Lerner Finishing Grant, and King Family Foundation Grant. Recently, she has been chosen as one of the Honorees for 2005 Project Involve by Film Independent (IFP/LA).
• "It's About College" — Four freshmen share a suite at Yale. Ottawa native Sandra Chwialkowska is a graduate of Yale University, and this film won three Yale prizes for excellence. Her thesis advisors were Oscar-nominated documentary filmmakers D.A. Pennebaker and Chris Hegedus. She worked as assistant director to Noah Baumbach on the award-winning Sundance favorite "The Squid and The Whale."
• "Fast Money" -- A young, Chinatown drug dealer enlists the help of a violent gang buddy to commit his first home invasion robbery, but his pursuit of "fast money" yields unintended consequences that will forever change his life. California native Jerry Chan graduated from Princeton University and enrolled at USC's School of Cinema-Television. While at USC, Jerry has written, shot, edited, and directed numerous short films. He has also served as producer on two thesis films: Infamy and The Tao of Pong. He has been honored with the Harold Lloyd Production Scholarship and the John Frankenheimer Directing Scholarship. "Fast Money" stars Archie Kao (CSI Crime Scene Investigation). It received a film grant from Kodak.
• "Shelter" — A drama revealing the connections between a crisis counselor, a college co-ed, a barstool prophet, and a father during one rainy night in Los Angeles. Filmmaker Luke Hutton, a student from USC, has worked professionally as a director and editor of television ads and short-form documentaries for both local and international broadcast. His short doc "Meeka Mike" was showcased at the Hanover Millennium World Fair, and continues to be broadcast throughout the world. He received the Thomas Bush Scholarship for Excellence in Cinematography and his short script "I Remember" won the Alfred P. Sloan Foundation Award and is now in pre-production. This film won the Fotokem Student Filmmaking Grant and received considerable production assistance from Sony Pictures Studios and CBS.
The University of California, Riverside (www.ucr.edu) is a doctoral research university, a living laboratory for groundbreaking exploration of issues critical to Inland Southern California, the state and communities around the world. Reflecting California's diverse culture, UCR's enrollment has exceeded 21,000 students. The campus opened a medical school in 2013 and has reached the heart of the Coachella Valley by way of the UCR Palm Desert Center. The campus has an annual statewide economic impact of more than $1 billion.
A broadcast studio with fiber cable to the AT&T Hollywood hub is available for live or taped interviews. UCR also has ISDN for radio interviews. To learn more, call (951) UCR-NEWS.