Music of the World
---
UCR Holds Festival of World Music Saturday at University Theatre
Festival includes sounds of Java, the Philippines, Mexico, the Andes and Japanese America
(March 14, 2007)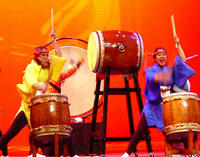 Enlarge
UCR Taiko Ensemble in action
RIVERSIDE, Calif. (www.ucr.edu) -- The sounds of Java, the Philippines, Mexico, the Andes, and Japanese America will be on display at 7 p.m. Saturday, March 17 in University Theatre, during the third annual UCR Festival of World Music.
This fast-moving program will feature UC Riverside students, faculty, and staff as well as community members, and highlights the extensive ethnomusicology program in the Department of Music, which has expanded dramatically in the last few years.
Prof. René T.A. Lysloff has led the UCR Gamelan Ensemble since 1996 and is a noted specialist in the music and shadow theater of Central Java, Indonesia. Prof. Jonathan Ritter, an expert in the highland musics of Peru, will lead the performance of Mayupatapi, the UCR Latin American Music Ensemble.
The other three ensembles are led by renowned culture bearers from Los Angeles who teach at UCR. Tagumpay "Pi" de Leon directs the UCR Rondalla Ensemble, which performs music from the Philippines. Rondalla is a traditional ensemble of small stringed instruments. It is intensely intercultural music, reflecting 500 years of Spanish cultural influence in the Philippines.
The earth-shaking drumming of the UCR Taiko Ensemble is led by Rev. Shuichi Thomas Kurai, already well known to Riverside audiences. Laura Sobrino directs the UCR Mariachi Mexicatl, the latest ensemble to join the world music scene at UCR, featuring traditional music of Mexico.
This festival illustrates the Department of Music's commitment to education through cross-cultural performance. It will feature over 50 students, some drawn to these musics through heritage and others by curiosity. The end result is an energetic evening of wildly varied sounds, each representing different
places and differently-sounded world views.
Cost is $10 general and $8 for students and seniors. Parking costs $6. Information is available at (951) 827-4331.
UCR Taiko Ensemble
New and traditional Japanese drumming. Rev. Shuichi Thomas Kurai, director.
Taiko is of Japanese origin but is deeply meaningful for the Japanese American and Asian American community as a music of strength and power. Its combination of dance, the martial arts, and rhythmic sound is thrilling to experience—and it speaks across ethnicity, age, and experience even as it offers compelling messages of cultural pride. Students from many different majors and backgrounds are drawn to the UCR Taiko class, which was founded in 1998.
UCR Rondalla Ensemble
Instrumental music and songs of the Philippines. Tagumpay "Pi" de Leon, director.
The Rondalla refers to the native string band of the Philippines consisting of various sizes of plectrum instruments such as the bandurria, laud, octavina, guitarra and bajo de unas (supplanted today by the regular double bass). The Rondalla usually provides the music for Philippine folk dances. It is also very
prominent in fiesta celebrations, weddings and other civic and social functions.
UCR Gamelan Ensemble:
Traditional music of Central Java performed on the new gamelan, Kyai Telaga Semu. René T.A. Lysloff,
director.
The word gamelan refers to a set of predominantly percussive instruments featuring tuned bronze gongs, bronze-keyed instruments, and drums (as well as a zither, flute, fiddle, and singing). Similar ensembles are found throughout Southeast Asia, but the gamelans of Java and Bali have received the most world-wide attention and acclaim. The gamelan owned by UCR is from Central Java and was recently purchased with the help of master musician Rasito Purbopangrawit who taught gamelan at UCR in past years. Named
Kyai Telaga Semu (or Venerable Lake of Illusions), our new gamelan is a "complete" set, made up of instruments of two distinct tuning systems. Gamelans are performed as concert music or to accompany dance and theater. The music itself is based on a simple, repetitive central melody played on certain bronze-keyed instruments, punctuated at different points by various kinds of gongs. Still other keyed and gong-chime instruments elaborate on the central melody. The wooden frames and cases of the instruments are elaborately
carved and painted with detailed motifs.
UCR Andean Music Ensemble
Traditional music of Latin America by UCR's newest student ensemble, Mayupatapi. Jonathan Ritter, director.
Mayupatapi (meaning "Riverside" in the Quechua language), also known as the UCR Latin American Music Ensemble, was founded in the spring of 2005. Directed by ethnomusicology faculty member Jonathan Ritter and featuring student members from a number of academic departments, the ensemble performs a variety of musical genres from the Andean countries of South America. The program includes
music of the Peruvian/Bolivian highlands, the syncopated rhythms of Afro-Peruvian genres played on guitar and cajón (box drum), and the little-known sounds of the Afro-Ecuadorian marimba.
UCR Mariachi Mexicatl
Traditional Music of Mexico by UCR's newest ensemble established in Fall 2006. Laura Sobrino, director
RELATED LINKS
ADDITIONAL CONTACTS
The University of California, Riverside (www.ucr.edu) is a doctoral research university, a living laboratory for groundbreaking exploration of issues critical to Inland Southern California, the state and communities around the world. Reflecting California's diverse culture, UCR's enrollment has exceeded 21,000 students. The campus opened a medical school in 2013 and has reached the heart of the Coachella Valley by way of the UCR Palm Desert Center. The campus has an annual statewide economic impact of more than $1 billion.
A broadcast studio with fiber cable to the AT&T Hollywood hub is available for live or taped interviews. UCR also has ISDN for radio interviews. To learn more, call (951) UCR-NEWS.