UCR Anthropologist Chairs National Race Project
---
Anthropologists Tackle Racism in National Race Project
UCR Vice Provost Yolanda Moses chairs board that developed a traveling museum exhibit, web site and teaching materials.
(April 17, 2007)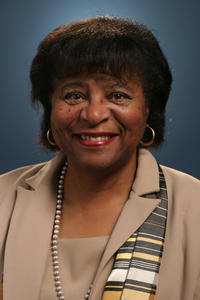 Enlarge
Yolanda Moses
American views about race result from the misconception that differences between people are based on biological races.
The "RACE: Are We So Different?" project, a national program of the American Anthropological Association, hopes to change that.
"Most people (non-academics) think biological race is real," said Yolanda Moses, UC Riverside professor of anthropology.
"We're saying it's not. Human variation is real. And the social construction of race is real. There is only one biological race, because we are all the same species," said Moses, who also is special assistant to the chancellor for excellence and diversity/vice provost, conflict resolution.
Discussions about the RACE project began when Moses was president of the American Anthropological Association in the mid-1990s.
Those discussions bore fruit in January with the opening of a 5,000-square-foot exhibit at the Science Museum of Minnesota, the launching of a web site that has been nominated for a Webby Award, and the publication of instructional materials for families, undergraduate courses and K-12 teachers. The project received $1 million from the Ford Foundation and $2.8 million from the National Science Foundation.
The interactive exhibit, which is booked at museums around the country through mid-2011, addresses race and racism from the viewpoints of science, history and lived experience. The lived experience portion illustrates how the institutionalization of racism continues to affect education, health and wealth accumulation among different ancestral groups in this country. The belief in the biological hierarchy of race can still be seen in institutions such as banking, education and real estate, both in the buying of homes and wealth accumulation, Moses said.
"The whole idea behind this project is to change the way Americans talk about race," Moses said. "Our goal is make sure teachers get the information they need to change the way they teach in class, for colleagues and co-workers to be able to talk about race in the workplace, and for parents to be able to talk to their children about a subject that is still taboo in our society."
Human biological variation accounts for the physical differences between people, she said, not race. "This information is widely known in academic communities and among scholars, but we were surprised at how widespread the belief in biological races still is among the focus groups that we talked with, across the country, in preparation for the exhibit and the web site."
Skin color is only one of many markers that define who we are as humans, Moses said.
"Skin color is one of the many markers that we can easily see. There are dozens more that we cannot see (because they operate at the genetic level) or choose not to focus on, that are more important than skin color, for example blood type," she said. "Yet, historically for social, economic and political reasons, skin color became the most important marker that people of influence chose to use to differentiate and to rank us here in the United States."
A national advisory board of 25 experts spent five years developing the traveling exhibit and web site. Moses is the chair of that board and one of eight curators of the project. The team is applying for additional funding to produce compact versions of the exhibit that could be displayed in smaller museums, city halls, libraries and in schools around the nation. She noted that there have been inquiries from Brazil, South Africa and France as well.
"It's important for people to understand why racism continues," Moses said. "This is something we created. It is something we can un-create."
Moses said it will take at least another generation to change attitudes about race, even given this bio-cultural approach.
"We're really concerned about young people," she said of the people who worked on the project with her. "Who's going to inherit this culturally pluralistic democracy of ours? Can people get past their differences and find commonalities? That's what we hope to change. Generation Next, the young people who are in high school today, are the most culturally diverse population in the history of this nation. We owe it to them to give them the tools to take our national conversation about race to another level."
RELATED LINKS
ADDITIONAL CONTACTS
The University of California, Riverside (www.ucr.edu) is a doctoral research university, a living laboratory for groundbreaking exploration of issues critical to Inland Southern California, the state and communities around the world. Reflecting California's diverse culture, UCR's enrollment has exceeded 21,000 students. The campus opened a medical school in 2013 and has reached the heart of the Coachella Valley by way of the UCR Palm Desert Center. The campus has an annual statewide economic impact of more than $1 billion.
A broadcast studio with fiber cable to the AT&T Hollywood hub is available for live or taped interviews. UCR also has ISDN for radio interviews. To learn more, call (951) UCR-NEWS.