April 25 is Malaria Awareness Day
---
UCR Researchers Available for Media Interviews on Malaria
April 25 to be designated "Malaria Awareness Day"
(April 23, 2007)
NEWS MEDIA CONTACT
Name:

Iqbal Pittalwala


Tel:

(951) 827-6050


E-mail:

iqbal@ucr.edu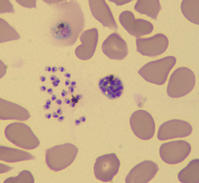 Enlarge
Human red blood cell infected by the malaria parasite, Plasmodium falciparum. Image credit: K. Le Roch, UCR.
RIVERSIDE, Calif. — UC Riverside scientists on the forefront of research on malaria are available to speak to the media about the disease, its history and impact. Scientists at the Center for Disease-Vector Research (CDVR) on campus are working to find new approaches at the molecular, genetic and ecological levels to help control the disease.
President George W. Bush will designate April 25, 2007, as "Malaria Awareness Day" in an effort to raise awareness of this serious and devastating disease that is spread most commonly by mosquitoes.
According to estimates from the World Health Organization, each year 300-500 million cases of malaria occur and more than 1 million people die of the disease; in the United States, about 1,300 cases of malaria are diagnosed each year.
Both the absence of a vaccine to fight malaria and the development of parasite resistance to commonly used antimalarial drugs underscore the urgency for scientists to come up with new approaches to control the disease.
Caused by a parasite, malaria typically inflicts its victims with high fevers, shaking chills, and flu-like illness, resulting oftentimes in death. Forty-one percent of the world's population lives in areas where malaria is transmitted.
"In the developing world, mosquito-borne diseases are still significant killers," said Peter Atkinson, a professor of entomology at UC Riverside and the director of the
CDVR
. "In the case of malaria, it's mostly children who are its victims. This disease places a huge health and economic burden on many countries."
On May 29-31, UCR will host a symposium on "Vector Biology, Ecology and Control" to celebrate the 50 years of research, teaching and service that Mir S. Mulla, a distinguished professor of entomology at UCR, has made to the university and the field of vector biology. National and international experts on mosquito-borne diseases will attend the symposium at the Mission Inn, downtown Riverside.
The following malaria experts at UCR are available for press interviews and background:
Peter Atkinson
, director of the Center for Disease-Vector Research and professor of entomology
Office: 951-827-4782
Lab: 951-827-3629
E-mail: peter.atkinson@ucr.edu
Atkinson
's laboratory works on developing transposable elements — bits of genetic material that move from place to place in the genome — as gene vectors in mosquitoes and other insects of medical importance. The overall goal of his research is to develop molecular-based strategies to genetically control pest insects. His laboratory focuses on transposable elements because they are the only means by which new DNA can be introduced into insects and be inherited over successive generations.
Brian A. Federici
, distinguished professor of entomology
Office: (951) 827-5006
Email: brian.federici@ucr.edu
Federici
's laboratory has identified several genes in different bacteria that produce proteins capable of killing the mosquitoes that transmit malaria. Unlike chemical insecticides, these proteins are safe for non-target organisms, including humans. Federici's laboratory has combined proteins from several different bacteria into a single bacterial species. This new type of bacterium is ten times more effective at killing mosquitoes than the bacteria currently used in the United States for mosquito control. Moreover, this strain not only controls the Anopheles mosquitoes that transmit malaria, but also the Culex species that transmit viral diseases, such as West Nile virus.
Karine Le Roch
, assistant professor of neuroscience
Office: (951) 827-5422
Email: karine.leroch@ucr.edu
The goal of
Le Roch
's research is to break the cycle of malaria infection and drug resistance. In order to identify novel drug targets, her laboratory uses advanced approaches to understand what drives the malaria life cycle progression. She also is searching for new drugs against this devastating disease.
Cengiz Ozkan
, associate professor of mechanical engineering
Office: (951) 827-5016
Email: cengiz.ozkan@ucr.edu
Mihri Ozkan
, associate professor of electrical engineering
Office: (951) 827-2900
Email: mihri.ozkan@ucr.edu
The
Ozkans
are part of a team that recently received funding to build a malaria diagnosis device. In this project, they will develop the nanotechnology needed for an inexpensive measuring device to detect active malaria infections in remote field settings where there is little or no electricity or medical expertise.
Mir S. Mulla
, professor emeritus of entomology
Office: 951-827-5818, 3640
Lab: 951-827-2357
E-mail: mir.mulla@ucr.edu
Mulla
finds practical control strategies for mosquitoes and other insects of public health concern. He researches the development of new insect enemies, known as biological control, including but not limited to microbial control agents.
Alexander Raikhel
, professor of entomology
Office: (951) 827-2129
Email: alexander.raikhel@ucr.edu
Raikhel
helped discover a chemical chain reaction which prompts disease-spreading mosquitoes to produce and mature their eggs. Manipulation of this process may be key to controlling the mosquito populations responsible for the spread of disease. His laboratory also uncovered how a female mosquito's first blood meal triggers its reproductive system to produce eggs, a finding which could lead some day to new ways of controlling disease-spreading mosquito populations. Raikhel's research team recently identified a pathway by which the mosquito's immune system recognizes some pathogens and protects the mosquito from disease.
William Walton
, professor of entomology
Office: 951-827-3919
E-mail: william.walton@ucr.edu
Walton
's expertise is in mosquito ecology and mosquito production from man-made wetlands used to improve water quality from such sources as storm water, municipal wastewater and agricultural wastewater. His laboratory focuses on designing and implementing novel and practical management strategies for wetland mosquitoes.
RELATED LINKS
ADDITIONAL CONTACTS
The University of California, Riverside (www.ucr.edu) is a doctoral research university, a living laboratory for groundbreaking exploration of issues critical to Inland Southern California, the state and communities around the world. Reflecting California's diverse culture, UCR's enrollment has exceeded 21,000 students. The campus opened a medical school in 2013 and has reached the heart of the Coachella Valley by way of the UCR Palm Desert Center. The campus has an annual statewide economic impact of more than $1 billion.
A broadcast studio with fiber cable to the AT&T Hollywood hub is available for live or taped interviews. UCR also has ISDN for radio interviews. To learn more, call (951) UCR-NEWS.