Autism Resource Center Launched
---
UCR SEARCH Program Provides Families Guidance Through Maze of Autism Issues
Goal of new center is to bridge gap between diagnosis and finding appropriate educational services beginning Fall 2007.
(May 1, 2007)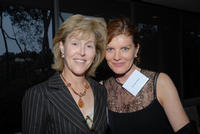 Enlarge
Professor Jan Blacher of UCR's Graduate School of Education and director of SEARCH (left) and actress Rene Russo (right) at a recent fund-raising event in Los Angeles to benefit the new autism resource center. (Photo by Michael Elderman.)
RIVERSIDE, Calif. (www.ucr.edu) — A rise in diagnosed autism cases combined with the complexity of the syndrome prompted the University of California, Riverside to launch a resource center to assist families dealing with the disorder.
Professor Jan Blacher of UCR's Graduate School of Education has established SEARCH [Support, Education, Advocacy, Resources, Community and Hope] to help families find necessary educational resources for their children.
"With six out of every 1,000 children diagnosed with autism in the United States, we saw a need to bridge the gap between diagnosis and available services," said Blacher, who is a nationally known researcher, advocate and columnist. "Autism is complex and families need to know where to go for educational services once they discover their child is affected. SEARCH will be available to assist with new educational needs that arise upon the transition to adolescence as well."
SEARCH is committed to providing guidance and education to diverse families by offering services in English and Spanish. A collaborative effort, the center faculty and graduate students will also work in partnership with K-12 administrative leaders, the Riverside County Office of Education, the Loma Linda Medical Center, and Regional Centers to develop bi-lingual training programs and materials. SEARCH will also assist families who have previously been underserved, especially those who fall into the low-income bracket.
"Although most research on autism is justifiably focused on cause and cure — with the eventual outcome being prevention — hundreds of thousands of families are searching for educational and other services that will help their child now," said Blacher.
The program specifically will assist families with finding information on proper diagnosis and treatment; educate families on the disorder itself and on selecting evidence-based intervention options; help them access educational, medical, social support and legal services; and ease the transition from early childhood to kindergarten.
An event held April 19 to raise money and awareness for SEARCH garnered the support and endorsement of the Latino Caucus of the California Assembly and of State Superintendent Jack O'Connell, who also sent a representative to the event.
Although several University of California campuses have centers for autism, none has a center that focuses on educational issues and advocacy for families. Diagnostic services, in-home behavioral services and special classes are just a few of the resources available in the Inland Empire, but no autism nexus existed before now. Most families have difficulty sorting through the barrage of information on autism, such as how to identify the evidence-based practices and differentiate them from unsubstantiated treatments. SEARCH will provide outreach to families in the Inland Empire.
For more information, please contact the SEARCH director at jan.blacher@ucr.edu or the director of development at marie.schultz@ucr.edu .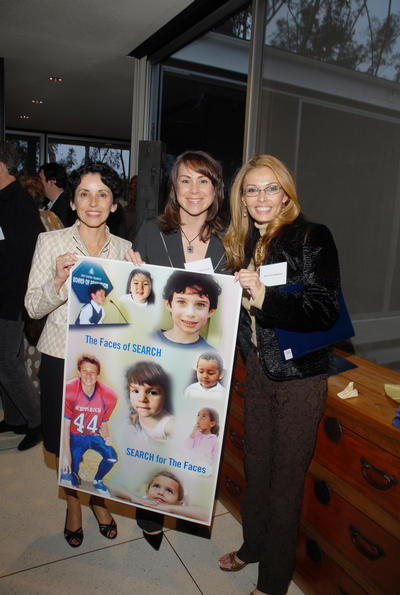 Enlarge
UCR Chancellor France Córdova (left), Rhonda Welch-Scalco (center) and Terri Johanesen (right) show the many faces of SEARCH at a recent fund-raising event in Los Angeles. (Photo by Michael Elderman.)
The University of California, Riverside (www.ucr.edu) is a doctoral research university, a living laboratory for groundbreaking exploration of issues critical to Inland Southern California, the state and communities around the world. Reflecting California's diverse culture, UCR's enrollment has exceeded 21,000 students. The campus opened a medical school in 2013 and has reached the heart of the Coachella Valley by way of the UCR Palm Desert Center. The campus has an annual statewide economic impact of more than $1 billion.
A broadcast studio with fiber cable to the AT&T Hollywood hub is available for live or taped interviews. UCR also has ISDN for radio interviews. To learn more, call (951) UCR-NEWS.