Córdova goes to Indiana's Purdue University
---
UC Riverside Chancellor France A. Córdova Named Purdue University President
UCR medical school planning will continue despite the change.
(May 7, 2007)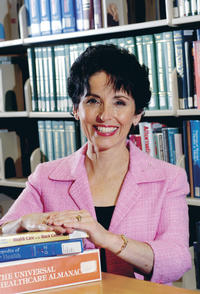 Enlarge
Chancellor Córdova
RIVERSIDE, Calif. (www.ucr.edu) — Chancellor France A. Córdova was appointed president of Indiana's Purdue University today (Monday, May 7) by the Purdue board of trustees.
Córdova is UCR's seventh chancellor and started work in Riverside in July 2002. She will stay in Riverside until at least July 1. She said her experience at UCR has prepared her well for her new challenges at Purdue, a public university system founded in 1869, which has five campuses and numerous teaching and research sites. Córdova will have responsibility over the entire system, which includes 69,000 students. She will have direct oversight for the main campus in West Lafayette, Ind. That campus has approximately 39,000 students and is a member of the Association of American Universities, which includes the top 62 research universities in North America.
UCR has nearly 17,000 students and is part of the 10-campus University of California system.
Córdova's base salary at UCR is $286,000. Purdue's retiring president, Martin Jischke, has a base salary of $406,950.
In a message to the campus, Córdova said today, "As word of this possibility has spread throughout the campus during the past two weeks, I have received about 200 thoughtful notes, especially from the faculty. I am deeply moved by these expressions of appreciation. I love this beautiful campus and have always felt at home here." She said, "This was an extremely difficult decision for me. UC Riverside is, in my opinion, the most special of all the campuses of the great UC system. It is growing; it is diverse; it is welcoming; it is entrepreneurial. UCR's time to leap forward is now."
Córdova led UCR's successful effort to obtain preliminary approval from the UC Regents to establish the first UC medical school in 45 years. The school would accept its first students in 2012. A related Health Sciences Research Institute is already underway.
UC President Robert Dynes expressed his appreciation to Chancellor Córdova for her 20 years of service in the University of California system, including time at UC Santa Barbara and Los Alamos National Laboratory. "Chancellor Córdova's departure is a real loss for the University of California," Dynes said Monday. "France has provided superb leadership for UC Riverside as chancellor and has demonstrated great potential for even higher levels of achievement still ahead of her. Purdue University clearly recognized that. I worked very hard to encourage her to remain at UCR, but I respect her decision and wish her only the very best."
President Dynes cited her accomplishments at UCR and committed that the medical school effort will continue to move ahead. "UCR is a proud institution with a very clear sense of forward motion, and France deserves a great deal of the credit for that."
He said an acting chancellor will be named in the near future and he will begin a search for a permanent successor as soon as possible, assisted by a committee made up of UC Regents, faculty members, and at least one undergraduate student, one graduate student, one alumnus and one staff member. The final decision will be made by the full UC Board of Regents.
Speaking on behalf of the UCR faculty, Academic Senate Chair Thomas Cogswell lauded Chancellor Cόrdova's energizing leadership in assembling a splendid administrative staff and a powerful fund-raising team, leading the push to gain approval for a medical school and, above all else, making Riverside the UC campus that reflects the "face of California," encouraging not only diversity, but diversity and student success. "The faculty now all wish her well in her new post as we close ranks and continue to move the campus forward," he said.
While at UCR, Córdova has championed a School of Public Policy and secured private donations to open the Palm Desert Graduate Center, which offers MBA and MFA programs. Under Córdova's leadership, UCR has doubled philanthropic giving; increased the hiring of women and underrepresented minorities, particularly in faculty and administrative positions; started new graduate and undergraduate majors and minors; increased available graduate student funding by 25 percent each year; and partnered with the city of Riverside on projects such as the downtown ARTSblock and University Research Park. She presided over a 58 percent increase in expenditures on research and the addition of 1.8 million square feet of new or renovated space on campus, including the $55 million building that will house the genomics institute. She and her husband are considered the "first fans" of the athletics teams, regularly attending all sports events, from basketball to cross-country.
An internationally recognized astrophysicist, Córdova was Chief Scientist at NASA from 1993 to 1996. She earned a bachelor's degree in English from Stanford University and a Ph.D. in physics from the California Institute of Technology, which this year honored her as an Alumna of the Year. Córdova is married to Christian J. Foster, director of undergraduate research at UCR's Bourns College of Engineering, and has college-going children, one a junior at UCR.
Selected Accomplishments of Chancellor France A. Córdova
• Gained preliminary approval for the first UC medical school in 45 years, and initiating the planning and hiring for this school and residency and intern programs in area hospitals;
• Initiated UCR's first Health Sciences Research Institute for biomedical and related research; presently hiring a Director;
• Secured the private funding for UCR's Palm Desert Graduate Center, constructing the new campus for this center, and getting the center up and running with MBA and MFA programs and dedicated new leadership -- this Spring the Center will have its first graduating class;
• Made eight senior appointments (four Vice Chancellors, four Deans);
• Diversified the faculty (women comprise at least 34% and underrepresented minorities at least 11% of the 211 new hires over this five year period);
• Began new graduate and undergraduate programs and approved "cluster" hires for faculty (African-American Studies, Global Studies, Sustainable Development, and Middle East Studies);
• Increased UCR's endowment by 43% in two years; doubling philanthropic funding and receipt of UCR's largest single gift, which allowed us to double the number of endowed professorial chairs;
• Added 1.8 million square feet of new or renovated space, including the new $55 million building for the genomics institute and the UCR Alumni Visitor Center;
• Promoted student success with a student success task force, national speeches, curricular changes, advisor training, learning and writing centers; and instructional technology;
• Developed the California Community College Collaborative (promotes research and policy, and faculty development), funded by University of California and the community colleges system;
• Ensured that UCR is a leader in UC's Science and Math education program and science teacher development and in partnership with K-12 schools;
• Fostered growth in research — last year awards passed $100 million for the first time — and growth in our library's collections and prestige;
• Increased potential graduate student funding available by 25% each year to encourage a larger enrollment of graduate students;
• Held three UCR diversity summits (for faculty, staff, and students) and making new appointments to focus on diversity (Associate VP for Faculty Diversity; Chancellor's Special Assistant for Excellence and Diversity, Chancellor's Postdoc to increase diversity in STEM fields);
• Launched an Eminent Scholar Program to recruit outstanding faculty to campus; an Academy of Distinguished Teachers to honor and reward excellence in teaching, and the University Scholars program to promote the research of young and rising professors;
• Partnered with the city on collaborative projects (e.g., Culver Center for the Arts, University Drive, ARTSblock, City-University Task Force, University Research Park);
• Committed resources to boost UCR's reputation in Intercollegiate Athletics and enjoyed our first success in the NCAA Division 1 for women's basketball and women's soccer.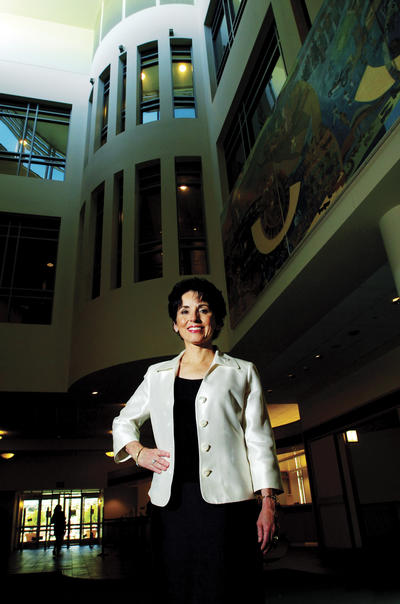 Enlarge
Chancellor Córdova in the UCR science library
RELATED LINKS
ADDITIONAL CONTACTS
The University of California, Riverside (www.ucr.edu) is a doctoral research university, a living laboratory for groundbreaking exploration of issues critical to Inland Southern California, the state and communities around the world. Reflecting California's diverse culture, UCR's enrollment has exceeded 21,000 students. The campus opened a medical school in 2013 and has reached the heart of the Coachella Valley by way of the UCR Palm Desert Center. The campus has an annual statewide economic impact of more than $1 billion.
A broadcast studio with fiber cable to the AT&T Hollywood hub is available for live or taped interviews. UCR also has ISDN for radio interviews. To learn more, call (951) UCR-NEWS.